UK Bans Todd Bentley Amid Reports of 'Violent' Healing Ministry
U.S.-based Christian evangelist Todd Bentley has expressed sadness upon learning that the British government has refused to grant him entry into the United Kingdom for scheduled revival meetings due to controversy surrounding his healing ministry.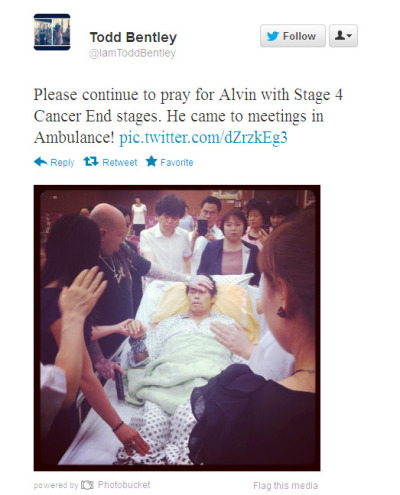 British Home Secretary Theresa May has decided, after considering complaints from local religious leaders and concerned politicians, to deny the self-proclaimed "healing evangelist, revivalist, and author" a visa.
"We can confirm that Mr. Bentley has been excluded from the UK," a spokesperson from the Home Secretary's office said, as reported Tuesday by BBC News. "The government makes no apologies for refusing people access to the UK if we believe they are not conducive to the public good. Coming here is a privilege that we refuse to extend to those who might seek to undermine our society."
Bentley, born in Canada and currently in Norway for a "Miracles Signs & Wonders" event, responded to the news in an email blast on his Fresh Fire USA ministry website:
"I am deeply saddened by the recent decision of the UK government regarding my entry into the country. At this point, we are thankful to God for the support from our friends in the UK who truly love Jesus and embrace the supernatural, faith and healing. We know and believe that the UK has a great destiny, and we are praying for the leaders and those in government. Please continue to stand with us in prayer regarding this decision and our return to the UK."
In separate Facebook posts, Bentley insinuated that he was denied a visa due to religious discrimination and claimed that the British government made its decision before he even submitted his application.
"What about all the other celebrities, musicians and others with a more colorful past than me that are permitted into the UK for shows … Is this really about my past and fear of potential violence or Freedom of Religion and attack on Faith, God & Healing?" he wrote on the social network, according to the Guardian.
Bentley, who gained attention in 2008 during the "Lakeland Outpouring" worship meetings in Florida, has admitted to using violence in the past when ministering to those seeking healing. However, he claims no one was ever injured as a direct result of his actions and that much of what is being reported in the media is a "misrepresentation" of his ministry.
A 2008 video published on YouTube shows the 36-year-old evangelist claiming he was told on one occasion by the Holy Spirit to kick a cancer-stricken woman in the face for her healing. In a statement published to Fresh Fire USA's website Thursday, Bentley explains:
"While operating in the gift of faith, I felt I was to kick a woman in the face as a step of obedience. I do not understand it but she was healed and not injured! This is one of several isolated accounts where I have prayed in an unorthodox manner for individuals, but I do not consider it violence when no one is injured and it is the gift of faith operating. The media has interpreted a one-time event from thirteen years ago and presented it as an act of violence with intent to harm someone. I would like to make clear that it was neither and this is generally not how I pray or minister to people."
George Elliot, pastor of Portadown Christian Center in County Armagh, Northern Ireland, is said to have invited Bentley to visit the country. Elliot previously told the Irish Sun, in light of the controversy surrounding Bentley, that "Jesus was a controversial character too."
He added, "We just felt it right at the time to bring the guy over. We do know the Lord has used him in a certain way for divine healing."
Elliot apparently refused to comment to the media after news broke of Bentley being banned from entering the U.K. However, BBC News reported that leaders at the local Presbyterian Church welcomed the Home Secretary's decision.
"Violent activities reported as part of Mr. Bentley's faith healing technique have no part whatsoever in our understanding of a loving, caring and compassionate ministry that is sought, often by weak, frail and distressed people," the Presbyterian Church said in a statement.
ABC News interviewed Bentley and visited Lakeland, Fla., during the 2008 "outpouring" and reported that it was unable to confirm the evangelist's claims of miraculous faith healings.
Bentley, who has previously visited the U.K., has shared that he was saved and delivered from a life of "youth prisons, drugs, sex, satanic music and bondage" after a "dramatic encounter" with God as a teenager. He temporarily left the ministry last year after becoming "emotionally involved" with a female staff member. The two married after Bentley divorced his wife, with whom he shares three children. He later resumed his ministry, focusing on international tours.