'Unashamed Tour': KB talks power of community, what Reach Records buddies fight about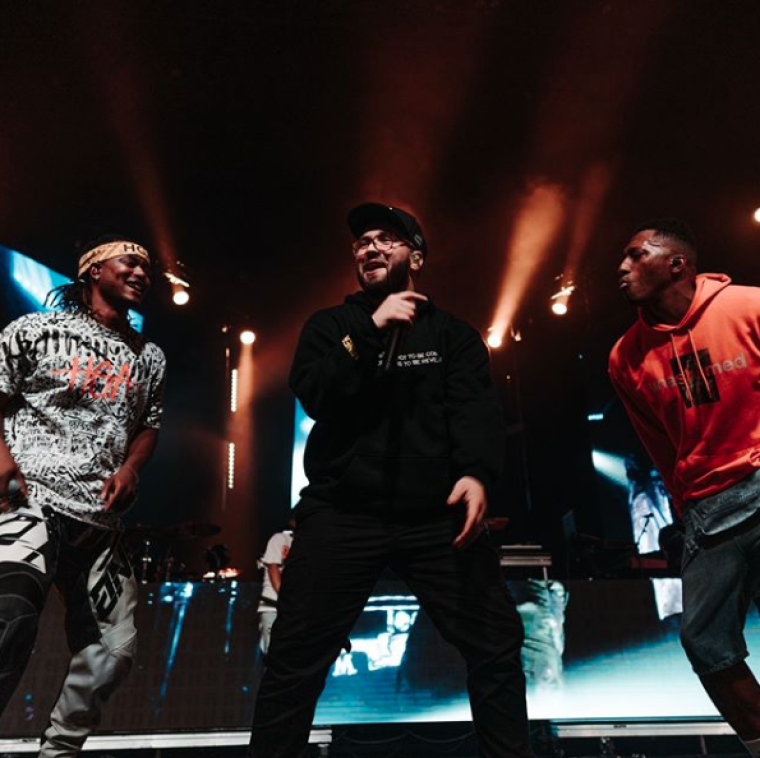 Award-winning hip-hop artist KB shared what God has been teaching him recently and the hope he's hoping to impart as he is on tour with his Reach Records family, including Lecrae, Andy Mineo and Trip Lee.
The 18-city "Unashamed Tour," in partnership with William Morris Endeavor and Rush concerts kicked off March 14 and is making stops in major cities all across the country. Starring popular rappers Lecrae, Andy Mineo, Gawvi, Kb, Tedashii and Trip Lee, the tour will also highlight some newer faces in the Reach Records movement, 1k Phew and Whatuprg.
The event aspires to provide hope in Christ to attendees in this current cultural climate riddled with doubt and anxiety.
Below is an edited transcript of an interview between featured artist on the tour KB and The Christian Post in which he reveals the importance of brotherhood and community even through conflict and how he follows peace with his Reach Records peers while on the road together.
Christian Post: The Unashamed Tour press release says the tour is hoping to "remind people of the power in Jesus' word." What does it mean to remind people of that?
KB: Reminding people of the power that is in Jesus' words seem central to the mission of my existence, certainly the mission of my art. That's the direction that I want my life to go, to help recalibrate the priority of what God says over what everybody else says.
I think what it means to be a fallen man in a fallen world is that we're constantly going to be bombarded with all kinds of "words," and there's one word that saves, and to hear that in many kinds, shapes and sizes, and from different mouths, and different places, countries, whatever, you just need it all the time. And I just hope to play a little role in that.
CP: Has there been a theme God has been teaching you recently?
KB: I think the Lord has been doubling down on this concept of community for me. I led a six-week study at my church back in November and December on the necessity of the Christian brethren. Hebrews 3 makes it very clear that the means by which many of us will enter into Heaven will be on the words of brothers and sisters encouraging us. God uses the words of other folks you fellowship with to keep you. You can't hear them if you're not around them and so that's been my conviction. I care real deeply about my community and all the pain that they have caused me and all the joy that I have had as a result. All of that has been a part of God's "keeping KB saved" project.
CP: While on tour together how do you guys go about resolving conflict when you get into typical brother disputes?
KB: A lot of our conflict is over like philosophy and theology and stuff like that.  Thankfully, it's not over moral stuff like someone cursed me last night and now we need to fight or something like that, but my strategy is really to try to be a man of peace and not get too invested in being right and allow people to think about things differently than me and I go to sleep early.  Those things really help mitigate problems.
CP: Your good heart, character and overt love for God is always something that stands out among your peers who are a bit more careful when sharing their faith. What is it that sets you apart in that way?
KB: I'm trying to hear what God would have me say and then also I'm trying to hear what He's saying about me. I'm trying not to invest that much into the opinions of other sinners. So I just try not to get overinvested. It's hard. I still struggle with it but that's a discipline for me. I do what needs to be done and if you can go to sleep at night knowing that the Lord was right there with you and lead you then at that point this really isn't the pushback or the negative comments on Instagram; at that point, it's kind of like, I have to answer to Him. So I hope that's what folks are experiencing. That's a discipline of mine.
CP: What are you looking most forward to with this tour?
KB: I'm looking forward to a time of refreshing. On tour, it's a lot of focus time because you have a lot of free time during the day so I want to take advantage of that time, not only prepping for the show but also prepping for all those other things that I would like to see accomplished this year.
CP: What are your thoughts on the current state of Christian hip hop?
KB: I have not thought about Christian hip hop critically recently. I'm probably not the right person to ask about the state of hip hop but I am hopeful. I'm very hopeful there are a lot of dudes out there, Stephen Malcolm, Ty Brazell, Reconcile, Flame, there's a lot of dudes out there, new school and age-old school that are staying committed, consistent, and in a lot of ways helping to lead a resurgence in the Christian hip hop expression. I feel hopeful in that.
CP: What's to come for KB and what are you hoping people walk away with from the Unashamed Tour?
KB: New music is on the way. Also a podcast and, Lord willing, I'm starting a book soon as well.
I hope people are encouraged by this tour. I don't have too much of an agenda besides that people walk away feeling reassured and reaffirmed in that hope in God. I hope that's what comes out of this.
For more information on the Unashamed Tour, visit Unashamedforever.com