United Church of Christ Votes to Boycott Washington Redskins Over 'Racial Slur' Name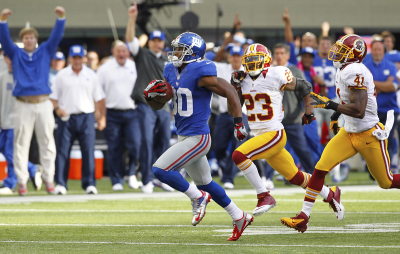 The Central Atlantic region of the United Church of Christ voted this past weekend to boycott the Washington Redskins NFL team, saying that it will no longer attend the team's games or wear its gear due to its name.
The left-leaning denomination's Central Atlantic Conference voted unanimously on the boycott at its annual meeting in Delaware over the weekend. The United Church of Christ has joined other organizations, including the National Congress of American Indians, in calling on the NFL and Redskins owner Dan Snyder to change the team's name, arguing that the term "redskins" has been used as a racial slur in reference to Native Americans.
"The name used by the Washington NFL team is widely recognized as a racial slur and promotes discrimination against Native Americans," Jacqueline Pata, executive director of the National Congress of American Indians, said in a statement. "More and more organizations are joining our voices calling on team owner Dan Snyder and the NFL to change the name, and we are proud that the United Church of Christ and its members are standing with us."
John Deckenback, minister of the Central Atlantic Conference, added in a statement that he hopes Saturday's vote is a positive step toward respecting the Native American culture, saying that a change in the capital's NFL team name could send a strong message to the rest of the country.
"I hope this debate will continue to draw attention to an unhealed wound in our cultural fabric," Deckenback said. "Changing the name of the Washington NFL team will not solve the problems of our country's many trails of broken promises and discriminatory isolation of our Native American communities. However, a change in the nation's capital can send a strong message."
The Washington Redskins team has stood behind its controversial name, arguing that the moniker serves as a symbol of pride for many Native Americans. Deckenback previously told The Washington Post that ahead of Saturday's conference, he was contacted by three members of the Blackfeet Nation, who explained to the minister why they take pride in the team name.
The Washington Redskins have yet to comment on Saturday's vote, but team spokesman Tony Wyllie previously told The Washington Post that the team "[respects] those who disagree with our team's name, but we wish the United Church of Christ would listen to the voice of the overwhelming majority of Americans, including Native Americans, who support our name and understand it honors the heritage and tradition of the Native American community."