United Methodist regional bodies reject 'Traditional Plan' on LGBT issues, vow resistance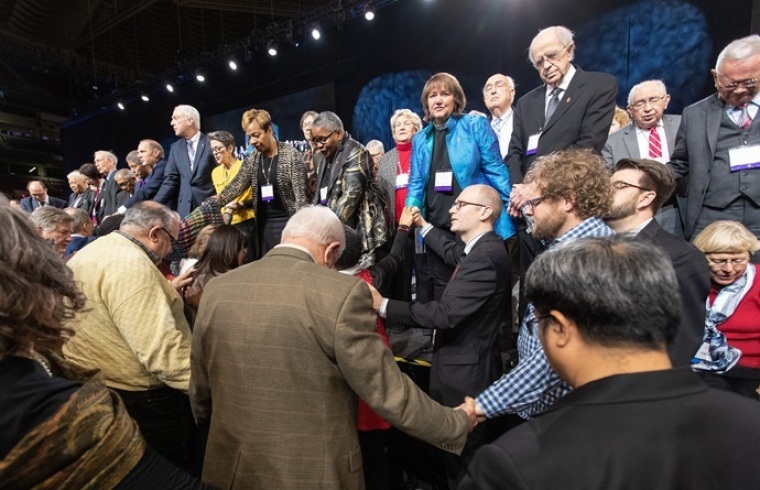 Regional bodies of The United Methodist Church are passing resolutions denouncing the denomination's recently approved "Traditional Plan," vowing to refuse to enforce the rules.
The UMC Great Plains Annual Conference, which is centered on Kansas and Nebraska, passed a resolution on Saturday by a vote of 586-396 rejecting the Traditional Plan.
"We reject the Traditional Plan approved at General Conference as inconsistent with the gospel of Jesus Christ and will resist its implementation," read the resolution in part.
"We will work to eliminate discriminatory language and the restrictions and penalties in the Discipline regarding LGBTQ persons. We affirm the sacred worth of LGBTQ persons, celebrate their gifts, and commit to being in ministry together."
The Conference also approved a resolution making $20,000 in grant funding available to local churches for ministries that appoint LGBTQIA+ persons as missional leaders in the conference. The vote was 548-385.
Over the weekend, the Michigan Annual Conference overwhelmingly passed a resolution calling for the creation of a new "Central Conference" that would allow clergy to perform same-sex weddings and noncelibate homosexuals to be ordained.
Last Friday, Baltimore-Washington Conference Bishop LaTrelle Easterling commissioned two individuals, each in a same-sex marriage, to the positions of provisional deacon and full elder.
Pastor Patricia Bittner, a member of the Baltimore-Washington Conference, expressed opposition to the move, arguing that the bishop was "openly and blatantly disregarding our current Book of Discipline guidelines."
"As our Bishop, representing all the people in the Baltimore-Washington Conference, I feel that if they are commissioned and ordained this evening, you are sanctioning this disobedient action and possibly encouraging further disobedience to our Book of Discipline, thus creating more division among us," said Bittner, as reported by the Conference.
In February, the UMC held a special session of General Conference in which delegates voted 438-384 to approve a "Traditional Plan" to address the church body's years-long debate over whether to change its stance labeling homosexuality "incompatible with Christian teaching."
The approved plan called for stricter enforcement of the rules against same-sex weddings and the ordination of noncelibate homosexuals, while allowing for a "gracious exit" for congregations that cannot accept the UMC's official positions.
In late April, the United Methodist Judicial Council, the UMC's highest court, upheld most of the Plan, which is set to take effect in the United States on New Year's Day 2020, and overseas 12 months after the 2020 General Conference.
While some conferences are passing resistance resolutions, others, including the Texas Annual Conference and the Oklahoma Annual Conference, have voted them down.