Upcoming Documentary Sparks Debate: Is Masculinity Bad for Boys?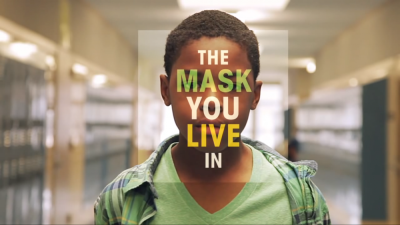 "The Mask You Live In," a new documentary that will be released this year, explores the many difficulties boys are having in American society today. One scholar, though, is concerned that its critique of masculinity will go too far.
"We've constructed an idea of masculinity in the United States that doesn't give young boys a way to feel secure in their masculinity, so we make them go prove it all the time," Dr. Michael Kimmel, a sociologist and educator, says in the trailer, which has nearly 1.5 million views at press time.
The film is made by Jennifer Siebel Newsom, who made "Miss Representation," which looked at how the media represents, or misrepresents, women. In a July interview with The Huffington Post, Newsom explains that it was during the making of that film, while she was pregnant with her son, that she began thinking about the difficulties that boys face.
"At the time I was pregnant with my son, Hunter, and increasingly sensitive to the extremes of masculinity that would be imposed on my own son," she said.
According to the film's website, therepresentationproject.org, Newsom "knew that we couldn't move toward real cultural change without also exposing and challenging the damaging masculinity narrative that is fed to our boys and men."
Christina Hoff Sommers, a resident scholar for the American Enterprise Institute and author of The War Against Boys (2001), watched the trailer and voiced some concerns that "The Mask You Live In" (intentionally sounds like "masculine") may be missing the real problem.
"I admire Newsom for using her considerable talent to advocate for boys," Sommers wrote Monday for TIME. "But I worry that she is less concerned with helping boys than with re-engineering their masculinity, according to specifications from some out-of-date gender-studies textbook. The trailer is suffused with males-are-toxic ideology, but shows little appreciation for how boys' nature can be distinctively good."
For that op-ed, Sommers has five suggestions for Newsom as she makes her final edits for the film. One of those suggestions is to "appreciate the difference between healthy and pathological masculinity."
"Some boys are hypermasculine or pathologically masculine," Sommers wrote. "They are bullies and worse, establishing their male bona fides through destruction, mayhem and preying on the weak and vulnerable. But most boys evince healthy masculinity. They may enjoy mayhem in games and sports, but in life they like to build, not destroy. Their instinct is not to exploit vulnerable people but to protect and defend them."
Sommers agrees with Newsom that adults should not tell a boy to "man up" because it can be "harsh and degrading." It is appropriate, though, to tell boys to "be a gentleman," Sommers believes. "It's a tried-and-true way to bring out the best in males."
AEI produced a YouTube video of Sommers discussing her concerns about the film. You can watch it below.