Uproar After Phil Robertson Suspension; Hundreds of Thousands Threaten to Boycott A&E if 'Duck Dynasty' Star Isn't Returned to Show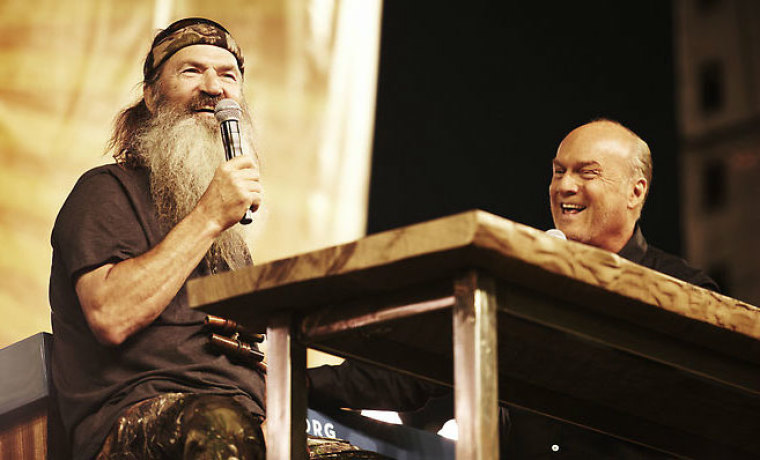 A rapidly growing Facebook fan page which has attracted nearly half a million supporters in less than 24 hours as well as thousands more across social media platforms like Twitter are now threatening to boycott the A&E television channel if Phil Robertson, popular patriarch of the hit show "Duck Dynasty" isn't returned to the show.
Robertson's indefinite suspension from the show was announced late Wednesday for calling homosexuality a sin, which he reportedly equated with promiscuity and bestiality in a GQ interview.
"It seems like, to me, a vagina—as a man—would be more desirable than a man's anus. That's just me. I'm just thinking: There's more there! She's got more to offer. I mean, come on, dudes! You know what I'm saying? But hey, sin: It's not logical, my man. It's just not logical," Robertson noted in the interview.
But in a statement note in The Washington Post, A&E noted that it is a "champion" of the LGBT community and expressed disappointment in Robertson.
"We are extremely disappointed to have read Phil Robertson's comments in GQ, which are based on his own personal beliefs and are not reflected in the series 'Duck Dynasty,'" noted A&E. "His personal views in no way reflect those of A&E Networks, who have always been supporters and champions of the LGBT community. The network has placed Phil under hiatus from filming indefinitely."
Fans of the show, which has more than 7 million followers on Facebook alone, railed loudly against A&E's decision on social media and are now threatening a boycott of the channel.
One Facebook group, Boycott A&E Until Phil Robertson Is Put Back On Duck Dynasty, had attracted nearly half a million supporters as of Thursday morning who are upset about the decision.
"I stand with Phil 100 percent. The way everyone sits around the table saying grace is one of the many reasons that make 'Duck Dynasty' one of our family's favorite shows. If A&E channel take off Phil, they will be cutting their own throats!" wrote supporter Gerry Goetz Cordes on the page.
"Just sent an email to A&E. And thank you Phil for knowing the Word and not being afraid to quote it. God loves us all but not all will be with Him without repentance," noted Kaye Sadler Doughtie.
"It's hard to believe we've spiraled downward as a nation to the point that someone could lose their job for believing and agreeing with the Bible. I never would have believed this could happen until the past decade or so. Tragic," wrote Chuck Lawson.
A change.org petition supporting Robertson with nearly 40,000 signatures is also seeking to reinstate the start to the show.
"Freedom of speech along with freedom of religion is being attacked every single day in this country. Phil Robertson simply stated what his convictions are. Homosexuals have their convictions and Christians respect them," noted the petition.
"There is a difference between respecting someone's rights to exercise free will and imposing on others what we believe. Phil has done nothing more than state what he believes in. Just because homosexuals do not agree, does not mean Mr. Robertson needs to be suspended," it added.