American Christians help fund thousands of bomb shelters to protect Israelis from Hamas attacks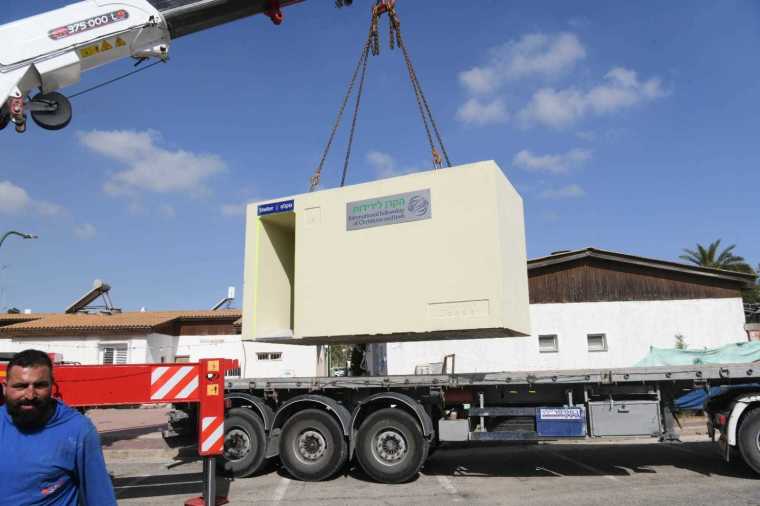 As Israel has been bombarded with thousands of missiles fired by Hamas over the past two weeks, American Christians have provided aid from afar by helping fund mobile bomb shelters that will protect Israeli civilians from the attacks. 
The International Fellowship of Christians and Jews [The Fellowship] placed 13 mobile bomb shelters in the heavily bombarded city of Ashkelon last Wednesday, along with several other mobile shelters throughout the week, to protect from Hamas terrorist missile fire. 
The Fellowship also provided security staff in Ashkelon, a coastal southern Israel city, with 25 protective vests. 
The Fellowship, a leading nonprofit founded in 1983 that bridges the gap between American evangelicals and Jews by providing humanitarian aid to Israel and Jewish people, has placed nearly 3,000 bomb shelters in Israel to date. 
The support of American Christians who desire to see Israel protected has allowed thousands of permanent or mobile bomb shelters to "truly provide security and safety from these rocket attacks to the people of Israel."
"It's mostly on behalf of Christians in America who want to provide that shelter and protection just as the Bible says to be the watchmen on the walls [of Jerusalem]," The Fellowship CEO Yael Eckstein, whose father founded the organization, told The Christian Post.
Despite the pandemic and subdued terror activity during 2020, The Fellowship continued to prepare for future conflicts in Israel and successfully placed 59 permanent and mobile bomb shelters and 1,000 protective vests in the past 18 months.
Factories can produce a mobile bomb shelter in six days, she said. And in times of conflict, these shelters can be purchased and placed in "key, strategic, vulnerable locations [under rocket fire]."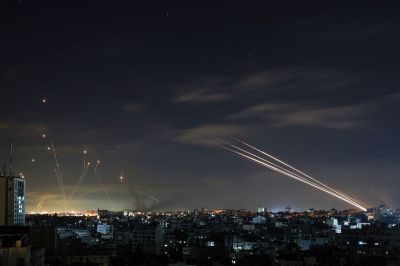 Especially in the last week, Israel is aware of the constant threat of attack from enemies surrounding the small Middle Eastern country of about 9 million people. 
"Every night before we go to sleep and say the bedtime prayers to ask God to watch over us, we're giving our plans for if there's a [bomb] siren — who is going to grab who to go down to the shelters,"  the mother of four shared. 
"Things have definitely changed, and it's a constant balance between making sure our children are aware and that you're honest with them and that they're aware of the threats and aware of where the closest bomb shelter is."
She said it is challenging to find the balance of not being afraid and trusting in God's protection while knowing individuals who have been killed in war and terror in Israel. 
"What's really unique and unprecedented about this situation now is that we're not even technically in a situation of war and [there have] been more rockets over Tel Aviv, Jerusalem than ever before in the history of Israel," Eckstein detailed.
"And so, I guess what makes this unique is just the range that Hamas terrorists are able to [reach]. The amount of people who are in their bomb shelters who have never [had] to get in their bomb shelters before and the ongoing barrages that are targeting civilians and not specifically military or IDF bases." 
The Fellowship has operated on the Gaza Strip for 15 years to prepare for emergencies through building bomb shelters, providing secure trauma centers and protective vests. But the attacks of the past couple of weeks have affected more Israeli civilians than ever before, according to Eckstein. 
She said seeing the support millions of Christians have shown for Israel, despite the media's often misleading narrative, is encouraging. 
"What's inspiring to me personally is to see the millions of Christians who, despite the media totally misportraying what is happening, they see through it and continue to stand with Israel and be Israel's most vocal supporters," Eckstein said.
"And for Christians, obviously, who stand for life, who stand against killing, who have these very, very strong values of freedom, to see how they recognize there's one side defending themselves and one side waging war and targeting civilians, for me is just the most encouraging thing. ..."
She said millions of Christians are going against the "mainstream opinion" because they understand that "Israel stands for freedom."
Eckstein explained how Israel is surrounded by enemies that seek its destruction though it is peace-seeking and has never provoked a war in its history since 1948. 
"Israel yearns for peace," she stated. "Israel does not want war. Israel doesn't want to kill anyone. Israel wants to make sure that its citizens are safe. …"
Eckstein stated that while Israel is building bomb shelters to protect its civilians, the designated terrorist group Hamas uses women and children for shields and will build its weapons factories under schools and hospitals. 
In reference to former Israeli Prime Minister Golda Meir's quote, Eckstein said, "the day that our enemies love their children more than they hate us is the day there will be peace."
"[Israel] is really this beacon of light and Judeo-Christian values, just like America stands for with the same democratic process, same value for life and freedom," she said. "And one of the hardest things is being surrounded by terrorists … who have no value for life."
"If the Arabs would put down their arms, there would be no more war," she continued. "If Israel would put down their arms, there would be no more Israel."
Eckstein explained how the Guardian of Israel "neither slumbers nor sleeps" and that God has allowed them to create the Iron Dome, a missile defense system that intercepts missiles fired at Israel in mid-air. 
"I think that we're seeing miracles in our lifetime, and I think that we're seeing blessings as well that with over 2,000 rockets being launched at Israel and miraculously they're falling in open areas …," she shared.
"I really believe prayer is Israel's greatest weapon, and the fact that we have millions of Christians praying for us and standing with us is just, I believe, a huge component of what's giving us this strength."