US Should Press Nigerian Gov't to Address Violence, Says Religious Agency
The U.S. Commission on International Religious Freedom (USCIRF), an independent government agency, condemned the recent new wave of attacks against Christians in Nigeria. The organization's chairman, Leonard Leo, expressed concern that increasing violence might lead to the eradication of Christianity in the Middle East and Sub-Saharan Africa.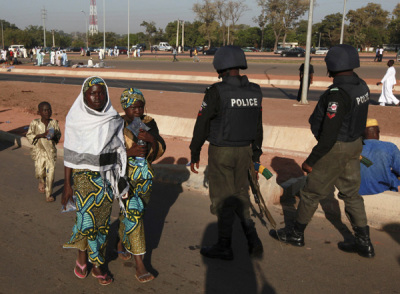 Christians in Nigeria were targeted in a wave of bombings over the weekend that killed at least 29 people in four separate attacks between Friday evening and Saturday morning. On Thursday, six people were killed and at least eight wounded after a gunman burst into a church during service and opened fire on the congregation. The attacks took place in the predominantly Muslim Northeastern part of the country.
The Jihadist group, Boko Haram, also responsible for the Christmas Day church bombings that killed 39 last year, is suspected to be responsible for the most recent wave of violence. Local sources have described hundreds of Christians fleeing areas in the Northeastern region of the country.
The attacks mark a harrowing fulfillment of a warning reportedly made days ago by a person claiming to be a Boko Haram representative that all Christians and Southerners needed to leave northern Nigeria immediately or face attacks.
"USCIRF strongly condemns the recurring attacks against Christians and Southerners in Northern Nigeria, reportedly by members of the Boko Haram sect," Leo said in a statement Saturday. "Nigeria's security forces must act decisively, but responsibly, to restore calm."
The organization determined that the group particularly targeted by Boko Haram are the Igbo people, who are Christian and come from the Southeastern part of Nigeria.
The Nigerian government is not doing enough to protect the vulnerable Christian community and other citizens that find themselves under attack, the agency claimed.
"The United States must vigorously press the Nigerians to address the violence through law enforcement and prosecutions, such as during meetings of the U.S.-Nigeria Bi-National Commission," Leo said.
Muslims and Christians remain locked in escalating cycles of violence in Nigeria, USCIRF wrote in its 2011 report on global religious freedom.
A year ago, on Christmas Eve of 2010, churches were attacked in Madiuguri, allegedly by Muslim militants, killing a pastor and others. This was accompanied by bombings in Jos that killed 32 people and injured at least 70.
Nigeria's government has failed even to attempt to stem the violence by bringing the perpetrators of these and other atrocities to justice, the agency determined
Meanwhile, Leo also said recently that Christianity in Afghanistan and Iraq could be eradicated in our lifetime, in a pattern of violence against religious minorities which is appearing more and more clearly througout the Middle East and Northern Africa, Leo said in an interview with Terry Jeffrey, editor in chief of CNSNews on Dec. 22. Leo also discussed the issue with Fox News' Megyn Kelly.