American tourist arrested for vandalizing Jesus statue at church in Jerusalem: 'You can't have idols'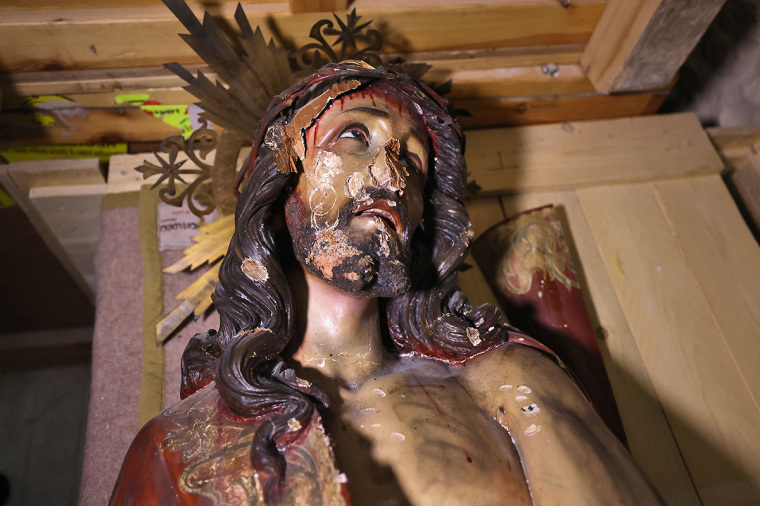 An American tourist has been arrested for vandalizing a statue of Jesus Christ at a church in Jerusalem, reportedly due to his belief that the statue constituted idolatry.
A man in his 40s, whose name has not been released to the press, was arrested Thursday after he defaced and broke parts of a statue of Jesus at the Franciscan Church of the Condemnation, a property that includes the Church of the Flagellation. 
In a video taken at the church, the man could be heard shouting, "you can't have idols in Jerusalem, this is a holy city," Fox News reported. 
According to tradition, the church was built on the space believed to be where Jesus was flogged by the Roman soldiers back in the first century and presented with a cross to carry.
"We take very seriously damage to religious institutions and sites," an Israeli police spokesperson said in a statement. "The police will continue to act against acts of violence and vandalism in the holy places of all religions."
Custodia Terrae Sanctae, a Franciscan organization that oversees the care and protection of Catholic Church holy sites in the Middle East, released a statement denouncing the vandalism.
The vandalism marked the fifth incident within the last month, according to Custodia Terrae Sanctae, which cited examples of recent vandalism that included attacks on a monastery and a local Christian cemetery.
"We follow with concern and strongly condemn this growing succession of serious acts of hatred and violence against the Christian community in Israel," added Custodia Terrae Sanctae. "It is no coincidence that the legitimization of discrimination and violence in public opinion and in the current Israeli political environment also translates into acts of hatred and violence against the Christian community."
The group went on to call upon the Israeli government to "act decisively to guarantee security for all communities, to guarantee the protection of religious minorities and to eradicate religious fanaticism."
Last month, a group of people believed to be radical Jewish Israelis attacked an Armenian restaurant in the Christian quarter of the city, waving Israeli flags and throwing chairs at patrons.
The Assembly of Catholic Ordinaries of the Holy Land denounced the violence leveled against the restaurant, expressing concern over "the escalation of violence in the Holy City."
"This unprovoked violence instilled fear in the shopkeepers and residents of the Christian quarter as well as visitors," stated the Assembly.
"It is only the latest in a series of episodes of religious violence that is affecting the symbols of the Christian community and beyond."