US Warplanes Hit ISIS Leaders in Iraq; Dozens Killed in Suicide Bombings in Baghdad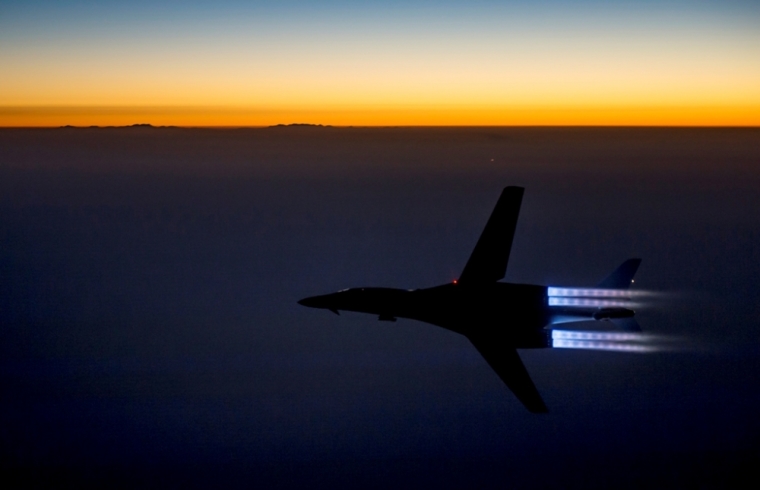 U.S.-led airstrikes destroyed a convoy of 10 armed trucks in an attack on what was believed to be a gathering of Islamic State, of ISIS, leaders near Mosul in Iraq, but it is unclear if the Sunni terror group's leader Abu Bakr al-Baghdadi was in the convoy. In Baghdad, dozens were killed in suicide attacks.
"I can confirm that coalition aircraft did conduct a series of air strikes yesterday evening in Iraq against what was assessed to be a gathering of ISIL leaders near Mosul," Reuters quoted Colonel Patrick Ryder, a Central Command spokesman, as saying Saturday.
At least 10 ISIS armed trucks were part of the convoy, but it is unclear if al-Baghdadi was also there. "We cannot confirm if ISIL leader Abu Bakr al-Baghdadi was among those present," Ryder added.
A Mosul morgue official told the newswire that 50 bodies of ISIS militants were brought to the facility after the attacks.
ISIS, an al-Qaeda offshoot also known as ISIL, controls large parts of territories in Iraq and Syria, and seeks to form an Islamic emirate in the Levant region through "jihad."
"This strike demonstrates the pressure we continue to place on the ISIL terrorist network and the group's increasingly limited freedom to maneuver, communicate and command," a defense official told Fox News.
A U.S.-led coalition has conducted airstrikes on ISIS positions in Iraq and Syria since August.
The U.S. has now also doubled the number of its troops in Iraq.
While there are about 1,400 U.S. troops in Iraq, President Obama Friday authorized Defense Secretary Chuck Hagel to send 1,500 more troops to train and assist Iraqi forces in fighting ISIS militants, as was requested by Iraq's government.
Meanwhile, a series of car bombs supposedly targeting Iraqi forces and Shia Muslims killed at least 21 people in Baghdad areas Saturday, but no group claimed responsibility for the attacks.
A blast near a market in eastern Baghdad's Sadr City killed one and wounded seven, according to CNN, which also reported that at least seven people were killed and 22 others were injured when two other bombs detonated outside a gas station in southwestern Baghdad's al-Amil neighborhood.
A fourth car bomb exploded near a restaurant in eastern Baghdad's al-Ameen neighborhood, killing three people and injuring 15 others.
ISIS is seen as the most brutal jihadist terror group. According to reports, U.S. journalists James Foley and Steven Sotloff and British aid workers David Haines and Alan Henning, who have been beheaded by ISIS militants, were subjected to severe physical torture, including waterboarding, and a majority of them converted to Islam under duress.
ISIS has launched similar attacks on Iraq's minorities in the past, but the country has also witnessed years of sectarian violence.
"What is needed from the U.S. is that it should work to bring the Iraqi people together," Hamid al-Mutlaq, a Sunni Iraqi lawmaker, was quoted as saying. "America, and others, should not become an obstacle that hinder the Iraqis' ambitions for a free Iraqi decision that serves the interests of Iraq"