US, Western Europe Missing Out on '5th Great Awakening,' Jim Denison Says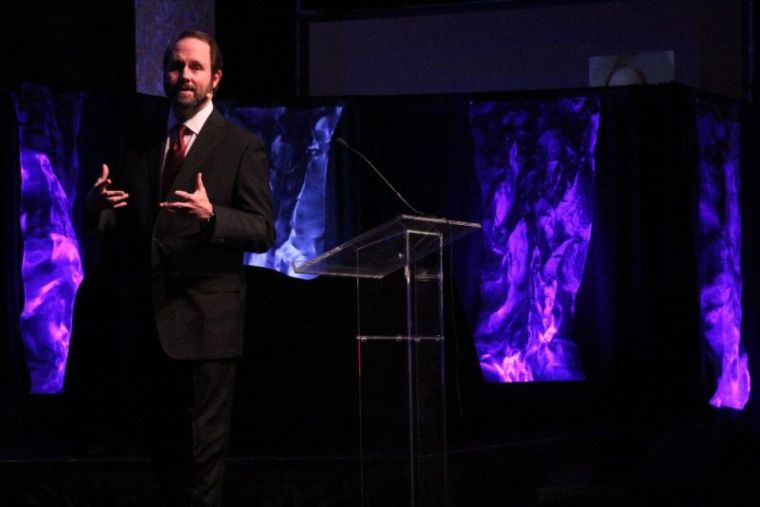 GRAPEVINE, Texas — Western civilization is missing out on the next Great Awakening happening in the world today because many Americans and Western Europeans are treating God as a hobby rather than their king, prominent Christian cultural commentator Jim Denison told a gathering of hundreds of Christian college administrators and faculty this week.
"Our culture has separated Sunday from Monday and spiritual from secular and religion from the real world," Denison, the founder of Denison Forum on Truth and Culture who leads the Institute for Global Engagement at Dallas Baptist University, said during his 15-minute speech at the Council for Christian Colleges and Universities' 2018 International Forum.
In an address on the biblical command of "loving your global neighbor," Denison shared estimates from the World Christian Encyclopedia, a reference book produced by Oxford University Press.
According to Denison, the encyclopedia, which was last updated in 2001, shows that as many as 82,000 Christians worldwide are coming to Christ each day.
He added that other scholars and experts, which he did not name, estimate that as many as 1 million people are converting to Christ every day.
However, of the 82,000 that the encyclopedia estimates are coming to Christ every day, only 6,000 come from Western Europe and North America, Denison said.
"The reason above all these, culturally and spiritually, why our culture, why Western civilization isn't joining this spiritual awakening is that in our culture, God is not a king, He is a hobby," Denison contended.
In highlighting the vast growth of Christianity around the world, Denison shared his own experiences from his global travels.
Denison said that while he was in Seoul, South Korea, he visited a church that that was founded in 1958 with just six members. Today, that same church, he said, has over 1 million members.
He also praised the revival occurring in Australia and the emergence of one of the world's most popular megachurches, Hillsong Church, which is known for its world-renowned worship music.
While in Brazil, Denison said he was told that by the year 2025, the nation is expected to be one-half evangelical Christian.
In Cuba, Denison says that more than a million Cubans have come to faith in Christ over the last 10 years.
During a trip to Beijing, Denison said he was told that that tens of thousands are coming to Christ every day in China.
Denison also told the college administrators about the growth of Christianity that he has seen in places like Egypt and parts of the Middle East. Although he didn't mention it specifically in his speech, Christianity is on the rise in nations like Iran, where hundreds of thousands of Christians are worshiping in house churches across the hostile Islamic Republic.
"Having lived in the Muslim world, traveled pretty widely there, more Muslims have come to Christ in the last 15 years than in the previous 15 centuries," Denison surmised. "Many have seen visions and dreams of Jesus. We're calling this a fifth Great Awakening happening around the world. That is the good news."
"The bad news is that [out of the] 82,000 conversions-a-day, only 6,000 are coming from Western Europe and North America combined." he continued. "So what explains that? What does that have to do with loving our global neighbor? I'd like to suggest to you a concept called metanarrative."
According to Denison, the concept of metanarrative comes from George Friedman, a geopolitical forecaster and founder of the private intelligence consulting firm Stratfor and the online publication Geopolitical Futures.
"He claims that every country has a north on the compass, has as a cultural DNA. He calls it a metanarrative that explains that country's past and predicts their future," Denison said. "He would say, for instance, that the reason Iran is so interested in nuclear technology and possibly nuclear weapons is because their metanarrative is to rebuild Persian impact. He would say that Turkey these days is trying to rebuild the Ottoman empire, as it were. He would tell you the best way to understand Vladimir Putin in Russia is in terms of Russian empire."
As far as the biblical metanarrative goes, Denison suggests a few biblical passages that indicate what the biblical metanarrative is.
"Psalm 47:2: 'How awesome is the Lord, most high, the great king over all the earth," Denison cited. "Zechariah 14: 'The Lord will be king over the whole earth.'"
"When Jesus began his ministry, He said, 'Repent for the kingdom of Heaven is at hand.' He taught us to pray, 'Thy kingdom come, Thy will be done on Earth as it is in Heaven.' He taught us to first see the kingdom of God," Denison reminded the audience. "When He returns, His name will be 'King of kings and Lord of lords.' I would suggest to you that the metanarrative of Scripture is that God is the King extending His kingdom."
Denison suggested that the people who are truly making God their king "are joining the fifth Great Awakening."
"[Western] culture says, 'Truth is personal, individual, its subjective and the Bible is a diary of religious experience and you have no right to force your beliefs on me. If church is your hobby on Sunday, that's fine. If golf is my hobby, that is fine, and you have no right to force your positions,'" Denison relayed. "Ninety-two percent of Americans say they are their own soul and determine their own truth. That is our culture."
Denison stressed that one cannot help a global neighbor unless they actually have love to share with that global neighbor.
"I have to love the Lord my God with my heart and soul before I can love my neighbor as myself," he said, referring to Christ's greatest commandment laid out in Matthew 22. "So if I am going to do what I have been asked to do today, to give some wisdom, some direction in loving my global neighbor, [I need to ask] how can I be in love with the God who loves my global neighbor? The first thing I gotta do is decide to make Him my king and not a hobby."
With well over 100 CCCU schools represented at the conference, Denison said that the same principle applies for the Christian college presidents, professors, administrators and faculty in the room hoping to install such a value in the increasing number of students enrolling in CCCU institutions.
"[You] have to decide that 'He is on the throne and He is king of my university, that He is king of my heart and He is king of my prayer. He is king of my relationships and He is king of me," Denison asserted. "'If He is not king of all of me, He is not king of any of me.'"
"So if your commitment as a leader in Christian higher education is to be building students to love the Lord their God with all their hearts, mind and strength as their king, they'll use their influence to love their neighbors as themselves and then God is going to see to it that they join this fifth Great Awakening," he added.
"God is going to see to it that they are moved out into the culture and out into the large global context. And God is going to see to it that His kingdom comes and His will is done on Earth as it is in Heaven to the degree that He is our king of our lives and He is the king of our enemies. If that is our passion and that is our purpose, if that is our commitment, ... then God uses us in ways we can see and ways we can't."