US Yazidi Returning to Iraq Amid ISIS Persecution Calls for People of All Faiths to Act, Shares Heartbreaking Stories of Atrocities Back Home
On how his 53-year-old mother has responded to the atrocity back home:
She feels devastated as well. The other day I went back home I saw her crying, and I told her, 'Mom, why are you crying? The pain has already passed. Why are you crying?' She said, 'I don't cry because of the Yazidi people. I'm crying because of the animals.' Because more than 5,000, or maybe 10,000 animals died in the villages. As people escaped, they left them behind. Whether it's like pets, dogs, chickens … just any animals they had, any pets they had. Or some of the farmers who had like farms to care of animals, those all died ... because people left them behind. She said, 'I don't cry anymore for the people because I know what people go through, but what is the guilt of the animals to (die) and be tortured in this way?'
So, in a way, it's very painful for me to hear her think that. But it also gives me more strength to see the difference between us and them. When my mom, when every Yazidi puts so many tears on animals, on pets and when they capture our children and behead them or capture our women and rape them and enslave them, that basically just tells you the difference between who we are and who they are.
In the bottom of my heart I know and I believe that the good will win on the evil, and the peaceful people will win at the end. … We will have so much suffering, but because we have wonderful culture, we have very peaceful people, we have people who want peace, who want love, who want kindness, who feel (for) others, whether they are animals, they are nature, they are people. I'm proud of who we are too.
Also, one day she was very upset. I said, 'Mom, why are you upset?' She said, 'You know, when I left my home, I left it because of you. I want to be close to my son.' Like my father passed away a long time ago. She said, 'All I have is you. Just you, your brother, and your sister and I wanted to be close to you. I decided to leave my birthplace.' Which is very very difficult to leave a place, culture that you grow up till the age of 50, and then you leave it.
She said, 'I made the sacrifice to come all the way here to be with you, but also I always had in the back of my mind that I would be able to go back some day and at least I will be buried in one of our temples when I die and ...' (he pauses). Sorry. And she said eventually, 'I will not even be able to be buried in my homeland. So I will live in exile sort of, outside my country for forever. Even when I'm dead, my soul will be there only, my body will not be there.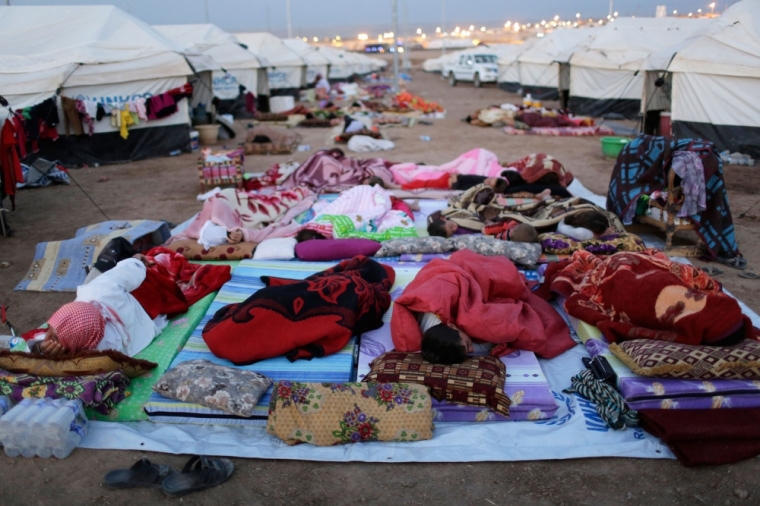 On why he is partnering with Christians:
The first Christians in Iraq and Yazidis in Iraq are going through the same thing, or similar things. Where Yazidis were killed, maybe Christians are forced to leave their churches and we sort of share the same fate on that one thing. The second thing is, I have so many Christian friends here and I've been in churches and been in many places.
I know that Christianity, and every religion, is based on love, based on helping others, extending hand to others. The approach is also a humanitarian approach. I know that Christians, Jews, good Muslims, everyone, when they know about the problem, they will arise, they will be against it.
No Christian in the world will accept people to be killed this way, whether they are Christian or they are not Christian. No people of faith in any religion, real faith, will accept another group to be subject to ethnic cleansing because of just their faith.
When the Armenians were subject to a genocide more than 100 years ago, the first place they came was to take refuge in Sinjar where Yazidis are, because they know that the Yazidis will protect them and they did. They still have Armenian families who lived in the very town that I lived in, the village of Khanda Sor. We have several Armenian families who came and who joined us and lived with us and for the past 120 years. So it's what Christians and Yazidis have done for one another for a long time.
Christian and Yazidis have always been on one side, whether it's on the same side trying to respond to radical groups like this group, whether co-existing in the same environment with love and peace. Not a single problem have occurred between Yazidis and Christians in Iraq, for example, where the Yazidis and Christians live together [unintelligible] and very good relationship as family members. I can go to a church in Iraq or go to one of the Christian families there, and they will find me as a partner or as a close friend, as they see another Christian. There is this good relationship between Yazidi and Christians sort of strategically.
But also for you being people of faith, for you being followers of Jesus Christ, you have moral obligation to stand with people and you are standing with people. When this happens, this happens in Iraq, you have 14,000 km or miles between the two countries and the only country that stand up and basically taking their airplanes and saying that we will not allow 200,000 Yazidis to cease on the mountain, to be executed, to be killed. That's your values. That's who you are.
On appealing to people of all faiths:
My approach to the Christians and to the Jewish people, to the Hindu community, to every community, every people of faith is this, it's a humanitarian call. And it's a call that I know you will not allow that to happen. I think once we are successful to sort of tell people all this. … Eventually you are people of faith, even if you are secular. I think any people that has heart will feel [for] the Yazidis, will feel [for] the Christians who left their churches.
When I was in Mosul, some of the beautiful churches that I went to …some of the beautiful, wonderful churches that go back 1,400 years now. The Scriptures were inside those churches. The beautiful architecture, the heritage of the Assyrians and the Syrian people of faith in Iraq, in Nineveh. All of these places have been leveled to the ground. All of these beautiful churches have been leveled to the ground. All these Yazidi temples have been leveled to the ground.
I will be honest with you, U.S. has not done as a country and the whole Christian community has not done much for the Christian community in Iraq, leave aside the Yazidis. I think that is because as Christians in Iraq, as Yazidis in Iraq, we have not been successful to deliver our message. We have not been successful to write about this. We have not been successful to let the public know in the West that what Christians and Yazidis are going through in Iraq is horrible. It's beyond imagination.
When you have Christian population ... Christian population has been dwindling from more than a million, a million a half Christians in Iraq. Now there are 300,000 and those 300,000 are terrified. They live in pain. They left their churches. They cannot conduct their services in those churches in Mosul, the places where they existed before even Christianity came. The Assyrians were part of Mesopotamia, of Nineveh, even before Christianity came. They've been part of that land for 4,000 years. Yazidis have been part of that land for 5,000 years and this all happened to us since 2003.
On life under Saddam Hussein before U.S. war:
Because of the U.S. we went [unintelligible] to 2003, and the lives become terrible for Christians, the lives become terrible for Yazidis, we have obligation to prevent that. Saddam Hussein was terrible for everyone but the Yazidis, Christians, other minorities were able to coexist. A Christian did not get killed on identity when Saddam Hussein was in power. A Yazidi did not get killed, although we had terrible experiences, we were living as slaves.
As Christians, Yazidis, every Iraqi was enslaved by Saddam Hussein but he did not kill people. All this killing, all this displacement force people to emigrate to this place. It happened after 2003. And because U.S. led the mission to go and free Iraq, Washington also have obligation to ensure that Christians and Yazidis will have a safe home in Iraq.