US Yazidi Returning to Iraq Amid ISIS Persecution Calls for People of All Faiths to Act, Shares Heartbreaking Stories of Atrocities Back Home
Editor's note: This article is tied to a report on Yazidi immigrant Murad Ismael and NYC Pastor William Devlin's humanitarian trip to Erbil, Iraq. Read that report here: US Pastor Who Supported Meriam Ibrahim in Sudan Heads to Iraq With Yazidi Activist; Says Christians Can Pray, Give Money But Should Put Their Bodies on the Line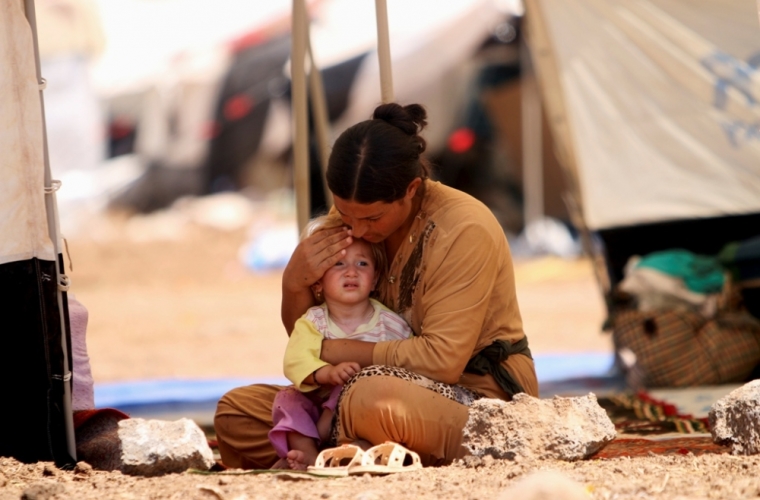 NEW YORK — Murad Ismael's words came in a constant stream, with only the occasional stammer as he grasped for the right English words slowing them down. When he did pause, his absence of words were replaced by a sigh. He sounded weary. Thousands of Yazidis, his Yazidis — those related to him by blood and those who are not — have been killed, tens of thousands of them displaced, and more women and young girls than he would care to count abducted and sold, and being used as sex slaves by the Islamic State.
If Ismael sounded like a man in shock during his 40-minute phone conversation with The Christian Post, it was understandable. The people and town he has called family and home for nearly all of his life "(are) not in place anymore."
"It's just …," he said, his voice trailing off and falling into a sigh.
He continued: "It's just unbelievable that life for a half-million people, for 600,000 or 700,000 people worldwide and half-million in Iraq, just changed between a day and night. And everyone is a different person. Really, everyone is a different person since this happened. It's just an unimaginable feeling and pain. When you lose someone, you feel devastated. When you lose one of your friends or one of your family members or (someone) that you know, you feel devastated for a week. So what about if you lose everyone that you know in one way or another? How about when everyone that you've ever known is suffering …? It's heartbreaking, really."
But Ismael, who emigrated to the United States in 2009 after working as a translator for U.S. forces in Iraq, has not been rendered immobile by his grief.
It was in August when the world learned that the extremist Sunni jihadist group, the Islamic State of Syria and the Levant (ISIL, or in some cases, ISIS), had advanced in its crusade to establish a caliphate in Iraq and Syria beyond Mosul and into Sinjar, both in the province of Nineveh. Reports indicate that about 200,000 Yazidis, along with other religious minorities, like Christians and Kurds, fled their homes. At least another 40,000 found themselves trapped along various locations on Sinjar Mountain, languishing in the heat and without food.
Survivors, eventually helped by Iraqi, Kurdish and U.S. forces, have told how many of their women and young girls were stolen by ISIS militants. The survivors,spread across numerous refugee camps in Iraq, Turkey, and in northeastern Syria, also expressed shock to have witnessed their otherwise peaceful Muslim neighbors joining the Islamic State in attacking them.
It was reported that the 25,000 of the 300,000 Sinjar residents who remained in their towns, had been given the same ultimatum as other religious minorities in Iraq since ISIS started its bloodly campaign: convert, pay a tax, or die. The world is well familiar, thanks to ISIS-published photos and videos that the jihadists keep their word to behead or mass execute so-called infidels who refuse to submit. Foreign soldiers, journalists, and aid workers also have been killed in this way.
The United Nations estimated in October that the Islamic State had executed about 5,000 Yazidi men and abducted 5-7,000 women, who were being sold or kept as personal sex slaves in houses in ISIS-controlled towns.
The Yazidi religion is about 4,000 years old, predating Judaism, Christianity, and Islam, and has been tied to Zoroastrianism. The dominant religion, Islam, is reportedly practiced by 99 percent of Iraq's 32.6 million people, and is split between Shiites and Sunnis (according to July 2014 estimates). Yazidis, Christians, Hindus, Buddhists, Jews, and other religious groups account for the remaining 1 percent.
Ismael told The Christian Post the day before boarding a flight from New York City's JFK Airport that hundreds of Yazidis remain on Sinjar Mountain. Despite the United States and its allies targeting the Islamic State with airstrikes in Iraq and Syria, in an effort to assist local Iraqi and Kurdish forces, the University of Houston research assistant said the men on the mountain were defending themselves daily against the Islamic State's relentless onslaught.
This playlist includes various reports on the Islamic State's attacks on Yazidis, Christians, and other Iraqi minorities:
Ismael, 31, learned of the devastation of his people first-hand via phone calls from those caught in the merciless net of the Islamic State.
Since receiving word from those back home, the Iraqi immigrant has rallied with other shell-shocked Yazidis in his Houston, Texas, town and elsewhere to bring attention to the "genocide" of their people.
Through the newly-created Yazda.org and the Sinjar Crisis Management Team, they organized protests outside of the White House in Washington, D.C., and the United Nations in NYC. Members of the community, which reportedly number 3,000 in the U.S., have spoken to government officials and partnered with religious organizations in an effort to coordinate humanitarian assistance and fundraising efforts for Yazidis back home.
This week, Ismael returned to Iraq for the first time, departing on Tuesday with New York City pastor and activist William Devlin, a journalist, and perhaps one other individual whose presence had not been confirmed by the publication of this report. The small group expected to arrive in Erbil, where there are three refugee camps, by Thursday morning.
Ismael told CP that the trip was primarily to offer humanitarian aid and assess the situation, especially of the kidnapped Yazidi women and girls who he says are raped daily, if not hourly by Islamic State militants.
Devlin, sounding somber but decidedly more upbeat than his new Yazidi friend during a phone conversation with CP, was hopeful of finding a way to convince ISIS to release their female captors — and was prepared, thanks to donors, to financially "redeem" them if necessary.