Top Vatican Cardinal Admits 'Absolutely Scandalous' Handling of Child Sex Abuse by Clergy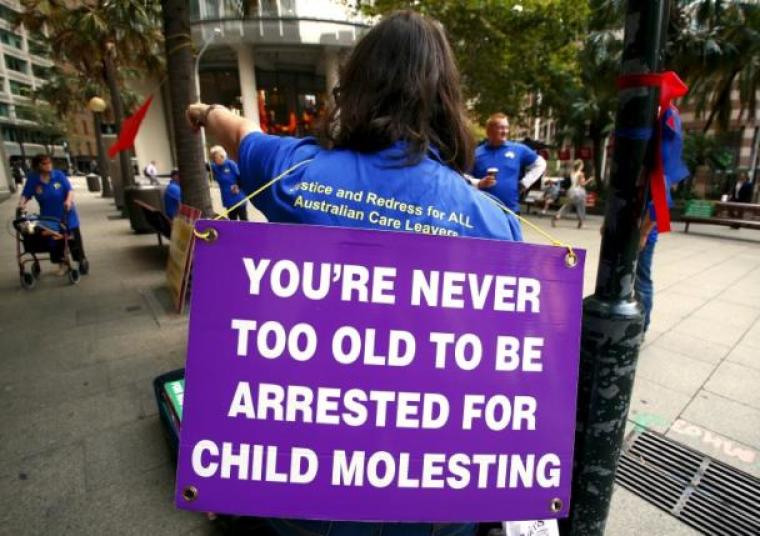 Australian Cardinal George Pell, a top official in the Roman Catholic Church, admitted in a sex abuse inquiry in Rome Monday that some allegations of abuse against children were dismissed in an "absolutely scandalous" manner by clergy.
Pell, who is the Vatican's finance chief, admitted that there was a strong tendency during the 1970s to dismiss allegations of abuse against children, as the Royal Commission into Institutional Responses to Child Sexual Abuse looked at cases stretching back decades.
Pell, the former archbishop of Sydney, said in his testimony that many allegations "certainly were dismissed and sometimes they were dismissed in absolutely scandalous circumstances."
"They were very, very plausible allegations made by responsible people that were not followed up sufficiently," he added, according to Religion News Service.
Pell has said, however, that he has the "full backing" of Pope Francis in his cross-examination over sexual abuse in Australia, The Sydney Morning Herald reported.
Francis and Pell reportedly met face to face at the Vatican hours before the senior Australian cleric testified via video link to the Royal Commission, though Holy See officials gave no details of the meeting.
Some sex abuse survivors have spoken out about the ongoing investigation, including one man by the name of Paul Levey, who was sexually abused as a minor by Catholic priest Gerald Ridsdale, but instead of being protected was forced to live with him.
Ridsdale was eventually convicted of a large number of child sexual assaults, but Pell was questioned by the commission about why the church failed to stop him sooner.
Levey said that he was angered that Pell has called the Ridsdale case "a sad story and it wasn't of much interest to me," the Guardian reported, but was pleased that the commission has asked tough questions of the former Sydney archbishop.
Senior Counsel Assisting Gail Furness asked Pell how he could not have known that Ridsdale was abusing children, though the Catholic cleric insisted that despite the many allegations against the priest, he was not told about the abuse.
Pell has insisted that people who did not have knowledge of the abuse should not be held accountable for failing to protect children, and has said that he does not accept any responsibility that Ridsdale was moved from parish to parish rather than being removed from the Church and reported to police.
The investigation continues as Catholic sex abuse charges lead media headlines with the recent Oscar Best Picture victory for "Spotlight," a film about the Boston Globe's Pulitzer Prize-winning investigation of priest sex abuse of children in the United States.
Producer Michael Sugar, who spoke at the awards ceremony, said he hopes the Vatican will focus its effort on protecting children.
"This film gave a voice to survivors, and this Oscar amplifies that voice which we hope will become a choir that will resonate all the way to the Vatican," Sugar said onstage. "Pope Francis, it is time to protect the children and restore the faith."