Vatican Rejects Atheist Interviewer's Claim That Pope Denied Existence of Hell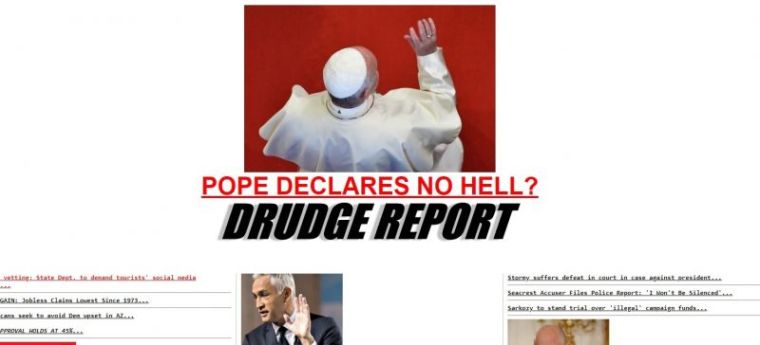 The Roman Catholic Church has released a statement denying widely circulated claims that Pope Francis recently denied the existence of Hell.
Eugenio Scalfari, a 93-year-old atheist philosopher, claimed in statements published by La Repubblica that Francis had told him in a conversation that "Hell does not exist" and that "those who do not repent and cannot therefore be forgiven disappear."
Despite the news being circulated by many websites and blogs, including the widely read Drudge Report, the Vatican has since denied that the pontiff said these specific things.
In a statement released Thursday, the Holy See stated in a communique the quotes reported by Scalfari was his own "reconstruction" and not the exact words of Francis.
"What is reported by the author in today's article is the result of his reconstruction, in which the literal words pronounced by the Pope are not quoted," said the Holy See, as quoted by the Catholic News Agency.
"No quotation of the aforementioned article must therefore be considered as a faithful transcription of the words of the Holy Father."
Scalfari and Francis have engaged in multiple dialogues in the past. This is not the first time Scalfari's interpretation of the Pope's words were disputed by the Vatican.
In 2013, Francis garnered headlines when an interview with Scalfari published by La Repubblica purported to have the Pope rejecting the concept of evangelism as "solemn nonsense."
The 2013 interview, which had originally been posted to the Vatican's official website, was later taken down, with Holy See spokesman Fr. Federico Lombardi explaining in a statement to the press at the time that there were points of contention regarding the accuracy of some of the details within the text.
"The information in the interview is reliable on a general level but not on the level of each individual point analyzed: this is why it was decided the text should not be available for consultation on the Holy See website," said Lombardi in 2013.
"Its removal is a final update on the nature of this text. Some mistakes were made regarding its value, which was questioned."