American Catholics Increasingly Believe Pope Francis Is 'Too Liberal,' 'Naive'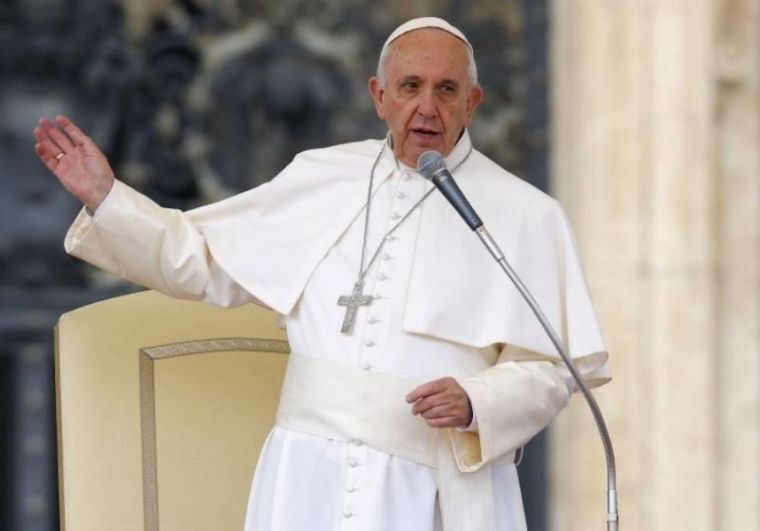 Catholics in the United States are increasingly concluding that Pope Francis is "too liberal" and possibly "naïve," according to a newly released report by Pew Research Center.
Although the Latin American born pontiff continues to garner a largely favorable rating among Catholics, a growing number are viewing him in a negative light, noted the report, which was released on Tuesday.
Thirty-four percent of Catholics view Pope Francis as being "too liberal," a 15 percent increase from the number who said this in 2015. Also 24 percent believe him to be "naïve," which marks a 9 percent increase from 2015.
Pew explained that this increase in unfavorable views on Francis are especially pronounced among American Catholics who identify as Republican or Republican-leaning.
Among Republican and Republican-leaning Catholics, 55 percent (up from 23 percent in 2015) say Pope Francis is 'too liberal,' and one-third osay he is 'naïve,' compared to 16 percent.
Favorability has also decreased among Republican Catholics though most still hold a favorable view. 
Favorability numbers for the pope remain strong overall, however, as 84 percent of Catholics said they held a favorable opinion of Francis, which is only 1 percent smaller than in 2014.
The survey was conducted Jan. 10-15 among approximately 1,500 U.S. adults, of whom more than 300 were Catholic.
Since becoming head of the Roman Catholic Church five years ago, Francis has garnered many headlines for his views and actions that many see as being provocative.
Months after being elected pope, Francis was awarded TIME Magazine's "Person of the Year" award, with Time's managing editor, Nancy Gibbs, stating at the time that the pontiff had already made a global impact.
"He really stood out to us as someone who has changed the tone and the perception and the focus of one of the world's largest institutions in an extraordinary way," said Gibbs.
Francis garnered many headlines and controversy over such issues as abortion, homosexuality, atheism and capitalism.
Some conservatives within the Church have expressed concern over his remarks and apparent departures from Catholic teaching.
Last July, a group of about 60 conservative Catholic clergy and scholars sent a letter to the Vatican charging that he has propagated heretical opinions "directly or indirectly."
"With profound grief, but moved by fidelity to our Lord Jesus Christ, by love for the Church and for the papacy, and by filial devotion toward yourself, we are compelled to address a correction to Your Holiness on account of the propagation of heresies," stated the letter.
"Most Holy Father, the Petrine ministry has not been entrusted to you that you might impose strange doctrines on the faithful, but so that you may, as a faithful steward, guard the deposit against the day of the Lord's return (Lk. 12; 1 Tim. 6:20)."