Venezuelan Church Leaders Ask for Prayers as Dozens Are Killed in Ongoing Political Crisis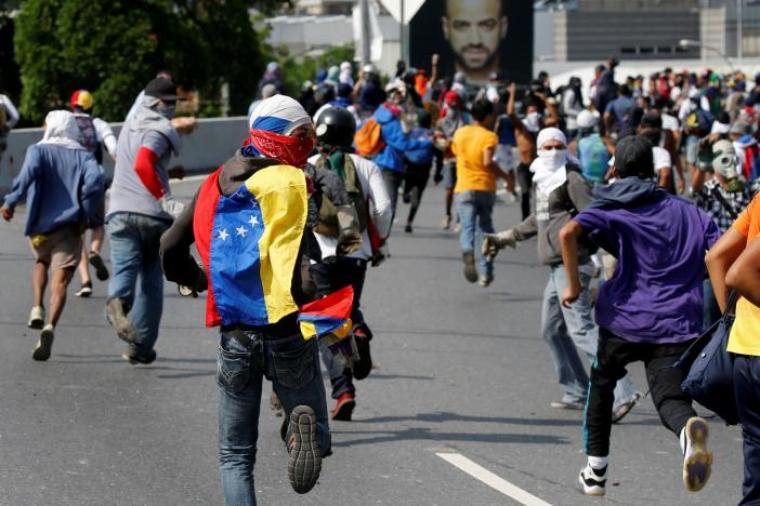 Churches are some of the few institutions providing aid to Venezuela's suffering population as the death toll continues to rise in the midst of the country's political crisis which had led to 12 murders this month.
Reuters reported on Tuesday that a 42-year-old local government worker in the Andean state of Merida was shot dead at a rally in favor of President Nicolas Maduro, while another 54-year-old man was shot in the chest and killed during a protest in the western agricultural state of Barinas.
Venezuela has faced massive protests over the past month against Maduro, which have turned violent and have led to police using rubber bullets and tear gas against protesters, who in turn have been throwing rocks and using Molotov cocktails.
Maduro's Socialist Party is accusing the United States of supporting the protests, though demonstrators have said that the president is to blame for the country's spiraling economic crisis, and have accused him of jailing activists.
The violence in April has been the deadliest since 2014, when 43 people were killed in previous protests against Maduro and his running of the country.
Venezuela's Supreme Court further fueled anger by unsurping the opposition-led National Assembly of power, with Trans World Radio's International Vice President for Latin America and the Caribbean, Steve Shantz, explaining: "They basically stripped the opposition of their legislative powers and annulled the assembly. And, basically, that was viewed [by] the populace as a move toward total dictatorship by Maduro, the president."
The Miami Herald reported on Monday that concerns have also been rising over the government's decision to arm civilians to defend the state, with experts and U.S. policy makers warning that terror organizations could be interested in the arsenal provided.
"Maduro is a dictator with close ties to terror-sponsoring regimes, and is now promising a 'gun for every militiaman' as his thugs counter the Venezuelan people's peaceful pro-democracy protests with violence and lethal force," Florida Sen. Marco Rubio said.
"This reckless action reeks of desperation and raises the possibility that Maduro could lose control over dangerous weapons systems," the 2016 Republican candidate for president added.
A report from Mission Network News last week noted that the ongoing political situation and crisis in Venezuela continues to leave people without food and medicine, with churches being some of the few institutions that are helping out.
"On the ground, the situation there is very dire. And Venezuela has also seen an increase like never before of violent crime and poverty. Their inflation rate is currently at 679 percent, and they expect that by 2018, if things continue the way they are, that inflation will be up around 2,000 percent," Shantz explained.
He shared the story of one pastor, who wasn't named, whose church has been able to help, and said: "His church, every Sunday afternoon, the congregation brings whatever they have — beans and rice — and they cook it all up and they're feeding children. They're feeding about 120 children every Sunday because there's such a shortage of food in the country."
The need remains great, and Shantz called on Christians around the world to pray for their brothers and sisters in Christ.
"As believers here in North America, we can pray that somehow the political situation in Venezuela comes to a reconciliation so that the country can start meeting the needs of the people, of the poor. And we could pray that somehow Venezuela will get the currency they need to purchase food and drugs," he added.