Vicar of Baghdad Andrew White Accused of Paying ISIS to Free Sex Slaves Is Cleared of Charges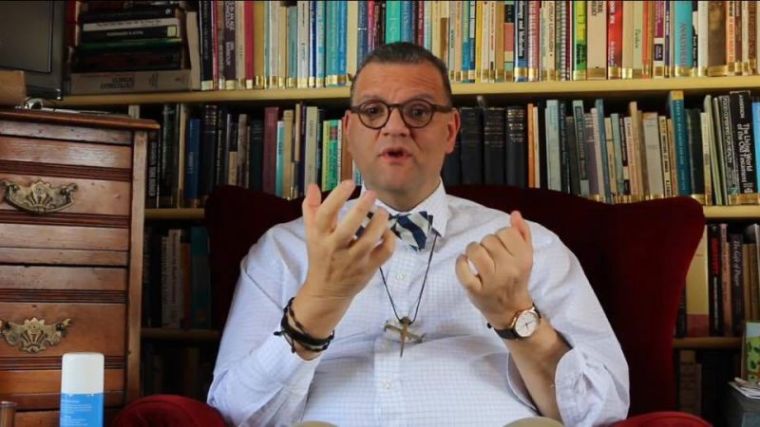 An Anglican minister known as the Vicar of Baghdad has been cleared in a counterterrorism investigation that began in 2016 amid claims that he paid Islamic State terrorists money to secure the release of girls who were being trafficked as sex slaves.
Canon Andrew White, 54, who was the vicar of St George's Church in the capital of Iraq until 2014, said that the authorities had informed him last month that he was no longer being investigated and no further action would be taken, the U.K. Sunday Times reported Wednesday.
"As we now enter a new season of ministry, Caroline and I as well as my team and my people in the Middle East remain deeply grateful to all of you for your support during the times of great challenge that we have experienced as a family and a ministry," White wrote in a statement on his Facebook page Tuesday.
"Above all, we thank G-d for His faithfulness and for His continued presence within our midst."
White was suspended from his position the organization he founded, Foundation for Relief and Reconciliation in the Middle East, in 2016 and was urged to undergo several medical and psychological evaluations, which summarily yielded his resignation.
The allegations against him, previously reported by The Christian Post, were that he had been involved in the payment to Islamic State fighters to buy back women and girls who had been forced to become sex slaves by the terror group in Iraq and Syria.
"[T]he foundation believe at this stage that the alleged incident stemmed from a genuine desire by Canon White to help others," the charity's trustees said in a statement two years ago. 
White told the U.K. Sunday Times this week that if he "was not a person of such profound, simple faith I would feel very angry but I know that anger does not really achieve anything. I feel very hurt by it all, but it has not affected my faith."
He maintains he never paid any money to IS but had managed to secure the release of six or seven women through relationships he had built during his tenure in Iraq.
"It is quite amazing. You would think that releasing sex slaves from ISIS was a good thing," he said. "But they [the police] were convinced that I could only have done it by paying for them."
He further explained that through his reconciliation work in the region, including among Sunnis who joined the insurgency following the fall of Saddam Hussein in 2003, he had developed relationships with people who subsequently joined IS. He managed to convince those whom he had assisted previously to help free a few of the captured Yazidi women.
The chief executive of Canon's former foundation, Mike Simpson, said that the police investigation "was one hurdle that needed to be cleared" but noted than an ongoing Charity Commission investigation remains active and they were unable to comment further but continue to wish White well.
Lord Carey, the former archbishop of Canterbury who also once chaired the board of FRRME, said in a statement that he considers White a friend and was pleased to hear the news of his clearing.
"[White's] inspiring commitment to the very poor and marginalized of all faiths is well-known and unequalled anywhere. I continue to be a supporter of his work and am delighted that, now fully exonerated by the authorities, his extraordinary work will continue undiminished."
White is the author of Faith Under Fire: What the Middle East Conflict Has Taught Me about God.