Video of Romney Discussing Christ's Return Resurfaces Before Election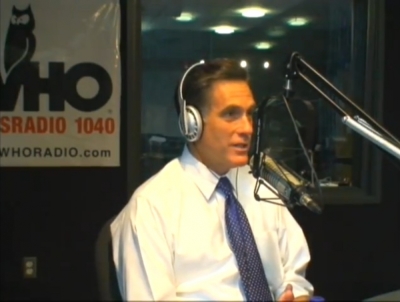 On the day before Americans head to the polls to vote for a new president, a 2007 video featuring GOP candidate Mitt Romney discussing his Mormon faith has resurfaced on YouTube, rekindling a discussion on religion which he has mostly avoided in this political cycle.
"I don't like coming on the air and having you go after my church and me," Romney told Jan Mickelson on the conservative WHO-AM in Des Moines radio show in the August 2007 video while he was seeking the 2008 GOP nomination. "I'm not running as a Mormon, and I get a little tired of coming on shows like yours and having it all about Mormon."
Romney, a member of the Church of Jesus Christ of Latter-day Saints, has refused to be drawn into discussions about Mormonism, focusing his campaign on the economy and domestic and foreign policy issues. When it comes to issues such as abortion and same-sex marriage, he has sided with the Mormon teachings, without explicitly identifying them as the reason for his stance.
Many conservatives have made it a point to highlight his faith however, and some evangelicals have said that Mormonism is a cult and cannot be considered a part of the Christian faith – while others, like the Rev. Billy Graham, have said that his morals align with Christianity and Christians can trust that he will make a good leader.
The radio interview has drawn more than 1.2 million viewers on YouTube and has been rising in popularity, even though it was first published 5 years ago. In the interview, Romney indulges in some discussion about his faith, although he again makes it clear that he would rather talk about politics than how people perceive Mormonism.
The conservative host asked Romney about the Mormon view of when Jesus Christ will return to Earth, calling him out on previous statements he had made where the GOP candidate noted that Christ would return to Jerusalem. Mickelson pointed out, however, that although that is the Christian view, many Mormons say the more likely site would be Missouri, where they believe the Garden of Eden existed.
"That's where the coming and glory of Christ occurs," Romney said, referring to Jerusalem. "We also believe that over the thousand years that follows, the millennium, he will reign from two places, that the law will come forward from one place, from Missouri and the other will be in Jerusalem."
The Romney campaign declined to comment on the story about the video posted by The Washington Post, although Romney himself has said that the discussion on Mormonism featured on the interview was taped on a "hidden camera" after the official piece was over, and he was not aware that it would be broadcasted to others.
Mitt Romney Interview - Mormonism