Virginia Legislature Passes Bill to Protect Religious Institutions Opposed to Gay Marriage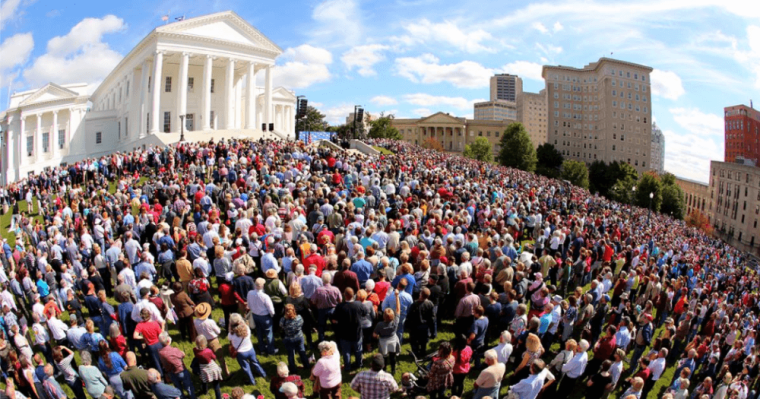 The Virginia Senate passed a bill Tuesday that would protect the rights of religious institutions to operate in accordance with their religious beliefs on marriage without fear of government backlash.
The legislation, SB 1324, passed with a narrow 21-19 vote along party lines.
The bill, introduced by Republican Sen. Charles Carrico, "provides that no person shall be required to participate in the solemnization of any marriage or subject to any penalty by the Commonwealth, or its political subdivisions or representatives or agents, solely on account of such person's belief, speech, or action in accordance with a sincerely held religious belief or moral conviction that marriage is or should be recognized as the union of one man and one woman."
The measure specifically defines the term "person" to include any religious organization, organizations connected with religious organizations, individuals employed by the religious organization who are acting in the scope of their volunteer or paid duties, any representative or agent of a religious organization and clergy members.
The bill comes after the Virginia House passed a similar bill introduced by Del. Nick Freitas, HB 2025, last Thursday.
The measures come after Democrat Gov. Terry McAuliffe signed an executive order in January that bans LGBT-discrimination from state contractors and state employees. McAuliffe vowed in issuing his executive order that "the commonwealth of Virginia will not do business with entities that discriminate based on sexual orientation or gender identity."
The order received criticism from a number of conservative lawmakers and advocacy groups like the Family Foundation of Virginia, which argued that the executive order is nothing more than an act of "act of blatant religious bigotry."
Despite passing bills in both houses, McAuliffe has vowed to veto. He even assured a crowd gathered Tuesday in Richmond for a reception hosted by the pro-LGBT group Equality Virginia.
"It's not about doing the most vetoes of any governor in Virginia history," The Virginia Gazette quoted McAuliffe as saying. "We're stopping people from doing things that discriminate against people's basic rights."
"They've slipped a few bills through, but they're not going to slip through the governor's office. I'm going to veto them," McAuliffe added.
McAuliffe also vetoed a similar religious freedom bill introduced by Carrico last March.
An LGBT order similar to the one that McAuliffe put in place last month was enacted at the federal level by President Barack Obama in 2014. The order prevents all federal contractors, including religious-based humanitarian groups, from discriminating against LGBT people in their employment policies.
Opponents of the order say that the bill does not let the faith-based contractors operate their organizations in accordance with their biblical beliefs. There was hope that new President Donald Trump would rescind the Obama order. However, reports have indicated that Trump will keep the Obama order.
However, other reports have indicated that there is a draft "religious freedom" order circulating through the Trump administration that would protect the rights of religious institutions and faith-based contractors. However, that order is just one of several draft orders circulating through the administration that may or may not be enacted.