Vonette Bright, Campus Crusade for Christ Co-Founder, Dies at 89; Billy Graham Praises Her as Model for Church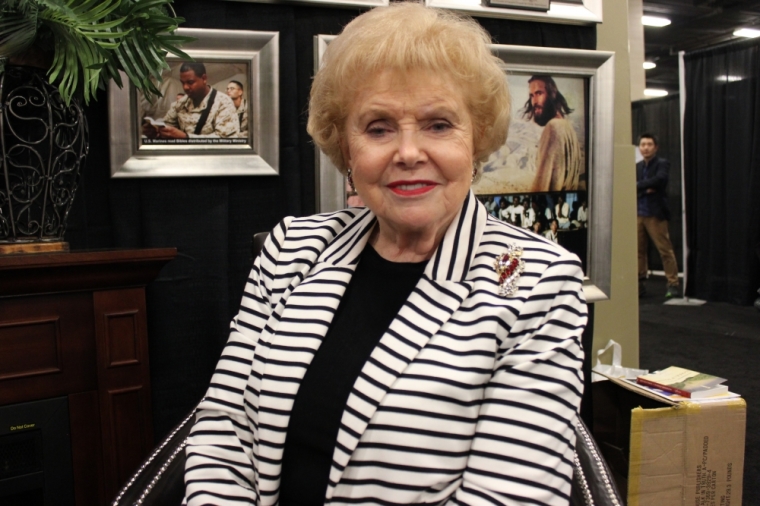 Vonette Zachary Bright, co-founder of Campus Crusade for Christ with her late, famed evangelist husband, Dr. William R. Bright, died Wednesday from complications from acute leukemia.
"Vonette had a heart for the gospel and an extraordinary vision to reach people for Jesus Christ," said the Rev. Billy Graham in a tribute shared on Cru's (Campus Crusade for Christ's new name) website. "Her single-minded focus on the power of intercessory prayer has been both an encouragement to my life and a model for the church."
Cru shared its own reflections on the life of its late co-founder. "In all of life, she celebrated well and boldly invited others into the kingdom to celebrate with her," reads a statement posted on the Cru website. "Vonette's two greatest loves were, without a doubt, her Savior and then her husband, Bill Bright. For her, everything else flowed from those two passions."
Together with her husband, Vonette co-founded the Campus Crusade for Christ, a ministry for university students, in 1951 at the University of California, Los Angeles with a mission to "win the campus today, win the world tomorrow." She would help lead that ministry for 64 years.
"It (faith life) has been the greatest adventure that we could have possibly known," said Bright to The Christian Post in an interview in 2010. "God has provided exactly what we asked for."
Vonette help build Cru, as the Campus Crusade for Christ came to be known in 2012, into one of the largest international Christian ministries in the world, with over 27,000 staff members and more than a quarter million volunteers working across 190 countries to serve not only college students, but inner cities, families, the military, leaders in politics and business, as well as athletes and the entertainment industry.
Cru has active communities on more than 1,700 college and university campuses. Its Athletes in Action ministry focuses on collegiate and professional level athletes and coaches to help them use their platform to help others cultivate their faith.
The Christian organization's inner city ministry enables churches to cater to physical needs within their communities as well as provide long-term development programs that encourage life skills and career preparedness.
Cru's humanitarian aid arm, Global Aid Network, or GAiN, aims to demonstrate the love of Christ throughout the world through its efforts to relieve suffering and restore dignity by " ... addressing the most basic physical needs of people: water, food, health and compassion."
Early on in the Bright's ministry, the couple famously signed a "slave contract" to God as a promise to serve Him with all of their hearts. In her 2010 book In His Hands, Vonette described the contract as " … one of the biggest moments of faith in our lives." One week later, God gave Bill Bright the vision to create Campus Crusade for Christ.
"This was one of the biggest moments of faith in our lives," she recalls in the book. "Neither Bill nor I ever regretted making that choice."
"Being a slave of Jesus Christ is what serving faith is all about," she stated. "A slave has no personal rights, no desires to build his own kingdom; he or she is always seeking to work for the master's benefit."
In 1971, Vonette spearheaded a national prayer rally which drew 7,000 women, and in 1972 she founded the Great Commission Prayer Crusade. In 1979, Vonette founded the National Prayer Committee with a mission to provide a forum for national and regional prayer leaders, across all ethnicities and denominations, to create an interactive vision for revival that resulted in awakening, evangelism and discipleship, according to its website.
In 1988, Vonette petitioned Congress to designate the first Thursday in May as the National Day of Prayer. Bright's efforts were successful and she served as chairwoman of the National Day of Prayer Task Force for nearly a decade.
READ: CP Interview with Vonette Bright on Sign of the Times, Hopes for Return to God
READ: CP Interview: Vonette Bright Recalls 50-Plus Years of Faith, Bill Bright
READ: Vonette Bright Recounts 'Slave Contract' to Jesus, 50-Year Faith Journey

In 2014, Bright told "Women Today," a radio show she founded, "I believe prayer is the greatest privilege and most revolutionary power available to the Christian, and God's Word promises us its effectiveness."
Bright was the author and co-author of numerous inspirational books, including The Joy of Hospitality, a 2002 series entitled: My Heart in His Hands, The Woman Within in 2004, A Woman's Walk in Truth, and A Passion for Prayer in 2012.
Vonette was chair of Bright Media Foundation, chair emeritus of the National Prayer Committee and honorary co-chair of the Mission American Coalition.
Vonette was married to Bill Bright for 54 years and is survived by two married sons and four grandchildren.
Bright was born on July 2, 1926 in Coweta, Oklahoma, the same hometown of Bill Bright.