Voodoo Ritual Gang Who Forced Women to Eat Raw Chicken Hearts, Sell Their Bodies Arrested in Europe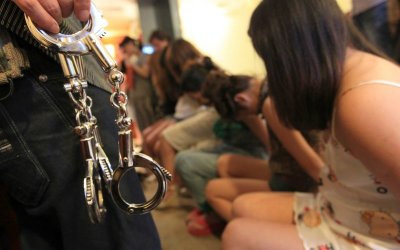 A human trafficking group that forced women to work as prostitutes and eat raw chicken hearts as part of disturbing voodoo rituals has been taken down by police in the U.K. and Spain.
Britain's National Crime Agency reported last week that several arrests have been made, targeting alleged members of the cult, including a Spanish woman, two Nigerian men, and 11 other members who are believed to have trafficked female victims from Benin and Nigeria.
"Through close cooperation with the Spanish authorities and Greater Manchester Police, we have located and arrested a woman believed to be a key member of a network that trafficked and forced vulnerable women into prostitution against their will," said Liam Vernon from the NCA's Modern Slavery and Human Trafficking Unit.
"Criminals involved in modern slavery seek out and exploit vulnerable individuals. They treat their victims as a commodity that can generate income over and over again," Vernon added.
"Tackling this threat is a priority for the NCA and we are committed to working with partners in the U.K. and overseas to pursue and disrupt those responsible."
The Mirror reported on some of the voodoo rituals that the women were forced to partake in, such as eating raw chicken hearts, with their nails and hair pulled off.
Detectives said that most of the victims, who were smuggled into Europe with fake travel documents, ended up in brothels in Spain.
A spokesman for Spain's National Police, who wasn't named, said that the international gang has been "smashed."
"The organization submitted its victims to voodoo rituals which consisted of eating a raw chicken heart while they drank whisky and had their nails yanked off and their hair including their pubic hair pulled out," the spokesman revealed.
"The rituals were used to guarantee the submission of the victims and thanks to them, the organization achieved their aim of control with a simple telephone call without the need for madams in the same place the exploited women were."
He explained that the victims went ahead with the rituals out of their need to repay the debt for the journey to Spain.
"They were warned that if they did raise the alarm, they and their families in Nigeria would come to great harm," he said.
The spokesman explained that those arrested include seven in the Spanish province of Cantabria, two in Vizcaya, two in Alicante, and one in Manchester.
"They have also freed four women who were being prostituted in Spain."
Sex abuse has grown rampant in a number of places in Europe, including Britain. A recent review into criminal activity found that 700 women and girls have been groomed in the Newcastle area alone. Police have been accused of letting perpetrators walk free in some cases.
"Sexual exploitation is happening in towns and cities across the country but what we have learned can be used to help others," said Pat Ritchie, chief executive of Newcastle City Council, according to The Independent.
"We know it is still going on in our city, but we are doing everything in our power to prevent it, disrupt it and deal with it, and support the victims for years to come."