Washington National Cathedral installs stone carving of Holocaust survivor Elie Wiesel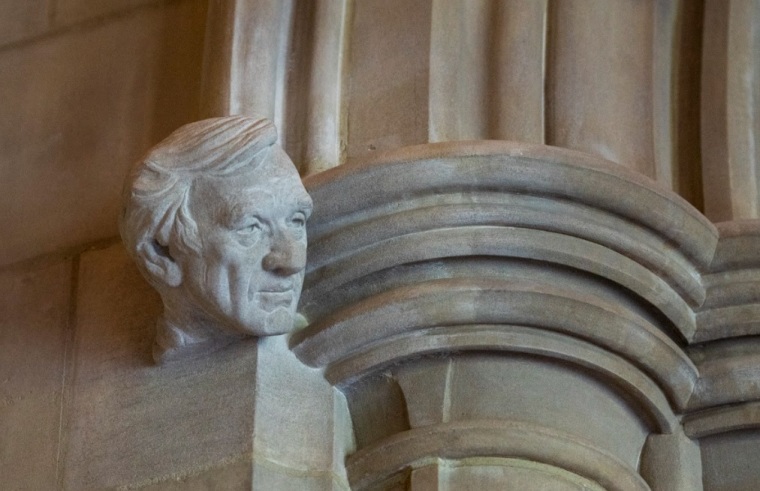 A sculpture of Elie Wiesel, the famed Jewish human rights activist, Holocaust survivor and author of the bestselling book Night, was recently installed at Washington National Cathedral.
The Washington, D.C.-based Cathedral announced this week the addition of the Wiesel stone carving to its Human Rights Porch, which includes Rosa Parks and Mother Teresa.
Kevin Eckstrom, chief communications officer for the National Cathedral, told The Christian Post that the process began in 2019 at the behest of the Cathedral Dean, the Very Rev. Randolph Marshall Hollerith.
"The proposal was reviewed by several committees and ultimately approved by the Cathedral's board, known as the Chapter," Eckstrom said.
"Wiesel was chosen because of his lifelong witness; after surviving the worst of humanity, he called each of us to fight for the protection of all humanity."
Funded through private donations, the carving was completed on April 8, which is Holocaust Remembrance Day, with an official public dedication ceremony to be held sometime in the fall.
A native of Romania, who was put in concentration camps during World War II for being Jewish, Wiesel died at age 87 in 2016 and was widely mourned.
Anti-Israel activists frequently criticized Wiesel for his staunch support of the modern state of Israel. This included Wiesel's backing of Israeli Prime Minister Benjamin Netanyahu and his denouncing of then-President Barack Obama's call for an end to Israeli settlements.
Ali Abuminah, co-founder of the pro-Palestinian blog Electronic Intifada, took to Twitter in 2016 to claim that "Wiesel will be remembered by Palestinians for his racism and his propaganda services to their oppressors, ethnic cleansers and killers."  
"While Israel carried out slow motion genocide in Gaza, Elie Wiesel didn't maintain his famous 'silence.' He loudly supported it," Abuminah tweeted at the time.
Regarding possible objections to the Wiesel carving, Eckstrom told CP that the proposal to add the sculpture to the Cathedral's Human Rights Porch had "universal support."
"Ultimately, the decision to include Elie Wiesel or anyone else in the Cathedral rests with the Dean. When the Cathedral's governance was presented with the idea for input, there was universal support," Eckstrom said.
"When we look at the span of Elie's life from the tragedy to the Holocaust to a powerful voice working to prevent genocide, we see someone who belongs among the other figures included in the Human Rights Porch."
Eckstrom added that he hopes future visitors to the Cathedral will see the Wiesel carving as part of a "universal calling" for people to "to look inward to our individual and collective responsibility to guard against hatred, genocide and indifference."
"The figures in the Human Rights Porch all require visitors to look up; in that sense, they focus our eyes upward and toward our highest aspirations," he said. 
"Wiesel will now keep watch over the Cathedral for eternity, a guardian against indifference to suffering. As a person of deep and visceral faith, he also reminds us, like Job, that God does not cause our suffering yet God is present and can be found in the midst of our darkest hours."