Wendy Raquel Robinson Exclusive: Actress Talks Legacy, Experiencing God's Power, Discernment in Choosing Roles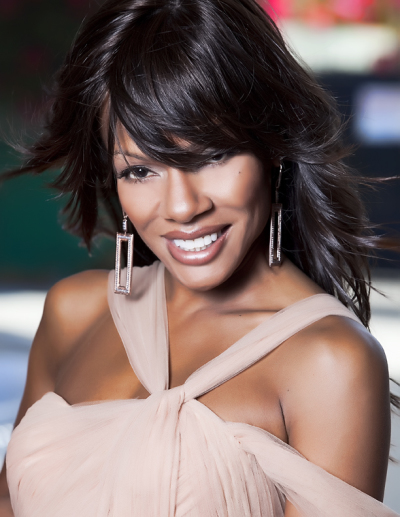 Wendy Raquel Robinson is well known for portraying strong women on television shows like the hard-hitting fictional character Latasha "Tasha" Mack on the BET series "The Game," but now that the series is ending the actress is combining her faith and gifts to solidify her legacy.
Robinson, 47, has spent nine seasons on "The Game" and six seasons on the television series "The Steve Harvey Show." While she has provided laughs and entertainment to countless viewers, Robinson's behind the scenes work with her nonprofit school, the Amazing Grace Conservatory, has helped mold young minds.
The nonprofit school recently created a contemporary "Sister Act Too" production, where young people between the ages of 8 and 18 performed original songs, dances and spoken word.
Robinson has a passion for helping young people has used her gifts of dancing and acting to teach and mentor students interested in the performing arts for over two decades.
Entertainers like actress Rhyon Nicole Brown and singer Elle Varner were students at the school that has been open 18 years. Robinson, a veteran entertainer, not only has a passion for helping disadvantaged youth through her school, but believes she's fulfilling her God given purpose by doing so.
"I had no idea we'd be doing this as long as we've been doing it. You think you've got a dream and God is like, 'No, let me show you what a dream is; let me show you a greater vision,' and that's just what He's done," Robinson told The Christian Post.
"He's just poured into the lives of me and other people. It's just been a mutual blessing that I could not have scripted, I couldn't have written. "I think it is the one thing that has kept me so sane in a business that is so uncertain."
The actress comes from a Christian upbringing which helps to ensure that she doesn't take her blessing for granted. However, it was a fire in her home 10 years ago that allowed her to experience firsthand the miraculous power of God.
"My first year of marriage my house caught fire in 2004. I had always been walking with God, but when I saw the awesomeness and the power of God that's when I was like, 'OK,'" Robinson recalled. "My husband and I, we had just left like 20 minutes before and the fire department said, 'thank God you weren't there because it got so hot so fast. I had no idea of the magnitude of the circumstance around it."
Robinson and her husband lost everything due to an electrical fire that began after a power outage. While their car and home "blew up" once power was restored in the home, everything was either burned or covered in soot.
"That just shows me the awesomeness of God, because right in my foyer when you walk in, we had a Bible that was right there. The only thing that was touched on that Bible was just the edges of the paper," Robinson told CP. "You open up that Bible and it was pristine. It was the only thing that was left, literally. And the fact that it was right there next door to the room where everything started, God just left his message, saying, 'I am here, I am real, and more importantly, I got you."
Since the experience, Robinson insists she takes nothing for granted and doesn't stress things that are out of her control.
"I just have to remind myself sometimes because it's easy to forget when you're out here stressing. He always makes a way," she said. "That was just one experience, I've had so many with God stepping in, being there with me, holding my hand and letting me know He is God. He is awesome, and I'm just so thankful for that."
Although Robinson has never shied away from speaking about her faith, she recently got a chance to channel her Christian roots in her latest film "Mysterious Ways," which stars Gary Dourdan and gospel singer Erica Campbell. While the actress is known for playing outspoken women, she got to showcase her acting chops with more of a meek character in the film that is now available on DVD.
In the movie, Robinson plays a humble choir teacher named Marilyn who gets confronted with the unthinkable when her son is killed by a hit-and-run driver. As she struggles to forgive the act, she ends up in a similar situation where she almost hurts someone else.
The actress speaks highly of the project, not only because she is involved in it, but because there's a lesson that people can take from the movie.
"It just shows the awesomeness of God and what He can do when He steps in. Sometimes we just have to stop and think twice before we act once," Robinson told CP. "It just lets you know that everybody is going through something. You can't be too high and mighty or too low and think that you're out here by yourself, because you're not."
While the character Marilyn allows Robinson to showcase a more vulnerable side, Tasha Mack on "The Game" is the stark opposite. Now that the show is coming to an end after nine seasons, the actress sees that there's a purpose in her portrayal of the edgy character.
"I'm just very thankful to be able to do what I do, still have fun and enjoy it while finding meaning in the purpose of the characters that I do. Tasha is probably the edgiest of all characters, but there's still something very grounded and compassionate about her through all of the layers," Robinson told CP. "I'm just thankful for that discernment to really choose roles that represents women in a wonderful way."
While the entertainer remains busy with an upcoming televised Disney movie called "The Descendants," where she portrays the villain Cruella de Vil, Robinson insists her legacy has nothing to do with her name appearing on the credits in big or small screen productions.
"I think the legacy I am leaving behind is the Amazing Grace Conservatory. The lives that we have touched, not only on the stage but in the community, I'm just seeing these amazing giants of yong people who have just blown up and are doing incredible things," she added. "And I feel so blessed to have been a part planting their seed and seeing where they blossom."
For more information about Robinson's Amazing Grace Conservatory, please click here. To find Robinson's new film "Mysterious Ways," click here. The final season of "The Game" premieres at 10 p.m. ET June 3 on BET.