West Virginia asks Supreme Court to lift order blocking law protecting girls' sports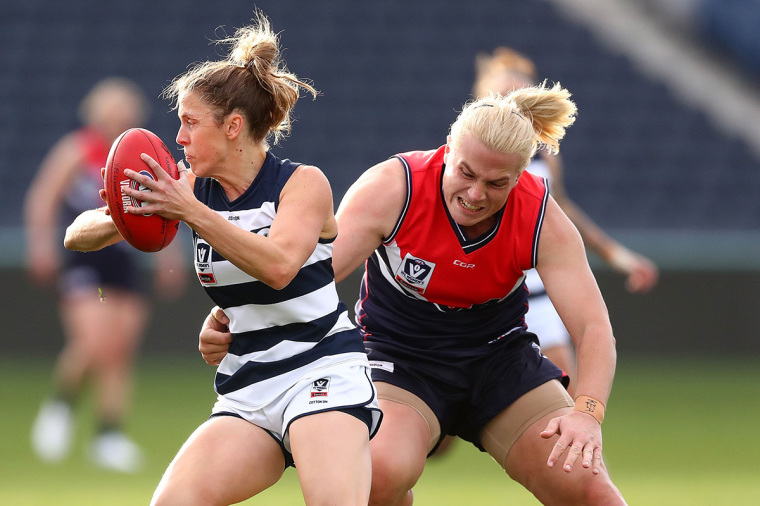 The West Virginia Attorney General had asked the United States Supreme Court to lift a lower court ruling blocking a law banning boys from competing on girls' sports teams. 
In a motion filed with the Supreme Court submitted on March 9, West Virginia's Republican Attorney General Patrick Morrisey and attorneys with Alliance Defending Freedom asked the justices to "vacate the injunction entered by the United States Court of Appeals for the Fourth Circuit" preventing the West Virginia Save Women's Sports Act from taking effect.
The statute was signed into law nearly two years ago and prohibits trans-identified boys and men from competing on female-only sports teams at the secondary and university levels. 
Passed in 2021, the measure cites biological differences between men and women that give males an advantage in athletics as the justification for its enactment. The law has been tied up in court dating back to its passage two years ago when a federal judge appointed by former President Bill Clinton struck it down in July 2021.
The 2021 ruling came in response to a lawsuit filed on behalf of a male student named Becky Pepper-Jackson, a trans-identified middle school student seeking to compete on the girls' cross-country and track teams in his school district. Litigation surrounding the law continued for more than a year. 
A year-and-a-half after his initial decision, Judge Joseph Goodwin pivoted in what the motion filed before the Supreme Court described as a "180-degree turn," determining that the state of West Virginia had "an important government interest in providing equal athletic opportunities for females." The motion attributed the change of heart to "months of discovery that resulted in over 525 docket entries with 3,000 pages of testimony and expert reports" and the review of "all the evidence in the record, including B.P.J.'s telling responses to requests for admission."
Last month, the Fourth Circuit Court of Appeals granted the plaintiff's request to stay the district court ruling in a 2-1 decision, thereby reinstating the block on West Virginia's Save Women's Sports Act. Judge Pamela Harris, appointed to the bench by former President Barack Obama, and Judge Toby Heytens, appointed to the bench by President Joe Biden, voted to put the law on hold while George W. Bush-appointed Judge G. Steven Agee dissented. 
In a statement announcing the submission of the motion to the Supreme Court, ADF expressed hope that the justices would "allow West Virginia's duly enacted women's sports law to take effect." According to ADF Senior Counsel Christiana Kiefer, "Female athletes have fought long and hard for equal opportunities, and they deserve to compete on a fair and level playing field."
"Biological differences between males and females matter in sports," she added. "West Virginia and 17 other states have enacted laws that protect women and girls from having to compete against males. Every woman deserves the respect and dignity that comes with having an equal opportunity to excel and win in athletics."
The other states that have passed laws banning males who identify as female from competing in women's sports include: Alabama, Arizona, Arkansas, Florida, Idaho, Indiana, Iowa, Kentucky, Louisiana, Mississippi, Montana, Oklahoma, South Carolina, South Dakota, Tennessee, Texas and Utah. The state laws come in response to concerns that allowing men to compete on women's sports teams is unfair in light of the biological differences between men and women.
USA Powerlifting has identified some of the biological differences between males and females that give men an unfair advantage in women's sports as "increased body and muscle mass, bone density, bone structure, and connective tissue." A study published in the British Journal of Sports Medicine in 2020 indicated that trans-identified males retain an advantage over female athletes even after two years of taking feminizing hormones.
Examples of biological males dominating women's sports have made national headlines in recent years. Most recently, collegiate swimmer Lia Thomas, a trans-identified male who previously competed on the University of Pennsylvania's men's swimming team as Will Thomas, gained national attention after shattering records obtained by female athletes at women's swimming championships last year. 
In addition to characterizing West Virginia's Save Women's Sports Act as fair and necessary, ADF attorneys insist that it also passes legal muster. "West Virginia wisely passed the Women's Sports Act so women can fairly compete in athletics, requiring males to compete on teams consistent with their sex. That path is legal, logical, and longstanding," stated ADF Senior Counsel and Vice President of Appellate Advocacy John Bursch.
While the Supreme Court consists of six Republican-appointed justices and three Democrat-appointed justices, suggesting that the body will be sympathetic to the state of West Virginia, the Republican-appointed justices have not always voted in lockstep with the conservative position on matters related to sexual orientation and gender identity.
Chief Justice John Roberts and Associate Justice Neil Gorsuch joined the four Democrat-appointed justices at the time in ruling that federal protections on sex discrimination also apply to sexual orientation and gender identity in the 2020 Bostock v. Clayton County decision. The makeup of the Supreme Court has changed slightly since the 6-3 Bostock decision, with Republican-appointed Justice Amy Coney Barrett replacing Democrat-appointed Justice Ruth Bader Ginsburg.