What is going on in this Kanye West 'Sunday Service' gospel rehearsal video?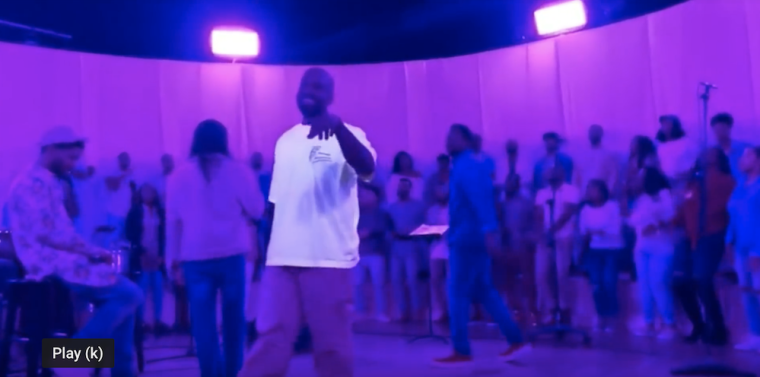 Kanye West appeared to be working on a gospel style event titled "Sunday Service," a mini concert inspired by church services, with a choir and gospel elements added to some of his music.
The rapper's wife, Kim Kardashian-West, gave a preview of the event she called "Sunday Service" by taping rehearsals. There is no official word yet on what the rehearsal was for, or when or how you'll be able to watch it. 
In the footage released on Kardashian-West's Insta story, A soulful choir is seen singing various Kanye West songs. Some of the tunes included were – "Ghost Town" from his latest album Ye, "Father Stretch My Hands" off of his self proclaimed "gospel album," The Life of Pablo. The rapper's classic hit, "Heard 'Em Say" from his sophomore album Late Registration was also a part of the set.
His Kids See Ghosts collaborator Kid Cudi was also present for the concert and rehearsal.
Rolling Stone reported that one of the "most touching moments of the performance was 'Reborn.'"
"Backed by a large choir, Cudi's hook takes on a hypnotic, tribal feel as various voices emulate his distinctive hums," the music magazine said of the song.
Kardashian-West was the first to introduce "The Sunday Service" event on her Instagram over the weekend.
"Our new Sunday Service is starting," she likewise wrote on Twitter alerting fans and revealing that there will be others to follow. On the next Sunday, Jan. 13, however, her Twitter feed provided no new information about "Sunday Service." 

The popular Christian hymn "I Fly Away" can also be heard performed on the reality stars videos. Every clip featured the choir singing in ultraviolet lighting.
Fans on Reddit pointed out that West might have added a new song to his catalog. The song in question repeated, "We have everything we need."
Below is the events setlist and time, released by Nme.com. 
0:00 'Heard 'Em Say'

1:35 'Reborn'

3:31 'I'll Fly Away'

4:11 'Lift Yourself'

6:15 'I Wonder'

8:10 'Father Stretch My Hands'

9:39 [Unreleased song]

10:31 'Heard 'Em Say'

12:19 'Violent Crimes'
The seemingly impromptu concert series came just days after West took to Twitter to profess his faith and reignited rumors that he will run president in 2024. His New Year's Day tweets also show support for current president Donald Trump.
"Trump all day," he tweeted.
"We will change the world. God is on my side. I am a Christian. I am a tax payer. I am myself. God is with us," he continued, adding, "2024."