What Is Palm Sunday? 5 Interesting Facts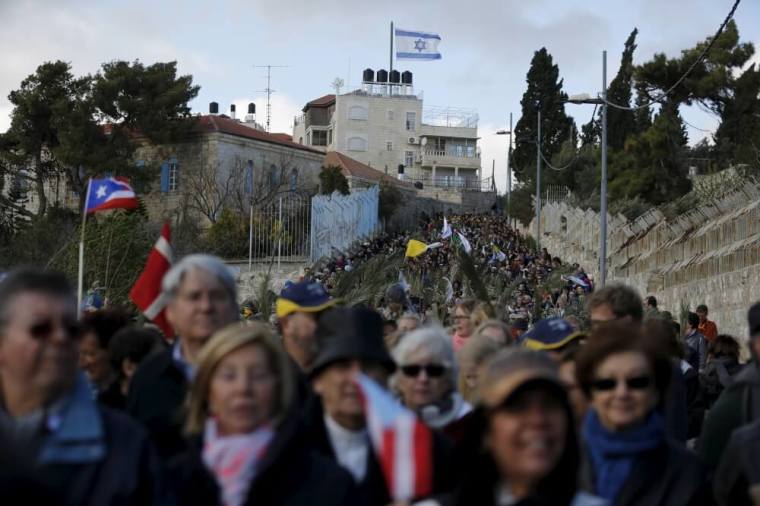 Palm Sunday celebrates the significance of Jesus' triumphant entry into the city of Jerusalem before His crucifixion and resurrection.
The Holy Week begins on Palm Sunday, which is April 9 this year, and the period lasts until Holy Saturday, April 15, which is the Saturday before Easter Sunday, April 16.
Matthew 21 records Jesus' entry into Jerusalem thus: "Now when they approached Jerusalem and came to Bethphage, at the Mount of Olives, Jesus sent two disciples, telling them, 'Go to the village ahead of you. Right away you will find a donkey tied there, and a colt with her. Untie them and bring them to me. If anyone says anything to you, you are to say, 'The Lord needs them,' and he will send them at once."
"… So the disciples went and did as Jesus had instructed them. They brought the donkey and the colt and placed their cloaks on them, and he sat on them. A very large crowd spread their cloaks on the road. Others cut branches from the trees and spread them on the road. The crowds that went ahead of him and those following kept shouting, 'Hosanna to the Son of David! Blessed is the one who comes in the name of the Lord! Hosanna in the highest!' As he entered Jerusalem the whole city was thrown into an uproar, saying, 'Who is this?' And the crowds were saying, 'This is the prophet Jesus, from Nazareth in Galilee.'"
Here are five things to know about Palm Sunday.
1. Palm Sunday is about peace and salvation.
The then Roman governor, Pontius Pilate, would come into Jerusalem with his soldiers for Passover, showing his strength through the arms his men carried. Jesus, however, came on a donkey with all His disciples unarmed, to demonstrate the Kingdom of God and His peace.
It was customary that during a time of peace a king would ride on a donkey, while a king would come sitting on a white horse after the victory in a battle, as suggested in Judges 5:10 and 1 Kings 1:33. So Jesus came as King but not to judge the people. He came to demonstrate God's grace.
2. Palm Sunday is the fulfilment of an Old Testament prophecy.
Matthew 21:4-5 notes, "This took place to fulfill what was spoken by the prophet: 'Tell the people of Zion, 'Look, your king is coming to you, unassuming and seated on a donkey, and on a colt, the foal of a donkey,'" referring to Zechariah 9:9 in the Old Testament.
3. People accepted Jesus as Messiah.
Through the way in which Jesus entered into Jerusalem, He publicly declared Himself as the Messiah — the Savior that God had promised to the Jewish people. And He was accepted, at the time, by the people.
John 12:12-13 records, "The next day the great crowd that had come for the festival heard that Jesus was on his way to Jerusalem. They took palm branches and went out to meet him, shouting, 'Hosanna!' 'Blessed is he who comes in the name of the Lord! Blessed is the king of Israel!'"
4. People misunderstood Jesus' message.
Evangelist Billy Graham once explained why the same crowd that welcomed Jesus turned against Him at the time of His crucifixion.
"One reason the crowds turned against Jesus was because He refused to be the kind of king they wanted — a political and military leader who would free them from the hated Roman government," Graham wrote on his website. "Roman soldiers had occupied their land for decades, and they hoped Jesus would lead them in a successful revolt."
Jesus made clear to them that His goal was different.
"God had another purpose for Him — and that purpose was far greater than any mere political or military victory. His goal was to establish another kingdom — the Kingdom of God," Graham continued. "This, He taught them, wasn't to be a political kingdom, but the rule of God over our hearts and minds — and ultimately, over the whole universe. To the Roman governor, Pontius Pilate, He declared, 'My kingdom is not of this world. If it were, my servants would fight …. My kingdom is from another place' (John 18:36)."
Graham added: "How could this happen? It could happen only if sin and death and Satan were defeated — for these keep God's Kingdom from becoming a reality in our lives. And how could they be defeated? Only by Christ's death and resurrection for us — for by His death and resurrection Jesus Christ conquered sin and death and Satan."
Graham concluded by asking the readers these questions: "Where would you have been during Jesus' final days? Would you have been in the crowd demanding His death — or would you have been among the minority who remained true to Him? And are you true to Him today?"
5. Palms represent immortality.
In Egypt, there was a tradition of people carrying the palm to funeral processions as it represented eternal life. The palm branch was also a symbol of spiritual triumph over death.