What Is the Link Between Pornography and Sex Trafficking?
NASHVILLE—Tony Merida, the founding pastor of Imago Dei Church in Raleigh, North Carolina, spoke on the topic of human sexuality during the Ethics & Religious Liberty Commission's annual leadership summit that was held in Nashville last week.
Following his discussion on "the Gospel and human trafficking," Merida, an associate professor of preaching at Southeastern Baptist Theological Seminary, spoke with The Christian Post about the relationship between pornography and sex trafficking, explained why awareness is insufficient, and laid out how Christians can do more to fight "the darkest of sins."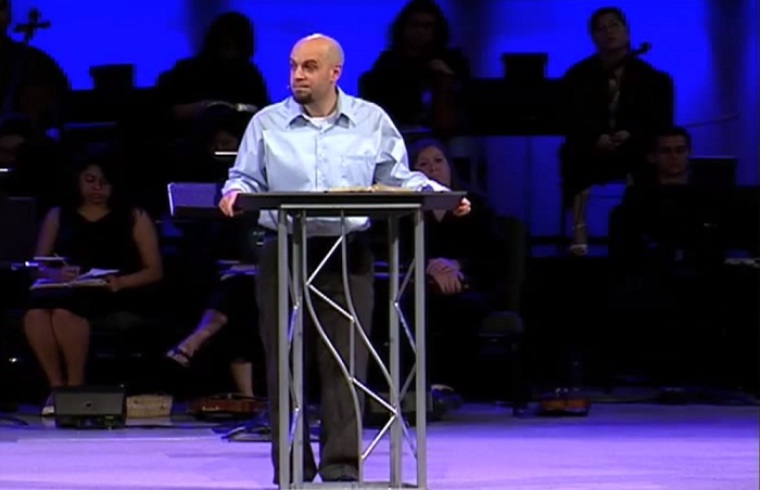 The following is an edited transcript of the interview.

CP: How effective is "awareness?" To what extent does it overexaggerate our actual ability to make a difference on sex trafficking?
Merida: I think it does both. It's helpful, but it's insufficient to actually eradicate a problem. So I speak on orphan care more than I speak on human trafficking, and I always say about orphan care that simply because you're aware that there are orphans and simply because you have a sympathy for orphans, your sympathy isn't actually helping a single orphan until you actually do something.
It's the same with trafficking. It's good to be aware of the problem. It's good to have compassion for victims, but until we actually do something to alleviate the problem we end up basically adopting a view that is essentially thinking that sympathy is a substitute for action. Awareness is a good place to start, but it's insufficient to actually helping eradicate the issue.
CP: How can those fighting human trafficking make young people who are passionate about this issue aware of their own influence and power?
Merida: The awareness piece that is missing, I think, is we tend to reduce sex trafficking to a particular profile and a particular problem, when the problem is super complex and there are so many interwoven pieces to it that I think we need to spread awareness about.
For example, the relationship between pornography and sex trafficking. The relationship between the uneducated and sex-trafficking. The relationship between the poor and sex trafficking. As I said in a panel, much of sex trafficking happens because people prey on the vulnerable. Everyone has vulnerable people in their town, in their neighborhood; this is not simply a problem in Cambodia or Vietnam, where parents are selling their kids for $300. It's a problem in our neighborhoods in America, where often those who are less fortunate and uneducated become victims. That part of awareness needs to be more front and center.
CP: Earlier this year, I had a conversation with someone where we discussed how those who are often preyed upon are the ones that "nobody misses."
Merida: I agree whole-heartedly. Fortunately, this is where I think the Internet and Information Age helps us. We have access to all kinds of great resources today that are giving us tons of stories about how this happens.
Preparing for this talk, I basically pulled together 10 different examples of how sex trafficking may happen. These are 10 of a gazillion different ways. Just by reading through a list that involves everything from something that happens in south Mississippi to that which happens in Kazakhstan is very eye opening. It's very helpful for us to walk with eyes wide open in everyday life. I think that's one of the solutions: to live as though we really do live in a broken world in which, as [Imago Dei founding pastor] Nathan Akin said in the session, five minutes from a church [sex trafficking can exist.] We do live with blind spots — to know we have is a good first step, and then to educate ourselves and be on the lookout would be the next step.
CP: What is the link between pornography and sex trafficking?
Merida: I've learned a lot from International Justice Mission and other really good organizations that focus on this. It's connected in so many different ways it's hard to know where to begin. But why do people prey on these young girls?
The part of sex trafficking that makes it, in many ways, the darkest of all sins — though I don't think you would categorize it in many ways like that — it's hard to imagine anything that's darker than preying on a little girl. Something has created a demand for that.
What happens is in many cases, not in every case, but in many cases, guys cannot look at anything that will shock them enough, and so they begin with one form of pornography and they move to another. You see guys looking at stuff that they may not even be interested in, but nothing satisfies their lust and they end up going down just the darkest of paths. So in that regard pornography's almost a gateway drug to a more addictive powerful drug.
It's related to sex trafficking in that, in many cases, those in pornography or in that industry are in the sex trafficking industry themselves. In numerous other ways that I don't think people understand just how related they are, and the ability to view sexual sin in anonymity. It also perpetuates this because sex trafficking is done in secret. It's a hidden sin and I think part of the similarity between porn and sex trafficking is the secretness of it in addition to the fantasies.
CP: What is the link between your work on orphan care and sex trafficking?
Merida: My wife and I have five adopted children. We have four from Ukraine and one from Ethiopia. When we started looking into international adoption, one of the reasons we were attracted to international adoption, although we're pro-everywhere adoption, is seeing what happens to children if they don't get adopted in some areas of the world. We were really broken about it personally. That may not be the case for everyone and we certainly don't put our journey on someone else as something they should follow.
[Part of what broke us was] looking at heartbreaking statistic of girls who don't end up getting adopted and ended up in the industry of prostitution in Ukraine.
Sometimes, when they become teenagers, they meet guys outside of the orphanage that will promise them things once they age out of the orphanage. After they leave the orphanage they become objects and are sold to traffickers who prey on their vulnerable. They operate in deceit and coercion, and because the orphan has no voice, the orphan has no power.
The orphan is practically invisible. They are viewed as disposable. And so, I think doing good orphan care, wise orphan care, not just adoption but in the other ways that we can do orphan care, it will help to prevent trafficking.
CP: Anything else you'd like to share?
Merida: I just encourage the group to live a life of justice, truth and beauty in everyday of life and to realize that all the problems are different in different regions.
We need to encourage our people to use their own gifts and abilities, whether it's journalism to raise awareness, medical doctors, after care shelters, doing transitional assistance for kids who age out of orphanages, or opening up your home for foster care. There are countless ways. I think we need to help people develop ideas and really develop an instinct of care for the vulnerable and say what is it that I have to offer the world?