What Paul George Can Learn From Kevin Ware When It Comes to Faith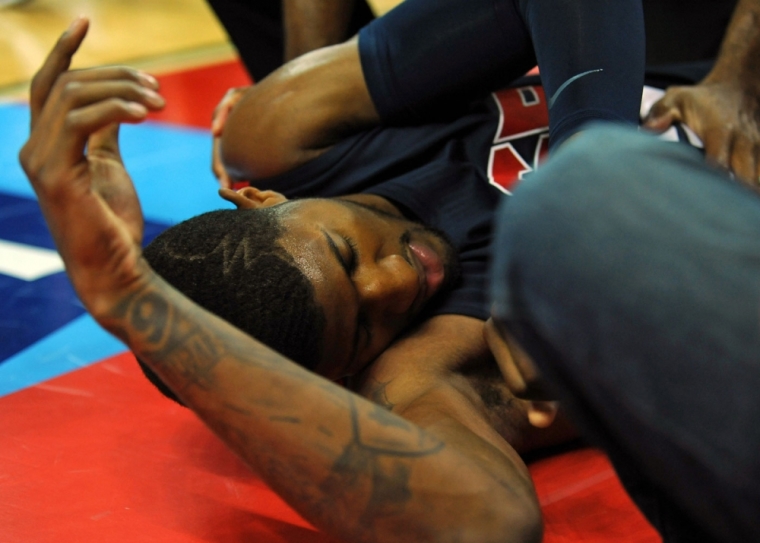 On a night that was shaping up to be a glimpse into the bright future of Team USA basketball, Indiana Pacers guard Paul George's horrific leg injury levied a somber taste in fans' mouths.
In the 4th quarter of Team USA's Blue vs. White scrimmage in Las Vegas last Friday, George went to defend a shot by James Harden, and awkwardly caught his leg against the basket stanchion and the floor, snapping his leg in half. He suffered a compound fracture of his tibia and fibula.
Moments like these can be tests of faith. How would he react? Would he blame God? Or would he accept that everything is a part of God's master plan for his life?
George can look to former Louisville guard Kevin Ware for insight on how to return to full force after suffering a major setback. Ware suffered a similar injury back in March of 2013 in the NCAA Regional Final against Duke. In an interview days after the injury on CNN, Ware spoke of the faith it took to overcome that obstacle.
"This is all God. This is God's plan. Everything that happened there happened just how he planned it." Ware told CNN's Rachel Nichols. "He controls everything, without him there is no us. I just felt that this is another situation that's going to mature me, get me to a better mindset"
Ironically enough, Ware was watching the scrimmage Friday night as well.
"I never thought I would see something like that." Ware said in a phone interview with USA Today. " It was definitely some shock and it sent chills through my body. I didn't even know what to do or what to think, so I just had to walk out of the room. I asked somebody, 'Did that just happen?' I was out of the room for 10 minutes like, 'Did that really happen?' And I saw him down on the stretcher and was just like, 'Oh, my God.'"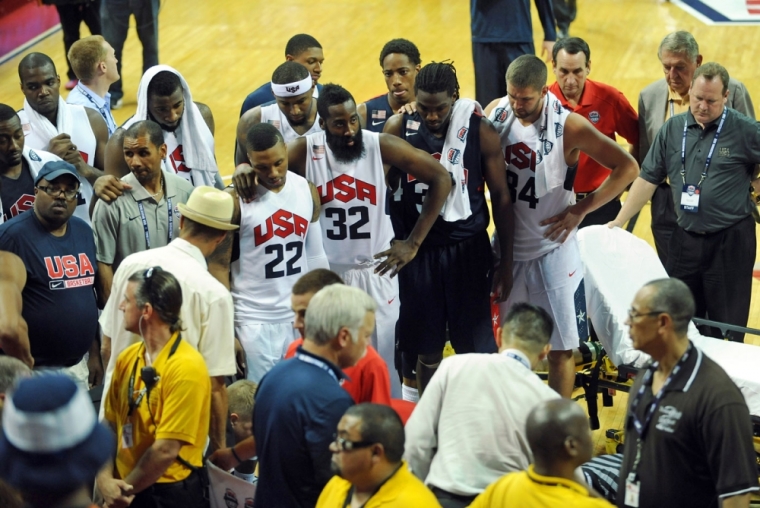 In an interview with ESPN, Ware offered solace to not only George, but his fans as well. "I'm definitely not Paul George." Ware said on Sportscenter. "I'm not as strong, I'm not as tough. But He'll be fine. It's going to take time and patience. As long as he keeps praying and keeping himself in positive spirits, He'll be fine."
It's going to take a lot of rehabilitation of the mind and the spirit, too, for George to come back and perform at the level he has thus far. He can also look to Chicago Bull Guard Derrick Rose, who before the scrimmage was called off after the injury, was playing like a new man. Rose suffered devastating knee injuries in TWO consecutive seasons. If anyone had a reason to give up and ask "Why me?", it was him.
But Rose has always maintained that God is first in his life and knows that his gifts are a direct blessing from the Lord. He wears the same armband that Jeremy Lin wears that reads "IJNIP", which stands for " In Jesus Name I Play" As he starts his comeback, it is interesting to see the parallels of where he is now and the journey George will be embarking on. Rose can offer invaluable insight and most assuredly prayer that can help George through the process of healing and continuing his career.
So far, George is saying and doing all the right things. He acknowledges all the prayers and well wishes, and is keeping an upbeat attitude about the situation. There's solace in the fact that even though the injury happened where it did, having players such as Rose and another believer such as Kevin Durant on the floor praying for him, should definitely keep him moving in the right direction.