What Time is the State of the Union Address Tonight? How to Watch Obama SOTU 2014 Speech on NBC TV, Online (Live Stream Link)
President Barack Obama will lay out his agenda for 2014 on Tuesday night in front of millions across the United States who are expressing increasing concern about his abilities to tackle the economy, immigration reform and other major issues challenging the nation's future.
Obama will be making his 2014 State of the Union address at 9 p.m. ET, with the speech airing on TV on the NBC network. The address will also be shown online through free live stream, and can be watched right here on The Christian Post via the link provided below.
MORE: READ FULL TEXT OF PRESIDENT OBAMA'S STATE OF THE UNION 2014 ADDRESS - CLICK HERE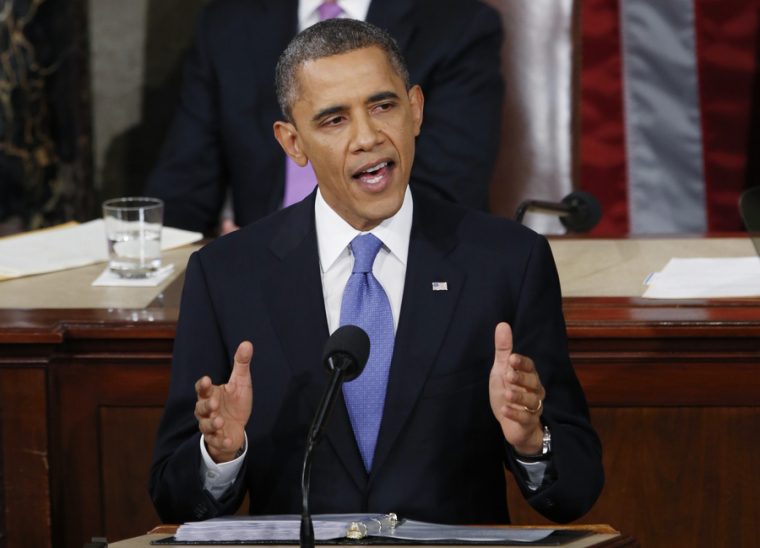 According to the Wall Street Journal, President Obama enters this year's State of the Union address in a very precarious position. Since modern polling came into affect in the 1930s, only George W. Bush has started his sixth year as president on shakier ground than Obama, the publication explains.
The WSJ highlights various factors from an NBC/Wall Street Journal poll that indicate the rocky position Obama finds himself in with voters, and many are touting this as the most important SOTU address Obama has had to make to date.
His administration will be hoping that the president is able to reassure voters following what some are calling a wasted year in 2013. Last year saw numerous policies Obama had vowed to implement and push through fall by the way side, as other pressing matters took priority.
Various scandals have also distracted the Obama administration; from the Benghazi terror attack and the NSA spying scandal, to the botched Obamacare rollout, voters have found themselves increasingly frustrated at the White House's lack of progress on tackling economic concerns, employment issues, as well as immigration reform.
However, Obama will look to reassure voters that he understands their major concerns and that 2014 will be a year where significant progress will be made on those fronts.
According to the Wall Street Journal poll, a majority of the public supports a number of the major issues Obama is looking to address tonight, including on job creation and early-childhood education.
Even though support for reform on increasing the minimum wage is less significant than other economic issues, still a significant number favor Obama's plans to raise the minimum wage for federal workers on new contracts.
MORE: READ FULL TEXT OF PRESIDENT OBAMA'S STATE OF THE UNION 2014 ADDRESS - CLICK HERE
This year's State of the Union address will start at 9 p.m. ET and can be watched in full via an NBC News Special Report anchored by NBC's Brian Williams, along with live analysis and reaction immediately after. The SOTU 2014 speech can also be watched online through free live stream by clicking here.