'White American Bible Belt' Often Worshiped Racism and Called It Jesus Christ, Says Russell Moore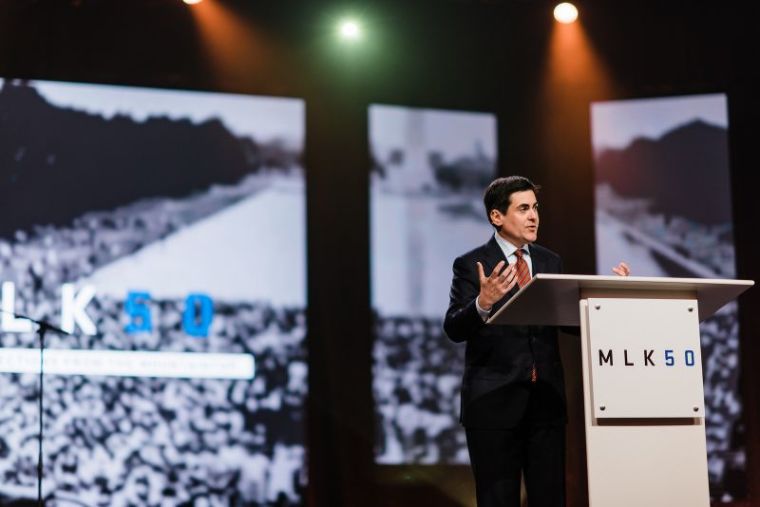 Often in history, the "White American Bible Belt" paid homage to racism while calling it "Jesus Christ," according to prominent evangelical Russell Moore.
Delivering a speech at the MLK 50 Conference in Memphis, Tennessee, on Tuesday, Moore drew a parallel between America's struggle for racial equality and the ancient Israelites being told to choose between serving God or serving Baal.
"Time and time again, when told they could not serve both, the people of God tragically often chose to worship Baal but to rename him God," said Moore, president of the Southern Baptist Convention's Ethics & Religious Liberty Commission.
"And time and time again, in the white American Bible Belt, the people of God had to choose between Jesus Christ and Jim Crow, because you cannot serve both, and tragically, many often chose to serve Jim Crow and to rename him Jesus Christ."
Moore read Matthew 23:29-39 where Jesus denounced the teachers of the law for decorating the tombs of prophets and claiming that they would not have supported murdering the Old Testament prophets if they lived back then.
Moore drew a modern parallel to the wreaths being laid in honor of Dr. Martin Luther King, Jr., warning against misremembering the slain civil rights leader's struggle for equality and claiming they would support the civil rights leader if they were alive back in the 1960s.
"Dr. Martin Luther King, Jr. preached a beloved community, but he was not a beloved preacher in an awful lot of communities," Moore explained.
"It's all too easy for us to think right now that the hatred directed toward Dr. King and his message was limited to that bullet that felled him at the Lorraine Motel."
Moore's remarks came as part of the MLK 50 Conference, whose theme is "Gospel Reflections From the Mountaintop." The conference is being held around the fiftieth anniversary of the assassination of Dr. King, Jr. The day before, April 3, 1968, King gave his final public speech, where he famously spoke of having been to the mountaintop.
"I just want to do God's will. And He's allowed me to go up to the mountain. And I've looked over, and I've seen the Promised Land," stated King.
"I may not get there with you. But I want you to know tonight, that we, as a people, will get to the Promised Land."
Phillip Bethancourt, executive vice president of the ERLC and one of the other speakers at the conference, explained in a video just before the event began that the goal of the two-day conference is to strengthen those involved in racial reconciliation efforts.
"What we want to do is inspire and equip people so that wherever they're starting at here, they leave here better than they came," said Bethancourt.
"We want to see relationships form and connections where people look around the room and say 'I'm not alone in this. There are thousands of people just like me who love Jesus and who care about justice and those don't have to be separate from each other.'"
In addition to Moore and Bethancourt, other scheduled conference speakers include NFL player and author Benjamin Watson, DesiringGod.corg founder and pastor John Piper, best-selling author and Bible study leader Beth Moore, Acts 29 President Matt Chandler, and Liberty University English Professor Karen Swallow Prior, among others.
Tennessee Governor Bill Haslam made a special appearance on the main stage before Moore's speech, stating that government is better at "fixing potholes than fixing hearts."
"We need the Body of Christ to come around us to do those things that we're not so good at," said Gov. Haslam, noting that the church was well equipped for racial reconciliation because Christians "understand grace" and "understand what it means to have all of us created in God's image."
Watch Moore's entire keynote address here.