White House Again Refuses to Call ISIS' Slaughter of Christians 'Genocide': 'Determination Has Not Been Reached'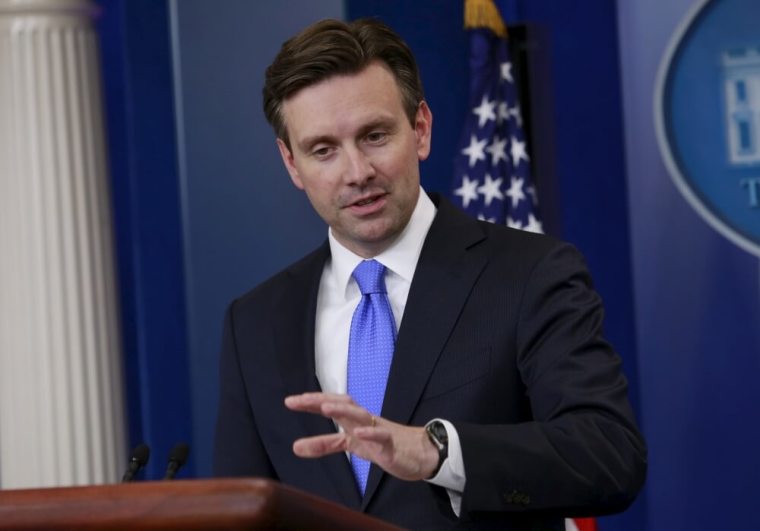 White House Press Secretary Josh Earnest declined to call the Islamic State's persecution of Christians in Iraq and Syria a "genocide," saying earlier this week that such a distinction requires a "specific legal determination" that has "not been reached."
During a press briefing on Monday, Earnest was questioned by a reporter on whether the Islamic State is "carrying out a campaign of genocide against Syria's Christians?"
Earnest initially responded by failing to address the "genocide" question and answered by saying that the Obama administration has "long expressed" concerns with the "tactic" used by ISIS to "slaughter religious minorities."
Ernest went on to assert that the United States government took action early in its military campaign against IS to help clear a pathway for Yazidis who were trapped by IS militants on Mount Sinjar in Northern Iraq.
After saying that IS' atrocious treatment of religious minorities is an affront to American values, Earnest was again asked to address whether or not IS' persecution of Christians should be considered a "genocide."
"My understanding is that the use of that word involves a very specific legal determination that has, at this point, not been reached," Earnest said. "But, we have been quite candid and direct about how ISIL's tactics are worthy of the kind of international, robust response that the international community is leading. Those tactics, include a willingness to target religious minorities including Christians."
A spending bill passed by Congress in December gave the State Department 90 days to make a distinction on whether or not the United States will call IS' treatment of religious minorities a "genocide." The Obama administration has until March 17 to make that distinction.
Last Wednesday, Sec. of State John Kerry was asked about a genocide designation by Rep. Jeff Fortenberry, R-Neb., during a hearing for the House Appropriations Subcommittee on the Department of State and Foreign Assistance. Kerry issued a remark similar to Earnest's statement on Monday by saying that "additional evaluation" was needed to call IS' persecution of religious minorities a "genocide."
In Early February, Earnest also refused to call the IS's persecution of religious minorities genocide. He stated that the administration's lawyers were evaluating whether the term could apply in the situation with IS.
"This is an open question and one that continues to be considered by administration lawyers," Earnest said at the time.
Although the State Department believes that more "evaluation" is needed to make that determination, the European Parliament and the U.S. Commission on International Religious Freedom have found enough evidence to call IS' persecution of Christians a "genocide."
Over 200 members of Congress from both political parties have co-sponsored a resolution introduced by Fortenberry and Rep. Anna Eshoo, D-Calif, calling on the U.S. government to call IS' crimes against humanity a "genocide."
On Wednesday, the House Foreign Affairs Committee passed the resolution.
"ISIS commits mass murder, beheadings, crucifixions, rape, torture, enslavement, and the kidnapping of children, among other atrocities. ISIS has said it will not allow the continued existence of the Yezidi. And zero indigenous Christian communities remain in areas under ISIS control, House Foreign Affairs Committee chair Ed Royce, R-Calif, said in a statement.
"So as ISIS destroys churches and other holy sites, they move closer towards eliminating certain communities," Royce continued. "Put simply, their desire is to erase the existence of ethnic and religious minorities from their self-proclaimed caliphate, by any means necessary. ISIS is guilty of genocide and it is time we speak the truth about their atrocities. I hope the administration and the world will do the same, before it's too late."
Last week, a national television ad campaign was launched by the Catholic organization Knights of Columbus and the human rights group In Defense of Christians. Commercials ran on MSNBC and Fox News calling on Kerry to label IS' persecution of Christians a genocide.
The ad points out that although the Obama administration has not yet declared "genocide," Democratic frontrunner and former Sec. of State Hillary Clinton has, along with GOP candidates Texas Sen. Ted Cruz and Florida Sen. Marco Rubio.
The two organizations also launched an online petition calling for an IS genocide designation from the U.S. government. That petition has been supported by nearly 46,000 individuals in just over a week.