White House, Pentagon Contradict Kerry; Confirm US 'At War' With ISIS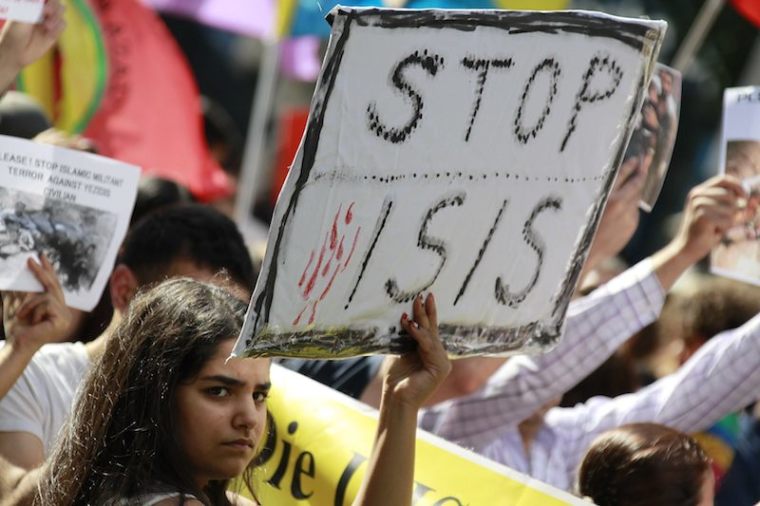 The White House and the Pentagon said for the first time Friday that the United States is indeed "at war" with the Islamic State, or ISIS, contradicting U.S. Secretary of State John Kerry, who maintained a day earlier that Washington's efforts cannot be seen as part of the "war on terror."
"In the same way that the United States is at war with al Qaeda and its affiliates … the United States is at war with ISIL," White House Press Secretary Josh Earnest said, according to Fox News.
Pentagon spokesman Rear Adm. John Kirby was also quoted as saying that while "this is not the Iraq War" from a decade ago, Washington is "at war with ISIL in the same way we are at war and continue to be at war with al Qaeda and its affiliates."
On Thursday, Kerry described the U.S. efforts to defeat ISIS militant as a "very significant … major counterterrorism operation," but added that "war is the wrong terminology." Kerry's spokeswoman, Marie Harf, also refused to call the operation part of the "war on terrorism."
Kerry made the statement a day after President Barack Obama announced expansion of airstrikes in Iraq and authorization of airstrikes in Syria.
Also on Thursday, Kerry met America's Middle Eastern allies to discuss cooperation and collaboration in confronting ISIS. As a result, Saudi Arabia, Egypt, Iraq, Jordan and Lebanon pledged to fight terrorism, according to The Associated Press.
The five nations and other Gulf states also issued a joint statement saying they will take measures to stop fighters and funding and that they are committed in "as appropriate, joining in the many aspects of a coordinated military campaign" against the militants.
The Middle Eastern countries also agreed to increase their support for the new Iraqi government and to find ways to "destroy" ISIS "wherever it is, including in both Iraq and Syria."
NATO ally Turkey was also part of the meeting in Saudi Arabia but abstained from signing the statement.
About 40 nations have pledged to support what is likely to be a global fight to destroy ISIS. But as far as the United States' Middle Eastern allies are concerned, their relations between themselves could be a major hurdle in coming together for a common cause. Saudi Arabia, the Emirates and Egypt, for instance, are against Qatar's and Turkey's alleged support for the Muslim Brotherhood and other Islamist groups in the region.
Former CIA chief Gen. David Petraeus, who was previously American commander in Iraq and Afghanistan, has said that ISIS has "nowhere near" the strength of al Qaeda in Iraq at the height of the war in that country.
Petraeus, who warned against overestimating ISIS, added that the Sunni terror group in Syria is "far more complex," and that the fight is likely to go beyond Obama's presidential term, according to KUSA.
Obama earlier said that key NATO allies are also prepared to "degrade and ultimately destroy" ISIS.
"Key NATO allies stand ready to confront this terrorist threat through military, intelligence and law enforcement as well as diplomatic efforts," Obama said. "Our goal is to act with urgency but also make sure that we're doing it right, that we have the right targets, that there's support on the ground … that we have a strong political coalition."
According to the CIA, ISIS has about 31,500 fighters across Iraq and Syria – which is around the same size as that of the Taliban in 2001.
ISIS, or Islamic State of Iraq and Syria, is an al-Qaeda offshoot and is also known as the Islamic State and ISIL. The group wants to form an Islamic emirate in the Levant region through "jihad."
ISIS men have killed hundreds of people in Iraq as well as beheaded two American journalists, James Foley and Steven Sotloff. Numerous members of the Christian and Yazidi minorities have also been killed, and tens of thousands of them have fled their homes.