Who is Chelsea Manning? What Obama Commuting Her Sentence Means
Chelsea Manning, a former United States Army Private First Class, was sentenced to prison for leaking sensitive military and diplomatic documents in 2010.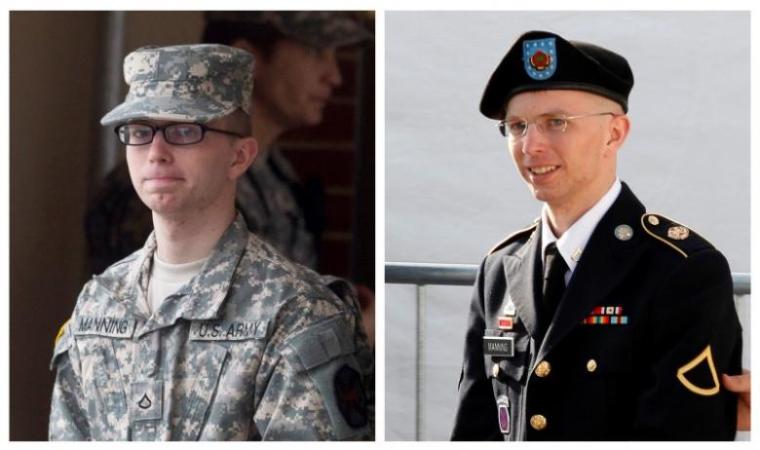 Chelsea Manning is a 29-year-old transgender who once served as a U.S. Military intelligence analyst. Known as Bradley when she enlisted in the military, Manning told the world that she identifies as female shortly after being convicted of espionage.
While she was posted as an intelligence analyst in Baghdad in 2010, Manning distributed around 750,000 documents, videos, diplomatic records and battlefield accounts to WikiLeaks -- one of the largest breaches of classified data in U.S. history. Among the leaked files was a damning gunsight video of a US Apache helicopter firing on suspected Iraqi insurgents in 2007, killing a dozen people including two journalists.
For her actions, Manning was court-martialed in 2013 and convicted of violating the Espionage Act and other offenses for which she was sentenced to serve 35 years in prison. Her prosecution was met with widespread global dissent with several human rights groups petitioning her release.
Manning tried to commit suicide twice as she, a transgender woman, was being held in the all-male Fort Leavenworth military prison in Kansas. She also went on a hunger strike last year which ended only after the military agreed to fund her gender transition treatment.
President Obama's Unexpected Mercy
Bucking the trend of his administration's harsh stance on whistleblowers (Edward Snowden is still branded as a traitor), President Obama unexpectedly commuted Chelsea Manning's sentence on Tuesday. She will now be freed on May 17 this year instead of her scheduled 2045 release.
The response regarding Obama's brazen move has been expectedly tumultuous.
"Oh my God! I cannot believe it – in 120 days she will be free and it will all be over. It's incredible," said Nancy Hollander, Manning's lawyer, speaking to The Guardian.
"Chelsea Manning exposed serious abuses, and as a result her own human rights have been violated by the US government for years," said Margaret Huang, executive director of Amnesty International USA.
While her reduced sentence is being celebrated as a victory by many, there are an equal number of people who are severely angered by President Obama's decision.
"This is just outrageous," House of Representatives Speaker Paul Ryan said in a statement. "Chelsea Manning's treachery put American lives at risk and exposed some of our nation's most sensitive secrets."
The intelligence community too is worried about the implications of the decision which could serve as a precedent for dealing with those who leak materials regarding national security.
Secretary of Defense Ash Carter was vehemently against according Manning any clemency and Republican Senator John McCain said the decision was "a grave mistake that I fear will encourage further acts of espionage".
Tom Cotton, a senator for Arkansas and a military veteran, said that Manning undermined him and his soldiers in Afghanistan by leaking the documents to WikiLeaks and that "we ought not to treat a traitor like a martyr."
What remains to be seen is if Julian Assange keeps his word on submitting to U.S. extradition if Manning was pardoned for her actions. A tweet last week from WikiLeaks stated "If Obama grants Manning clemency Assange will agree to US extradition despite clear unconstitutionality of DoJ case."
The White House has insisted that President Obama's decision was not affected by Assange's pledge and that his administration have "no insight into Mr. Assange's travel plans."