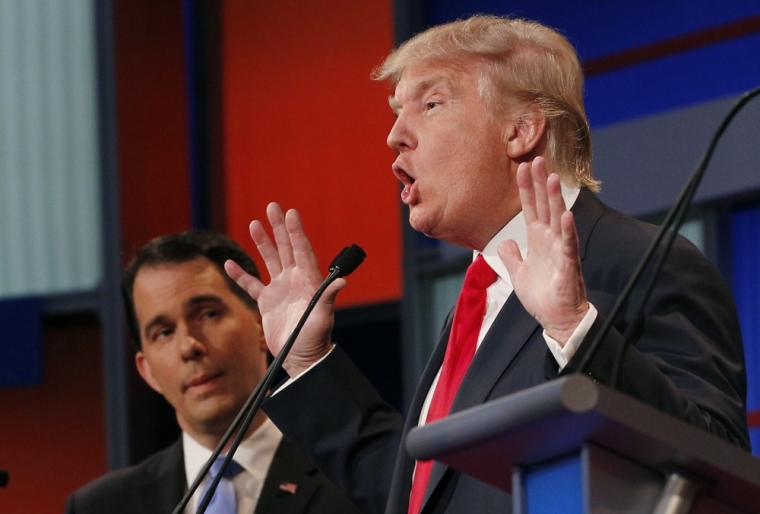 Many pundits and experts agree that Carly Fiorina triumphed in the first debate, but the outcome was far less certain in Fox's primetime matchup that featured their version of the top 10 candidates.
Stephen Hayes, a senior writer at The Weekly Standard and Fox News contributor, called Fiorina a "clear winner" in the first debate and added in the later matchup that former Gov. Jeb Bush "seemed nervous, halting." Hayes called Trump, the GOP frontrunner, "a clown show," while praising New Jersey Gov. Chris Christie and Florida Sen. Marco Rubio for their performances.
Fiorina, a breast cancer survivor, stated that before the debate her name identification was lower because she is not a "celebrity" or "professional politician."
On MSNBC's "Morning Joe" Friday, Fiorina, a former Hewlett Packard CEO, said "A lot of people discovered that I can do this job. A lot of people discovered that there is more than one woman in this race."
Like other candidates on the stage, Donald Trump declared himself the winner of the latter debate, but argued that he received the toughest questions.
Trump, citing Drudge Report polling and other media outlets for his victory, singled out one Fox News moderator in particular for unprofessionalism. "I thought Megyn [Kelly] behaved very badly, personally." He also criticized Fox anchor Chris Wallace for challenging him on past business bankruptcies.
"According to what everybody is telling me, I won the debate," Trump asserted.
Kelly challenged some of Trump's alleged comments toward women in the past, saying, "You've called women you don't like 'fat pigs, dogs, slobs, and disgusting animals.'" Trump quickly interjected that he only called the former "View" co-host Rosie O'Donnell those things, a charge that Kelly disputed. The line played well with the crowd in Cleveland, however.
USA Today columnist and Fox News contributor, Kirsten Powers, shared her opinion of the second debate's outcome on Twitter, saying: "No clear winner, but @marcorubio was a stand out. @JohnKasich and @GovChristie were strong. Not a great performance from @JebBush."
Russell Moore, president of the Southern Baptist Convention's Ethics & Religious Liberty Commission, took to social media to praise Rubio's performance, calling it "really strong."
While the first debate did not feature Meagyn Kelly as a moderator, former Pennsylvania Sen. Rick Santorum and South Carolina Sen. Lindsey Graham both complained about the unfair nature of the questions.
Graham, who like most of the field has feuded with Trump, came to his aid over Thursday's debate questions, saying, "This was more of an inquisition than a debate."
"At the end of the day, ask the man a question that explains his position and his solutions rather than a 10-minute question that describes him as the biggest bastard on the planet," Graham said.
Sen. Rand Paul of Kentucky, who wound up in an intense spat with Christie over national security and the Bill of Rights, also instantly declared victory on social media.
"I am the only candidate who leads Hillary Clinton in five states that were won by President Obama," Paul asserted. "I am a different kind of Republican."
Many pundits believe Rubio offered an exceptional line when he took a jab at Democratic front-runner Hillary Clinton on the economy. "If I'm our nominee, how is Hillary Clinton going to lecture me about living paycheck to paycheck? I was raised paycheck to paycheck."
Dr. Ben Carson, a retired neurosurgeon, received praise on social media for his humor, when toward the end of the debate — after candidates continually praised themselves for being "the only candidate" to accomplish things — he delivered a timely quip.
"I'm the only candidate to separate Siamese twins," Carson asserted. "The only one to operate on babies while they were still in the mothers' womb. ... The only one to take out half of a brain, although you would think if you go to Washington someone had beaten me to it."
Carson's response took a serious note when he challenged the other candidates on stage to speak more about the importance of freedom.
"But I'm very hopeful that I'm not the only one who's willing to pick up the baton of freedom, because freedom is not free, and we must fight for it every day," declared Carson.
A New York Times editorial Friday declared Bush and Trump losers, but many Republican and conservative pundits praised the "strong field," saying it offers them a myriad of choices going forward as they try to settle on a nominee.