'Whoever Does Not Recognize State of Israel' Is Anti-Semitic, Pope Francis Affirms in Email Sent to Reporter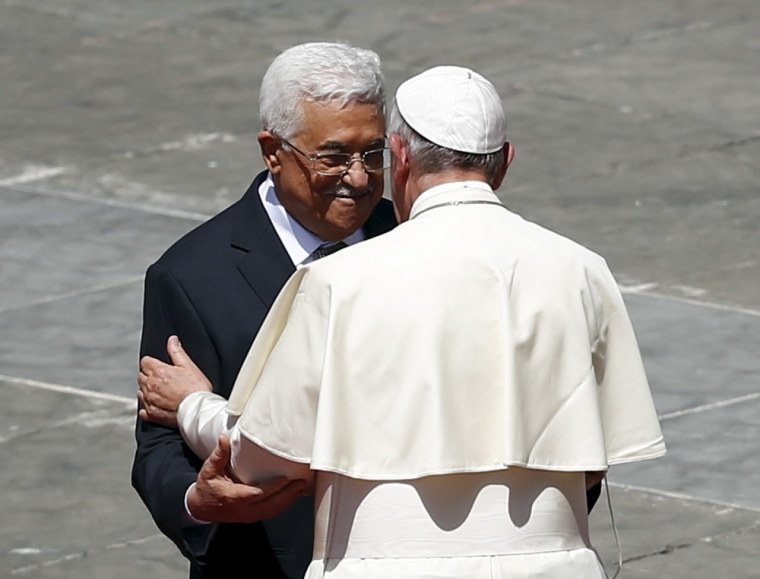 After allegedly calling Palestinian leader Mahmoud Abbas an "angel of peace" over two weeks ago, Pope Francis reportedly asserted last week that anyone who does not recognize Israel as the Jewish state is anti-Semitic.
The Times of Israel reports that in an email sent to Portuguese-Israeli journalist Henrique Cymerman last Thursday, the pontiff equated anti-Zionism and anti-Semitism as one in the same.
"In an email we got from Pope Francis: 'Whoever does not recognize the Jewish people and the State of Israel falls in antisemitism,'" Cymerman tweeted last Thursday.
The pope's alleged comment comes after media controversy surrounded the Vatican when it was reported that Francis told Abbas, the chairman of the Palestine Liberation Organization, that he was an angel of peace during a traditional gift exchange at the Vatican on May 16.
According to the Jerusalem Post, the pope gave Abbas a medal featuring an angel of peace, "which destroys the evil spirit of war."
Although many news agencies reported the pope's informal comment to Abbas as him saying "You are an angel of peace," the Italian newspaper La Stampa reported the pope's comments being more along the lines of "May you be an angel of peace," hoping that Abbas would become such an angel.
After the pope took heat for allegedly praising Abbas, the Vatican released a statement a few days later to clarify that the pope didn't mean to offend Israel by calling Abbas abbas an angel of peace.
"Pope Francis meant no offense to Israel by referring to Palestinian President Mahmoud Abbas as being 'an angel of peace' and intended to encourage harmony between the two sides," Vatican spokesman Federico Lombardi said.
Lombardi further clarified that Francis tried to use the word angel in the context of a "messenger."
Abbas' visit to the Vatican came after a bilateral agreement was reached between the Vatican and the "State of Palestine" that indicated that the vatican would officially recognize Palestine as a state.
"To this end, the wish was reiterated that with the support of the international community, Israelis and Palestinians may take with determination courageous decisions to promote peace," a Vatican statement on the treaty said.
According to Crux, the treaty also governs the tax and legal status of Catholic Church properties on the West Bank and Gaza Strip.
The statement added that both parties principally agreed to the treaty and that "the agreement will be submitted to the respective authorities for approval ahead of setting a date in the near future for the signing."
Although the Vatican is hopeful that such a treaty will progress the peacemaking between Israel and Palestine, an official within Israel's foreign ministry told Jerusalem Post that the agreement won't help move the peacemaking process forward and that it "moves the Palestinian leadership further away from returning to direct bilateral relations."