Why Does Nancy Pelosi's Church Turn a Blind Eye to Her Pro-Abortion, Gay Marriage Activism?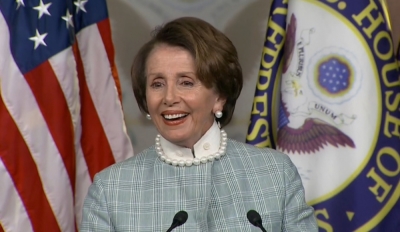 Former Speaker of the House and current House Minority Leader, Representative Nancy Pelosi (D-CA) is certainly a woman in the spotlight. She claims to be a Catholic, although her views in favor of abortion and same-sex marriage have caused some issue.
The Catholic Church takes a clear stance against contraception, abortion and same-sex marriage. It always has and it always will. Pelosi is acting out in direct violation of church teaching with the views she holds and how she speaks about them. Not only does she do that though, but she causes a deep scandal by creating confusion when it comes to church teaching. Further, when those of religious authority try to gently remind her of what church teaching actually says, she lashes out.
Pelosi is a supporter of the Health and Human Services (HHS) contraceptive mandate requiring employers to supply an extensive range of contraception free of charge to their employees, including emergency contraception. She also had arguably one of the most outrageous reactions to last summer's ruling from the United States Supreme Court which ruled the owners of Hobby Lobby did not have to provide contraception they had a religious objection to.
When Pelosi referred to abortion as "sacred ground," her comments were rightly condemned. Father Frank Pavone, of Priests for Life, wrote a letter to Pelosi, about her "betraying and misrepresenting the Catholic faith…" In response, which came in the form of an interview for ThinkProgress, she called the priest "ridiculous" and said he was behaving "hysterically."
Also last summer, Pelosi urged Archbishop Cordileone not to speak at the March for Marriage. Fortunately, Cordileone knew better than to be lectured by a Catholic in such standing and still made the speech.
But her more recent comments on marriage are perhaps her worst ones yet. Nancy Pelosi is not the only Catholic to support same-sex marriage. She does take such support a step further than merely disagreeing with what her faith teaches, however.
Recently, Nancy Pelosi appeared on "MSNBC Live" with Thomas Roberts. Her comments during the interview were more than slightly scandalous. She claimed to be "mainstream Catholic," as well as even said that same-sex marriage "is consistent with the dignity and worth we [Catholics] attribute to every person." It is true that the Catholic faith believes every human being has dignity and worth, but that is not the same as recognizing any other marriages other than the sacred union between husband and wife. Also, Pelosi's comments are further deceitful in that sadly the unborn certainly do not seem to fall into her characterization as those deserving such dignity and worth.
What makes Pelosi's comments all the more problematic is that she was able to get away with such statements without much media reporting. Pelosi may be an old supporter of abortion and same-sex marriage, and she may still think of herself as a good Catholic, at least in her mind. Thinking it does not make it so, though.
Rebecca Downs graduated from Fordham University in August 2012, where she was a member of the Respect for Life club and College Republicans. She plans on attending Regent University School of Law so that she may impact the movement from a legal and political level.