Why Foreign Assistance Really Works: Communities Graduate From Extreme Poverty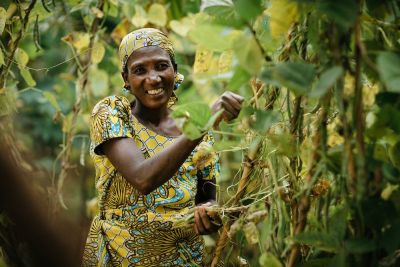 Just when I thought our ride couldn't get any more harrowing, our driver stopped at a rickety bridge and told the passengers to get out. We approached the ramshackle structure made from six-inch diameter tree trunks; it looked more like a catwalk than something intended for vehicles. Many boards on the left side had long ago plunged into the gorge below. It would have been a beautiful vista had I not been fixated on not following the path of those lost boards.
I stared at it wondering how our Land Cruiser could make it across.
The purpose of my trip here to Burundi was to celebrate an impressive development win: 13 remote, once war-torn communities were graduating from extreme poverty and would now be able to sustain their own development without outside help. A huge accomplishment for a country that has suffered from a 12-year, ethnic-based civil war that some have called one of Africa's most difficult conflicts. (Though at this moment, I was just hoping I'd survive the trip across the bridge.)
With a bit of blind faith and prayer we did – as we didn't look down as we walked across and prayed our driver could keep the left tires on the single remaining tree trunk on the bridge's left side.
Burundi is a lush country with fertile land and plenty of rainfall, located in the Great Lakes region of East Africa. But its shambled infrastructure has resulted in an average life expectancy of only 57 years. With a per-capita income of $770 per year (that's $64 a month or less than $2.50 a day), people lack the most basic necessities to sustain life. Things like access to clean water, basic sanitation, adequate healthcare, nutrition and education.
FH sought out the most vulnerable communities — people living in extreme poverty — when we began working in Burundi in 2006 to help repatriate returning war refugees. We began by assisting with agriculture, food, and medical supply distributions and now focus on more holistic community development. As we approached the village where graduation celebrants were gathering, one tiny house caught my immediate attention.
I saw 20 different kinds of vegetable plants and fruit trees surrounding the house. A hedge of bushes and marigolds outlined those. I've been told that people who have hope plant flowers. The owner of this house obviously fit that description in full blooming color.
As we approached the house, healthy children emerged and ran toward us. Within minutes, about 100 neighbor kids trailed us everywhere we went.
The FH Burundi staff introduced me to the owner. Sophie flashed a big smile and showed our group around with the pride of someone who had overcome steep challenges.
But when she told us her history, she choked up as she described running into the bush to escape marauding soldiers during the war. When she returned, years later, she had nothing except hungry children and the tattered clothes they wore. Sophie then described the way our staff taught her how to raise crops, about balanced nutrition, and how proper sanitation could keep her kids from getting sick. FH taught kids how to wash their hands and mothers how to start businesses. Together with Sophie and her neighbors, FH helped to build schools, water wells, and latrines. Sophie became a community leader and taught what she learned to other mothers. Eventually, her community began thriving. "I'm thankful FH showed up when they did," she told me. I asked Sophie what she wanted to say to the generous people who sponsored her daughter.
"What can I say to people who live on the other side of the world?" she asked. "They don't know me or my community, but they gave money to help my daughter. To that family, all I can say is thank you. You saved us."
The celebration of the 13 graduating communities included a sponsored child who read a poem of appreciation: "We will tell our children and our grandchildren," she concluded. One family performed a skit that showed the difference in their lives. The father portrayed himself as what he used to be: a drunk. "I was an idiot," he said. "I didn't value education and didn't want my daughter to go to school." His daughter acted out her early life experiences when she was often hungry; she didn't own a uniform and didn't bathe much. The other kids didn't want to sit by her in class.
Then the skit told how, through FH's child sponsorship program, her mother learned about gardening, sanitation, healthcare, and nutrition and her father learned about family relationships and farming practices. And FH taught him about the difference an education, nutrition, and sanitation would make in his daughter's life. She got schoolbooks and a uniform and now attends school regularly and has friends.
"My uniform makes me feel like a boss," she said.
It's that new confidence that reflects what it means for communities to graduate from extreme poverty to independence.
Mike Meyers is the Chief Development Officer for Food for the Hungry, based in Phoenix, Arizona.