Wildfire victims find hope in Christ during record-setting 2020; millions of acres burned
Wildfire victims find hope in Christ during record-setting 2020; millions of acres burned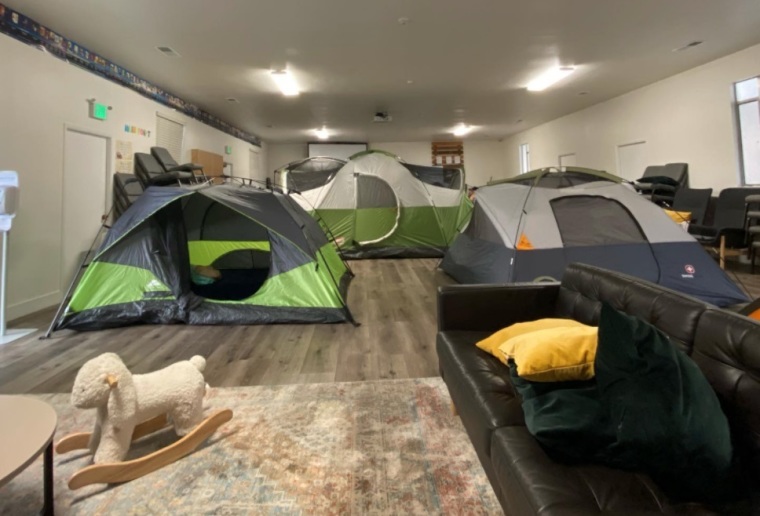 Churches open their doors
One family of eight from Boulder Creek sought shelter at Santa Cruz Baptist Church in Aptos, a 43-member church planted in 2017 about 20 miles south of Boulder Creek. On or about Aug. 18, a staff member at the church set the family up with blankets and pillows in the sanctuary. 
The Boulder Creek family was the first of several evacuated families that stayed at the church over 12 days.
According to Pastor Drew Cunningham, the church converted its sanctuary, Sunday school rooms, hallways and offices into makeshift hotel rooms.
They got the word out through social media and other channels that the church had a place to stay for anyone who is evacuated. 
The church also set up tents in its back yard area and its fellowship hall. 
"We ended up having around 40 people live at our church for 12 days," Cunningham, who is originally from Oklahoma, said. "It started on Day 1, breakfast, lunch and dinner. It was just an amazing opportunity to be the hands and feet of Jesus. The thing we have been saying and really believe is this is what Jesus would be doing if He were here today."
The pastor said church members rallied to build makeshift shower boxes in the parking lot, served breakfast, lunch and dinner, hung out with the families and organized supplies that were coming in. 
Additionally, volunteers from other local churches helped serve at Santa Cruz Baptist, he said. Local restaurants also served food for those staying at the church.
Cunningham said the organization Transforming the Bay for Christ has been instrumental in rallying local church efforts throughout the area and corralling supply donations in a centralized area for churches to access. Several other churches in the region acted as evacuation shelters, such as Santa Cruz Bible Church and Vintage Faith Church in Santa Cruz. 
Cunningham said that members of his church have also volunteered with Samaritan's Purse's efforts to help families whose homes have been destroyed. 
"We are trying to send as many people as we can up to do that over the next four to six weeks," he said. 
Santa Cruz Baptist Church plans to help those who lost their homes in the fire all the way "until the end" of their displacement, noting that it can be a two-and-a-half-year process to get back in homes after a wildfire. Cunningham also stressed that many people could be hundreds of thousands of dollars underinsured. 
"How can we help in meaningful ways?" he asked. "I am sure there will be families that just need some help swinging a hammer and coming up there with tools and helping. We are very willing to go do that over the next two-and-a-half years. We just need to see where we will be allowed to do that." 
The church is also looking to provide school supplies to families with children who are trying to do online learning despite the tragedy. It will also offer free childcare so families can go sift through the remains of their homes without having to bring the kids.
"You don't want to take your kid up there," he said. "We are very connected with churches in the Santa Cruz mountains. We will probably supply the people to do the childcare up there but we will probably do it out of another church that is closer to their homes."
Having opened the church to those displaced, the Santa Cruz Baptist leaders and members have also gotten to personally pray with people who lived in the church throughout the week-and-a-half ordeal. 
"Many of them said things like, 'Nobody has ever prayed with me before." It affected them," Cunningham stressed. "We had one lady here who was being let back into her home, thankfully it didn't burn. Although 1,200 homes burned to the ground, hers did not.
"She said, 'I don't know how to really explain this but something happened to me this week. She said, 'I have never experienced love like this before in my life.' She said, 'I don't know what happened but something changed in me this week.' I got the opportunity to say, 'I know what that is and got to share the Gospel with her.'" 
The pastor explained that even though the woman was allowed back into her home, she is still coming back to the church "pretty regularly." He has also given her a Bible and a Christian book and prays she will one day come to Christ.
Hope is found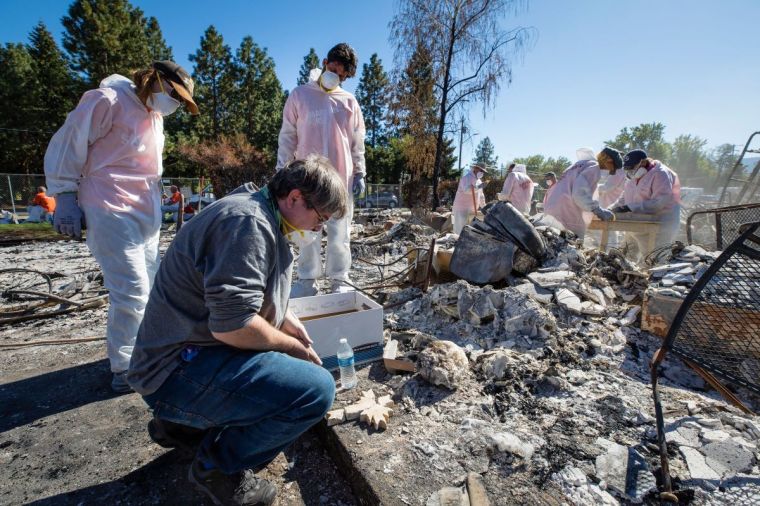 At least 22 people have made first-time decisions for Christ thanks to the discipleship of Samaritan's Purse volunteers and the Billy Graham Rapid Response Team chaplains deployed to Southern Oregon. 
In addition to Santa Cruz, Samaritan's Purse is running operations based out of the New Life Church of the Nazarene in Medford, Oregon, to help victims of the Almeda Fire. 
The fire destroyed over 2,800 structures, including homes, apartments and businesses. 
"These towns were straight down the middle of a valley and this fire just went straight down the valley," said Koning. "The hills beside it are not burned. It simply went through the towns. It has been a devastating thing because they had no idea and no time to grab anything and run."
Having arrived in late September, Samaritan's Purse has received hundreds of work order requests to help sift through the ash of burned-out homes to help families find valuables that can be salvaged. 
Koning said her teams can complete about three or four jobs per day. 
"The greatest purpose is closure and let them know that they are not alone and they are loved by God and by us," she said. "We also want to find the valuables for them because it means so much to them. We have found school projects made of clay for some people who have lost children, so that is one of their last memories of them. We found heirlooms of lost relatives, wedding rings."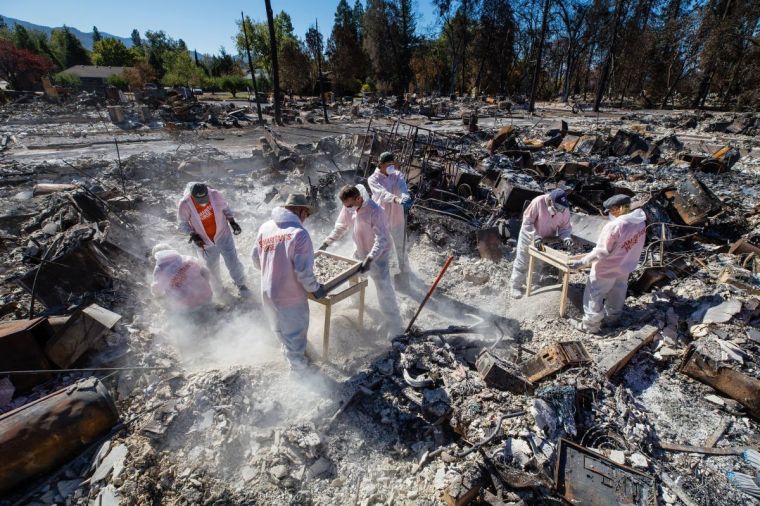 Samaritan's Purse has had dozens of volunteers (and on occasions over 100) come to Oregon to serve on five different teams deployed to the towns of Medford, Phoenix and Talent. They were joined by 11 chaplains, who shared the love of Christ with residents as teams did their work. 
The generosity of the volunteers has touched homeowners and renters in a way that has opened minds and hearts to the Gospel, Koning said. 
"I was just talking to our chaplain coordinator from the Billy Graham Rapid Response Team and we have had 22 people come to know the Lord on this site and that's really been in the last week," she said, adding that they were "first-time decisions" for Christ and that the local church will be following up to offer a mentor and guidance to these new believers. 
"This week has been so hot, in the upper 90s in the afternoon. For residents to see our volunteers getting in Tyvek suits and masks and going out and sifting in such hot weather has been a catalyst to soften their hearts to hear the Gospel."
About half of the volunteers in Oregon are local to the area, according to the program manager. Koning praised the local churches for driving people to come out "in droves to serve their communities." 
The non-local volunteers are sleeping on cots and air mattresses in the church's Sunday school rooms.
"I think a lot of these residents wouldn't have given us the time of day, given our chaplains the time of day beforehand," she noted. "But just being able to go out and serve them and love them has truly allowed us to come in and share Christ's love for them." 
O'Brien told CP that he has seen five people come to Christ thanks to the efforts of the Samaritan's Purse volunteers and the Billy Graham Rapid Response chaplains who served in Santa Cruz County. 
"There were actually three in one day. One of our chaplains was just out sharing God's Word with them," O'Brien said, adding that the chaplains have also come alongside other Christians who may be wondering where God is during this time of tragedy.