Wildfire victims find hope in Christ during record-setting 2020; millions of acres burned
Wildfire victims find hope in Christ during record-setting 2020; millions of acres burned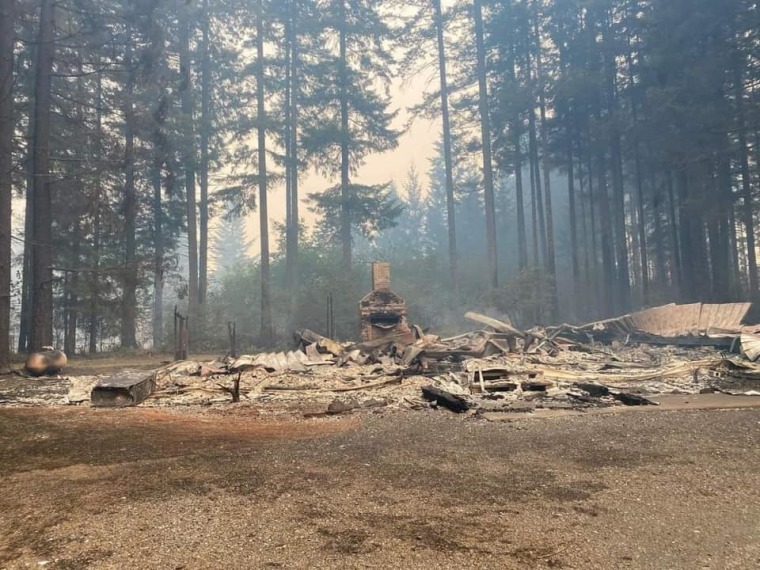 'We are like family out here'
In addition to houses burning, some communities are grieving over the losses of their church buildings. 
That is the case for the community of Dodge in northern Oregon, just south of Estacada in Clackamas County, about a 45-minute drive from Portland where the Riverside Fire impacted a miles-long stretch from Estacada to Molalla. 
The fire began on Sept. 8 and has burned over 138,000 acres. As of Monday afternoon, the Riverside Fire is 57% contained but there are no longer any evacuations in effect for Clackamas County. 
That fire was among the three major fires that were all grouped in the region. 
Among the buildings burned completely to the ground is Dodge Community Church, which began in 1947 originally as a Sunday school and community hall.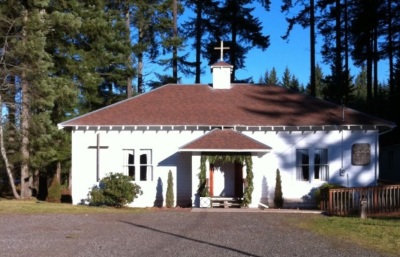 "The plan is to rebuild. That conversation has started," church secretary Lena Armas told CP.
"Whatever we build, we want it to be a usable building for the community. We want it to be a very usable structure that can serve the needs of the community as well as for the church."
Armas, 54, remembered how she felt when the whole community had to evacuate. Although she lives less than 10 miles from the church, she, too, was forced to evacuate her home and leave some of her dogs behind. More than 500,000 people were forced to evacuate because of fires throughout Oregon. 
"[I dreaded] the possibility of losing our home and our community; we are like family out here," she said. "We know our neighbors and we care about each other and rely on each other because we are a rural community. It was devastating and sad and so many emotions." 
While her home still stands, the church that she grew up in no longer does.
Considering the church burned down when a level 3 evacuation was in place, Armas said it's hard for any of the church members to know exactly which day the church burned down. But she said it likely occurred on Sept. 9 or Sept. 10. 
The congregation has fewer than 20 members, she said. 
"Our leadership got together to start a plan. We do have people offering donations of building materials and a lot of people offering to help with clean up and building," Armas said. "We are trying to move forward with the insurance company and just trying to create a plan." 
"The church has been there for a long time. There are people who have family members who went to the church in the past and had a memory with it that they have offered to help clean up and rebuild. There have been a couple of churches and church groups that have offered to send teams. We just need to let them know what we need."
Armas said that when the church plans to move forward with a rebuilding process, it has connections through a local area missionary group called InFaith, which connects small community churches. 
Church members also lost property. One family lost a newly-completed home, another lost a rental property and another lost a barn, Armas explained. She said the level 3 evacuation was lifted for the area surrounding the church on Sept. 29. 
"The people that lost their home, they have a business and a shop. They are going to be moving onto another piece of business property," she told CP. "Another member that lost a barn was donated hay by an organization and we offered to help them move their livestock over."
In addition to the church, Armas also lost her childhood home, which is the home where her brother and his family live in Dodge. The family has owned the house since 1969. 
"It's gone completely. Literally, what the church looks like, that looks like our family home where my brother was living. The shop, the barn, the house is gone," she explained.
"He basically told me that he felt like he couldn't leave the place because if you start removing every living thing from it, which is like his bees and hens, there is nothing living there left. He is struggling with that." 
Armas, who went to stay with her son about 40 miles away, said there were plenty of places in her community for people to go with their livestock. She said some stayed in hotels, at fairgrounds, rodeo sites and even school parking lots. 
"People took care of each other even during this when there was a mandatory evacuation, people were trying to help even neighbors they didn't get along with," she recalled. "It just started bringing out a sense of caring for each other and putting aside differences." 
What can people do to help?
Those wanting to aid those victimized by the wildfires can do so by donating to Samaritan's Purse's U.S. disaster relief efforts, to the Santa Cruz Baptist Church's benevolence fund or by mailing donations (info here) to be used by Dodge Community Church to either rebuild or help those in the community who have lost their homes.  
Samaritan's Purse is always in need of volunteers.
Those interested in volunteering their time to help the charity's response to the 2020 west coast wildfires can learn more by clicking here.