Will Smith and Jada Pinkett Smith's Anniversary 'High Five' Plans
Will Smith and his wife Jada will celebrated their 15-year wedding anniversary with a simple high five, it has been revealed.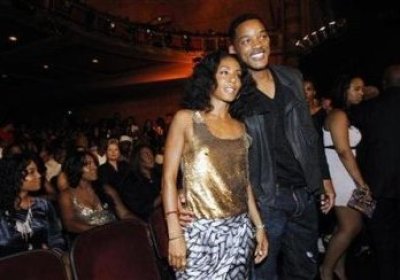 The couple, who wed in a secret New Year's Eve ceremony in 1997, recently denied that they are divorcing following months of media speculation and Jada referred to their marriage as "a beautiful journey with lots of chapters," according to People.com.
"You know, we celebrate throughout the year ... but usually on our wedding anniversary, we give ourselves a high-five and go, 'We survived another year, homie! Yeah!' Jada told People at Friday's MOMS Mamarazzi event in New York City.
"You know, we are nothing like what we were when we first met. Nothing like that. Biggest change is that we have grown up. We have matured," she added.
Will recently revealed the secret to a long lasting marriage while at a recent "Men in Black III" premiere, which was also held in New York City.
"We make the effort to always put the family first," Smith told People, adding that "being there for each other and being present with our kids is the most important thing. I take being a parent very seriously."
The 43-year-old, who shares three children with Jada: Trey, 19, Jaden, 13, and Willow, 11, spoke highly of his wife, who is a renowned actress.
"What's helped us is being supportive, no matter what the situation is. I'm so lucky to have someone like Jada. She's really an incredible woman, wife and mother," Will said. "[Jada] is just absolutely hardcore, like she absolutely is unfazed by the weight and the pressures of life. She is so calm and cool and easy in any situation. She can bear anything, and I just love that about her."
Jada, 40, said that a solid marriage is not just about love and insisted that the pair are "the best of friends."
"We as men and women have to learn how to be friends with one another. It's not just about loving someone. It's about understanding, acceptance and compassion," she said.
"You have to be there for each other. That's how you build great relationships," she added.
Will Smith and Jada Pinkett Smith - Interview with Barack Obama (VIDEO)
The Pursuit of happiness 'Protect Your Dreams' Scene