Will Smith Touched by God on Set of 'Concussion'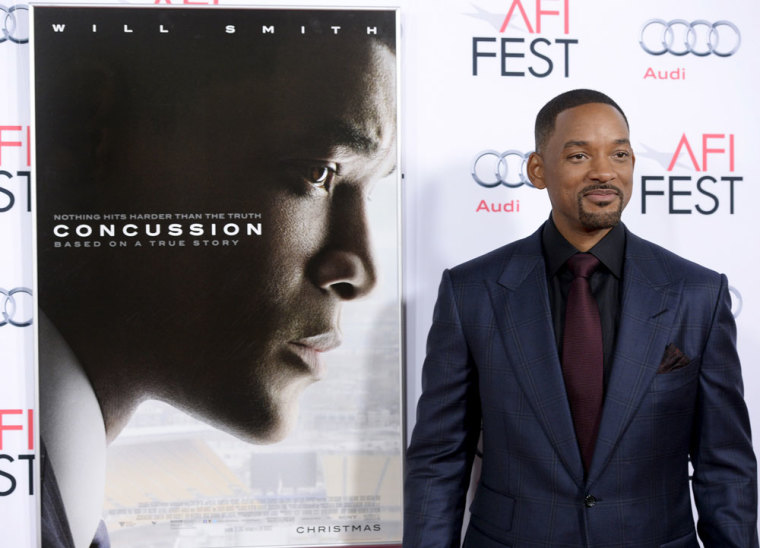 NEW YORK — Two-time Academy Award nominee Will Smith plays Christian Dr. Bennet Omalu in the film "Concussion," which documents the relentless pursuit of the truth to reveal how football is causing long-term brain damage to players amidst backlash from the NFL.
The inspiring story of "Concussion" is about Omalu, the Nigerian-born forensic pathologist who made headline news after discovering how concussions affact the brain. The film is widely expected to be an Oscar contender and Omalu had nothing but praise for Smith.
"He spent time with me and he was very observant. And, in fact, he (Smith) had said what made him accept the role was meeting me," Omalu told The Christian Post. "The spiritual stuff is deep. We met, we shared and we communed the love of God, and he also saw the light. The spirit of God also touched him."
"Will smith is a very good person, pristine individual. He reminded me of my childhood perception of America as the land of perfection. He optimises perfection, its exceptional and he put in so much heart and soul, so much energy into this role," he continued.
Omalu described how he was involved in the making of "Concussion" and did everything he could do within his means to enhance Smith's performance. According to the doctor all of the hard work and dedication paid off.
"When I saw the movie, I wept — I cried because it was almost a transubstantiation. As the movie went on I don't know what happened, I became oblivious of myself, I was now seeing me in that movie and it remained that way until the movie ended," he told CP. "I woke up and was like, 'oh my gosh what just happened.' This is how perfect he was, what a phenomenal job he has done."
Smith said his own Christian faith, which was instilled in him by his grandmother, helped him to accurately portray Omalu. "My grandmother was really my connection to God."
"She was my spiritual teacher, she was that grandmother at the church, the one having the kids doing the Easter presentations and putting on the Christmas plays and her kids and grandkids had to be first. She was the most spiritually certain person that I had ever met in my entire life. Even to the point that when she was dying she was happy, like she was really excited about going to heaven."
Omalu, whose Christian faith is featured throughout the film, told CP that he believed he was the "wrong person" to have discovered this problem — implying that God often uses unlikely people to change the world. His research led to his discovery but it was his faith that compelled him to be bold in the midst of great opposition.
Smith explained that the difficulty in capturing Omalu on screen was understanding forensic pathology. "With Bennet, the scientific part was the new addition because my grandmother wasn't a woman of science, you know, she was a woman of spirituality, of the Bible. For Bennet to connect that part of it was the new addition that was interesting and a little more difficult to reconcile for me. But the spirituality was deeply and easily comprehensible."