Wisconsin Governor Walker Declares State of Emergency as Winter Snow Storm Approaches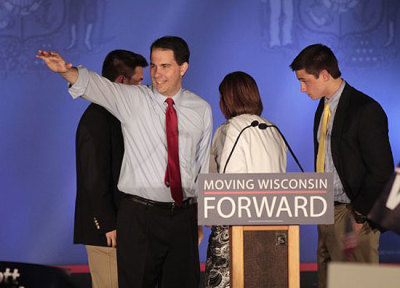 Wisconsin Governor, Scott Walker, has declared a state of emergency in the region as a winter storm closes in.
According to initial predictions the winter storm is expected to be fierce, with snow fall of as much as 17 inches in some areas.
Governor Scott Walker said in a statement: "I issued this executive order to make sure Wisconsin is prepared for whatever this winter storm may bring. Mobilizing our state agency resources during this storm will ensure we leave nothing to chance when it comes to protecting the citizens of Wisconsin."
Walker's declaration of a state of emergency means that various bodies will be put on alert ready to tackle emergencies as they arise. The bodies include the Wisconsin Emergency Management, the Wisconsin National Guard and the State Patrol.
As a result of the approaching storm, schools across Wisconsin have been canceling classes, and businesses have also been shutting down.
The State Patrol has told motorists to stay at home and not risk going outside unless absolutely necessary. They are expecting white out conditions, and the fierce winds could also see trees felled.
The storm is likely to bring strong winds as well as blizzard-like conditions to the state, with some of the bad weather already beginning to be seen over the region on Wednesday night. The storm will move across the state over Thursday, according to meteorologist predictions.
The National Weather Service has also issued a blizzard warning for 19 counties in southern and south central Wisconsin from noon Thursday until midnight. In Dane County 16 inches of snow is expected, where as about 10 inches is expected in Washington County.
In some areas thunder-snow is predicted, and snowfall as heavy as 2 to 3 inches per hour will be felt in some areas.
Officials at Dane County Regional Airport in Madison has asked that flight travelers contact their airlines because the storm will likely affect flight schedules. American Eagle, United, Frontier and Delta have also offered special weather waivers to reschedule flights to and from Madison, according to Twin Cities.
Winter Storm and Blizzard Warnings Issued