Wives of Imprisoned Chinese Rights Activists Detail Their Husbands' Torture, Persecution to Congress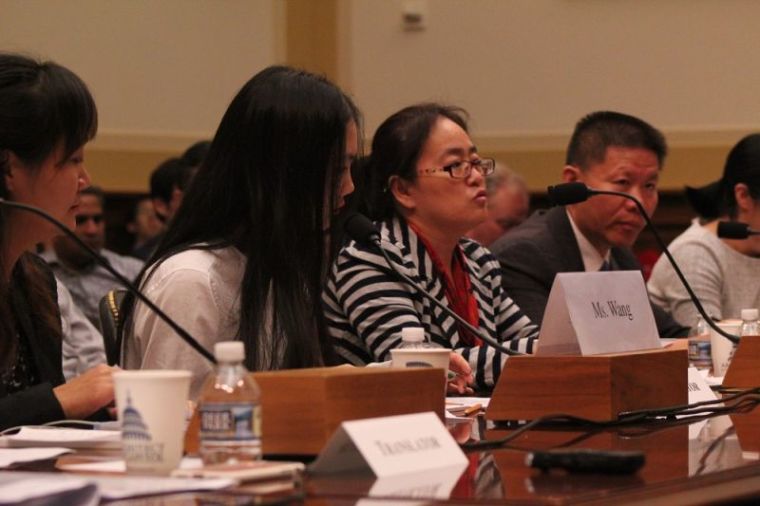 WASHINGTON — The wives of Chinese human rights lawyers imprisoned and tortured by the government in China detailed their husbands' experiences and told members of Congress Thursday that families are also being persecuted by the Chinese government.
Speaking during a House subcommittee hearing, Wang Yanfang, the wife of imprisoned rights lawyer Tang Jingling, explained that as many as 709 case lawyers are currently suffering from torture at the hands of the government in China.
She explained that her husband, a pro-democracy activist who was the initiator and key advocate of the civil disobedience movement, started being monitored by national security police in 1995. And after he published an article on China's democratization in Guangzhou, the government forced the human rights law firm he worked for to fire him in 1999.
After working on several human rights initiatives and cases, he was stripped him of his lawyer's license in 2005. Wang explained that her husband's activism later got him sent to what she referred to as "black jail" in February 2011, where he was tortured and faced sleep deprivation for 10 days straight.
During that time in 2011 when her husband was detained, Wang said that she was brought to Conghua and detained for months.
"They took my phone, bruised my arms, and didn't allow me to notify my family and lawyer, which caused my severe depression and poor health," Wang said, via her translator. "Then, the police tricked my mother to go to Guangdong to take care of me and I was put under house surveillance for a long time."
"I was not allowed to meet with my family and friends. I was not even allowed to leave my home. More than 20 people took turns watching me. I was completely isolated from the outside world for almost five months. When my husband was released, my physical and mental health had been severely damaged."
Wang also said that when her husband was detained in 2014, his mother passed away and authorities wouldn't allow him to go to his mother's funeral, even though the bail had been met. She added that the authorities didn't even notify him of his mother's death until over a month had passed.
"The authorities forbade his lawyers to meet with him for six months while his case was being transferred to the procuratorate. During the two years in the detention center, all communication was banned. There was no way to guarantee his rights," Wang said.
In January, Tang was sentenced to five years in prison for "inciting subversion of state power."
Since his arrest, Wang said that she has been on 24-hour surveillance. After she got in touch with families of detained human rights lawyers who were arrested in the July 2015 crackdown and went to the Supreme People's Procuratorate with them, she said she was told she couldn't leave home.
"Today, other 709 case lawyers are still suffering from such torture," she said. "Many prisoners of conscience are still unable to meet with their lawyers and families. Christian churches [are] still being shut down. Christians are still being detained and sentenced."
Chen Guiqiu, the wife of imprisoned Christian lawyer Xie Yang who was arrested in July 2015, recently received the help of U.S. Embassy workers to flee with her kids to the United States after receiving threats from the Chinese government.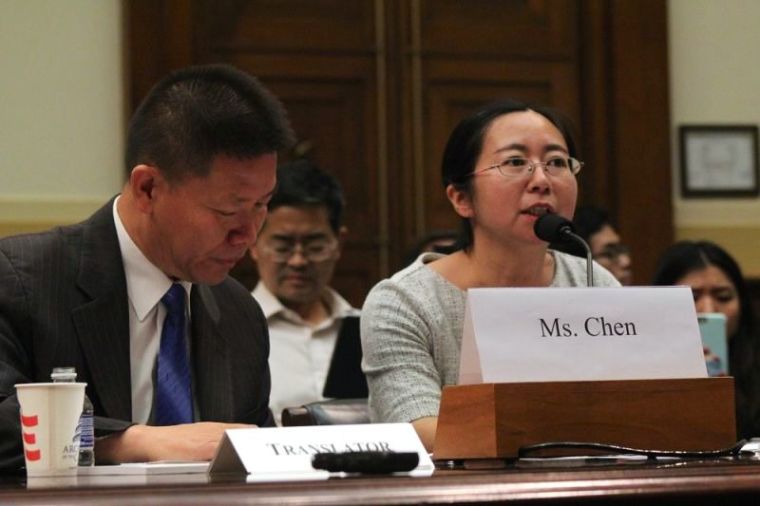 Chen told the Subcommittee on Africa, Global Health, Global Human Rights, and International Organizations that her husband was also jailed because he worked to defend the human rights of poor Chinese citizens.
Xie actually lived in the United States for one year during 2012-2013, which his wife says "made him more enthusiastic for the human rights movement in China."
But in 2015, Xie was arrested by national security agents and sent to "secret detention" for six months where he was tortured in hopes that he we could confess evidence that could be used against his colleagues.
Earlier this year, Xie's lawyer published transcripts of interviews where Xie described the type of cruel and odd torture he faced.
Chen told members of Congress that her husband faced "beatings delivered in rotation by a roster of guards, exhausting interrogations for over 20 hours at once, having cigarette smoke blown into his face and eyes, starvation, dehydration and the refusal of medical treatment for his illness."
But it was after the account of Xie's torture got published by many large news outlets that the government began increasing its pressure on Chen and threatening and intimidating her, she said.
"Xie Yang's court session was held on May 8, 2017. None of the witnesses showed up. None of the defense lawyers I hired showed up. I didn't even receive a notice of the court session," Chen said through her translator Bob Fu, the founder of the human rights group China Aid. "Instead, Xie Yang attended the session with an official lawyer appointed by the government. The friends who planned to witness the court session were seized and arrested by the national security agents. Xie Yang was forced to admit his guilt and deny the torture he suffered in the detention center."
Chen explained that even though her husband had been kept from seeing a lawyer for 16 months, he was forced to admit that his human rights were not violated.
"He was bailed out after the court session but still has not regained freedom," she added. "The national security agents follow him wherever he goes."
The wives of Li Ming-Che, a detained Taiwan community college worker, and Jiang Tianyong, a human rights lawyer who has worked the cases of prominent human rights advocates like Chen Guangcheng, also spoke at the hearing.
Jiang was kidnapped in 2016 after he traveled to Hunan to visit Chen and was returning home to Beijing. His wife, Jin Bianling, told Congress through her translator that she does not know where her husband is being detained. She explained that the government has also put Jiang's parents under surveillance and national security agents follow them wherever they go.
"According to news on May 12, 2017, Tianyong has been tortured and his legs are too swollen to walk."
All the wives called on the United States Congress and the administration of President Donald Trump to help pressure the Chinese government to release their husbands and other detained human rights lawyers.
The Global Magnitsky Act, which states that foreign government officials who engage in or are complicit in torture can be sanctioned by being denied entry visas into the United States or by financial sanctions.
"Chinese officials repeatedly tell me I should focus more on the positive aspects of China and not dwell so much on the negative," Co-Chairman of the Congressional Executive Commission on China Chris Smith, R-N.J., said during the hearing. "That is a difficult task when you read Xie Yang's story, read Gao Zhisheng account of his torture, or read the accounts of Yu Jie or Golog Jigme or Yin Liping."
"These are some of China's bravest — now with broken bodies, shattered minds and faces that have aged 20 years after two years of solitary confinement and torture," Smith added. "It is also completely possible that Chinese officials believe the international community will not hold them accountable."