Dear Women of the March: Does Being Pro-Life Make Me Less of a Woman?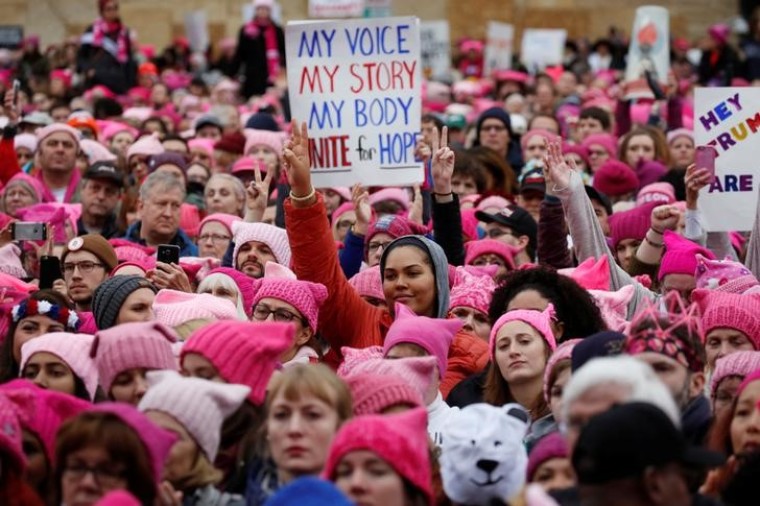 "It is not our differences that divide us. It is our inability to recognize, accept, and celebrate those differences."— quotation by Audre Lorde on the Women's March website
Dear Women of The March,
Thank you for raising your voices for me and for all other​ women ​against​ the forces of misogyny, gender discrimination, sexual harassment, and sexual violence. Professionally, I share the frustration of glass ceilings and absence of female mentors. Personally, I share the burden of our culture's distorted standards of physical appearance. In relationships, I've also had to fend off the sexual predators who Donald J. Trump represents all too well. And physically, I share the challenges we all face: puberty, the "biological clock," and menopause. Even in an "advanced" society, it can be hard to be a woman.
On Saturday, I felt hope rising as I watched you, in your pink hats, walking arm in arm with your friends, sisters, mothers and grandmothers and male supporters. You were a​ stunning display of womanhood in every color, shape, size, and stage of life. No one could ignore so much power, ferocity, and beauty in one place. I cheered your desire to make the world a better, fairer, and kinder place for women, today and tomorrow.
Why wasn't I there with you?
The organizers excluded only one type of protestor.
They welcomed people of diverse religious and political beliefs and social and economic backgrounds, but they uninvited two pro-life organizations which were initially approved. By doing so they sent a message to the 40% of American women who think abortion should be "illegal in all/most cases." We believe the right to live shouldn't be taken away by anyone, man or woman.
I believe in a God whose glory could only be completely reflected in humanity through both the feminine and the masculine, which is why He created both genders. He is a perfect designer who made all women, lovely, intelligent, creative and expressive. He also gave us the awesome ability to bring life into the world. It's hard to be a woman in our world sometimes, but it can be miraculous, too. Finally, God gave each woman a heart, a mind, a conscience, and a voice.
Last weekend, the organizers of the March silenced our voices. This feels all too familiar, like those times when male professors, bosses, colleagues, friends, and family members treated our voices as less legitimate than theirs. It's also like the times we've doubted our own right to speak and cringed to see our sisters do the same.
On these crucial issues of life and death, we too have researched the science, heard the stories of women on both sides, and searched our souls. Ultimately, our consciences led us to a different place than yours. We seek a world in which every child is wanted by their biological parents. But we also know that won't happen as long as we are human. Until then, we are committed to supporting all women: the pregnant woman in crisis, the woman who could become a mother through adoption, and the woman who is yet to be born. We want to be there at the beginning, middle, and end of their lives. Because we are women, we want to be pro-woman in the fullest sense.
However, last weekend, those who organized and funded The Women's March deemed us unfit to speak simply because we disagreed. We could not cease to be women if we wanted to and their exclusion simply means they will have less membership in their movement.
We will continue to fight against misogyny and to speak up for your rights, including your right to disagree with us. We wouldn't be honoring your consciences and your voices if we didn't. We hope you will consider reciprocating, but if you don't, we will continue to fight for our society to honor and protect the dignity of every female child and woman. The incredible worth and value of women demands that we do.
Sincerely, 
Evangeline Antonia
To protect her identity, Evangeline Antonia is a pseudonym. She is a lawyer who has advocated for the rights of women around the world.