World War 3 Rumors As Donald Trump vs. Russia Dispute Over Syria Continues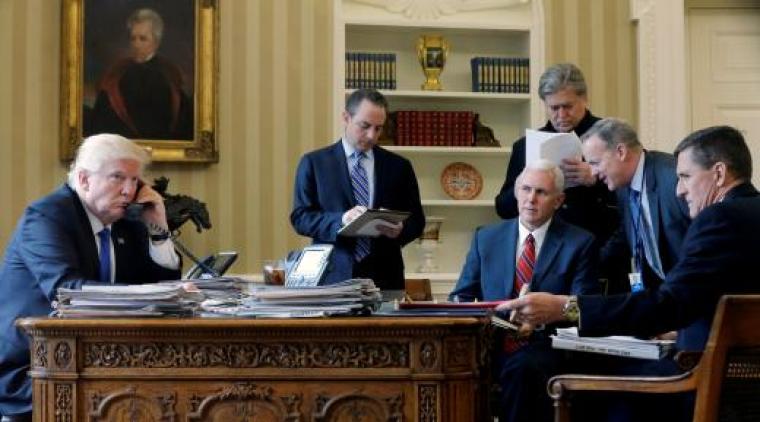 Recent events that could brew a possible global conflict lead many to fear and speculate that a third world war could erupt, following the rising tension between the United States and Russia over Trump's response to the Syria chemical attacks. Could World War 3 happen this year?
On Thursday, April 6, President Donald Trump ordered a missile strike on a Syrian government airbase. U.S. warships off the coast of Syria launched 59 Tomahawk cruise missiles at the facility, in a move that is the first direct aggressive action by the U.S. military against the regime of Syrian President Bashar al-Assad.
The attack was made in response to a chemical weapons attack that resulted in civilian deaths earlier. U.S. officials said that the missile strike was made against the facility from which the chemical attacks were carried out, as quoted by an earlier article by CNN.
Russian President Vladimir Putin harshly denounced the attack, calling it an "act of aggression" as well as violating international law. After this condemnation, Russia has sent the frigate Admiral Grigorovich in position between U.S. ships, considerably raising tension in the waters outside of Syria, according to the Daily Mirror.
Prsident Putin has also suspended the "Deconfliction Line," a military channel designed to provide an avenue for negotiation between Russian and U.S. fighter jet missions over Syria. In response, Trump warned that "he would do it again," according to the Daily Mail.
With the tension between Russia and U.S. over the Syria civil war not looking to be resolved any time soon, people from all over are getting understandably worried. Data from Google, in fact, reveals that searches for "World War 3" surged to its highest level since 2004, according to Infowars.
With cruise missiles flying over Syria and warships maneuvering off the waters near North Korea, there's a lot of tension going on that could spark into another major global conflict indeed.