Wrestlemania 34 Rumors: WWE Spoils Results of One Match, Hints at Bigger Things Planned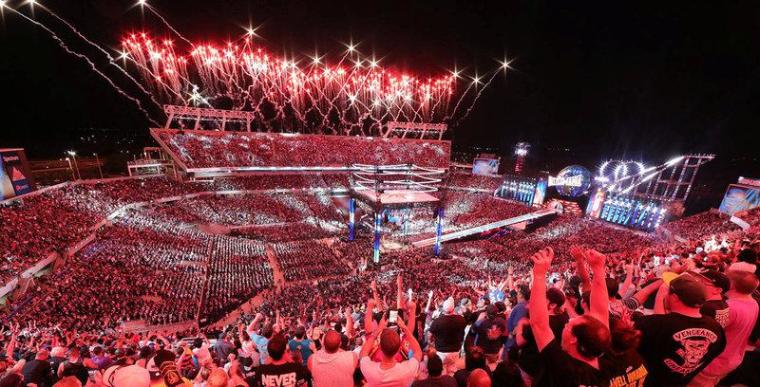 The Wrestlemania 34 match card continues to stack up, but so do the rumors about the outcome of these bouts.
One of the matches in the biggest and most highly-anticipated World Wrestling Entertainment pay-per-view event involves Braun Strowman and a yet-to-be-named tag team partner taking on Cesaro and Sheamus for the RAW tag team championship.
Details about who will be fighting alongside Strowman in this Wrestlemania 34 showdown are being kept under wraps, but it looks like this might not matter all that much despite the build-up as The Black Sheep is destined to lose anyway.
Sportskeeda believes this will be the case after WWE announced that Cesaro and Sheamus will defend their titles against The Hardy Boyz at the Greatest Royal Rumble in Jeddah, which will take place weeks after Wrestlemania 34.
While this could mean a lot of things, at the outset, it appears that The Bar will walk out of the grandest stage of them all with the tag team championship belts still around their waists.
However, the fact that the Greatest Royal Rumble takes place several weeks after Wrestlemania 34 also introduces the possibility that Strowman wins the match with this to-be-announced partner only for The Bar to get a rematch allowing them to reclaim the championship.
But even that is a bit of a stretch as it means The Bar will be moving on from Strowman almost immediately, which will be pretty fast even by WWE standards.
While this could be the case for some feuds as Wrestlemania almost always serves as the venue for the culmination of rivalries, it will still feel a bit hasty if this will be how things will go down between The Bar and Strowman with whoever his partner is.
However, this seemingly spoilery announcement from WWE suggests that it is not so much about the actual bout, but Strowman's partner for the Wrestlemania 34 match.
There has been so much build-up surrounding the reveal of the identity of the person who will fight on his corner at the event, which suggests that whoever it will be, it will be someone that will impact the outcome heavily. This will not be much of a stretch because reluctant and sabotaging tag teams are not new to the company.
For now, however, nothing is set in stone yet. The abovementioned publication suggests the possibility that the Greatest Royal Rumble match is a red herring all along to further mask what they really have planned.
Thankfully, it would not be long before fans find out what WWE really has up its sleeve with Wrestlemania 34 set to take place on April 8.
As the much-awaited event draws near, more matches are added to the line-up. Daniel Bryan has confirmed what everyone has been thinking about and hoping for. He will wrestle for the first time in three years at Wrestlemania 34.
He announced on SmackDown that he is giving Sami Zayn and Kevin Owens their jobs back if they beat him and Shane McMahon. However, his teammate is currently at the hospital for diverticulitis and an umbilical hernia.
McMahon is currently being treated with antibiotics, and Bryan believes he will be ready in time for their team-up at Wrestlemania 34.