'Yesterday Is Over, and We Are Never Going Back;' Sen. Marco Rubio Slams Clinton in 2016 Presidential Announcement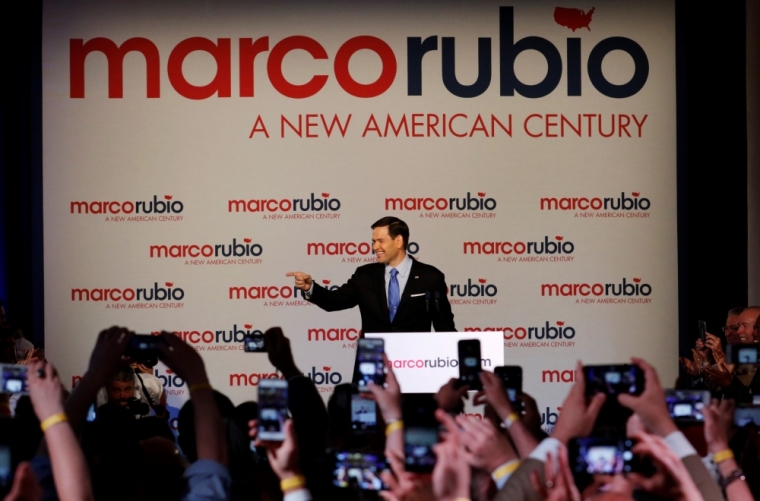 Sen. Marco Rubio, R-Florida, pulled no punches Monday evening when he hammered home his message against a potential 2016 presidential candidate rival, Democrat Hillary Clinton. "Yesterday is over, and we are never going back," he declared in his formal announcement of his 2016 presidential bid.
"We Americans are proud of our history, but our country has always been about the future. Before us now is the opportunity to author the greatest chapter yet in the amazing story of America. We can't do that by going back to the leaders and ideas of the past. We must change the decisions we are making by changing the people who are making them," Rubio said in excerpts from a 12-minute speech provided by his campaign Monday according to the Sun-Sentinel.
"I am more confident than ever that despite our troubles, we have it within our power to make our time another American Century," he said in explaining why he is seeking to become president instead of a second term in the U.S. Senate.
Rubio, 43, who was elected to the Senate in 2010 with strong support from the Tea Party, painted the 2016 presidential election as a choice between generations. He became only the third Republican to throw his hat in the ring for president joining Sen. Ted Cruz, R-Texas, and Sen. Rand Paul, R-Ky., in what is expected to be a crowded Republican field.
During his announcement, Rubio played up the immigrant struggle of his Cuban-American parents and raised concerns about the ability for young Americans to achieve their dreams in a tough economic climate.
"My parents achieved what came to be known as the American Dream. But now, too many Americans are starting to doubt whether achieving that dream is still possible: Hard working families living paycheck to paycheck, one unexpected expense away from disaster. Young Americans, unable to start a career, a business or a family, because they owe thousands in student loans for degrees that did not lead to jobs," he said. "Why is this happening in a country that for over two centuries has been defined by equality of opportunity? Because while our people and economy are pushing the boundaries of the 21st century, too many of our leaders and their ideas are stuck in the 20th century," he said outside the Miami's Freedom Tower.
Rubio's friend and supporter Lt. Gov. Carlos Lopez-Cantera told the Sun-Sentinel that he thinks Rubio will be the next president.
"He represents the future, the next generation. And it's looking like the Democrats are going to put up a candidate of the past. And I think this country is looking to the future," he said. "I think the country will get behind someone who comes from a working-class background, who truly epitomizes the American Dream,"
But U.S. Rep. Debbie Wasserman Schultz, D-Fla., wasn't so gracious. "Marco Rubio is going to try to portray himself as fresh and new. What he needs to do is find some fresh and new courage," said Wasserman Schultz at a news conference blocks away from the Freedom Tower.
"If Marco Rubio cannot even be counted on to stand up for legislation he authored and helped push through the U.S. Senate because he's willing to cave into the slightest bit of pressure from his own," she added in reference to an immigration bill.
U.S. Rep. Frederica Wilson, a Miami-Dade Democrat, said she was "excited about Marco."
"Of course I'm a Democrat and I'm just overly excited about Hillary [Clinton] announcing. Finally we may have the first woman president … I'm excited about Marco. We are friends. We came through the Legislature together. And he'd be the first Hispanic president. So this is a great day for America, for democracy, and we're going to see what happens," she said.