Yobe School Killings: Schools Across Region Closed Following Suspected Islamist Massacre at School (VIDEO)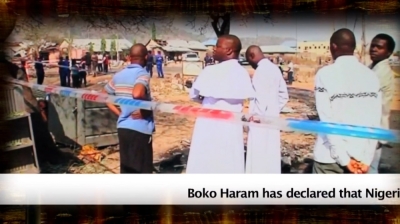 The Yobe school killings that saw 42 students and one teacher gunned down on Saturday in Nigeria, has forced the long-term closure of schools across the northern state on Monday.
Yobe governor Ibrahim Geidam made an announcement of his decision to close down all schools in the region until September, saying that he refused to bring back students until authorities had implemented better systems to protect students and teachers from militant attacks.
Abdullahi Bego, a spokesman for the governor's office, said in a statement: "The closure is to allow the state government in collaboration with the Joint Security Task Force and community leaders to evaluate and evolve better and additional strategies that would ensure the safety and security of students and their teachers."
The decision sees the schools, which were originally due to break up in August, close a month early for summer vacation.
Sunday's massacre has shocked Nigeria, and has made global headlines. Authorities believe that Islamist group Boko Haram carried out the attacks. The group believes that so-called Western education should be banned in the country, and have carried out dozens of attacks this year against Christians, churches and government offices.
In Sunday's attack, militants reportedly set fire to the government run school in Mamudo town using petrol. As students and teachers fled the blaze, militants ambushed them outside, gunning down dozens of victims as others hid and ran for cover.
Halliru Aliyu, a medic at Potiskum general hospital has said, "Many students escaped into the surrounding bushes with gunshot wounds. Soldiers who combed the area found six students with gunshot wounds and brought them to the hospital where they are receiving treatment."
According to officials in the region, an astonishing 205 schools have been burned down over the past 12 months. Authorities have attempted to crack down on militants in Yobe over recent weeks but that has resulted in a wave of new attacks.
Nigerian President Goodluck Jonathan has declared Yobe as in a state of emergency since May. The region is situated in the predominantly Muslim northern region of the country and has been plagued with killings from Boko Haram.
Here is a video news report made in the immediate aftermath of the school shooting:
29 Students Burnt Alive By Boko Haram in Yobe