Yoshitaka Amano Artwork Spotted at Venue as 'Final Fantasy XV' Uncovered Event Begins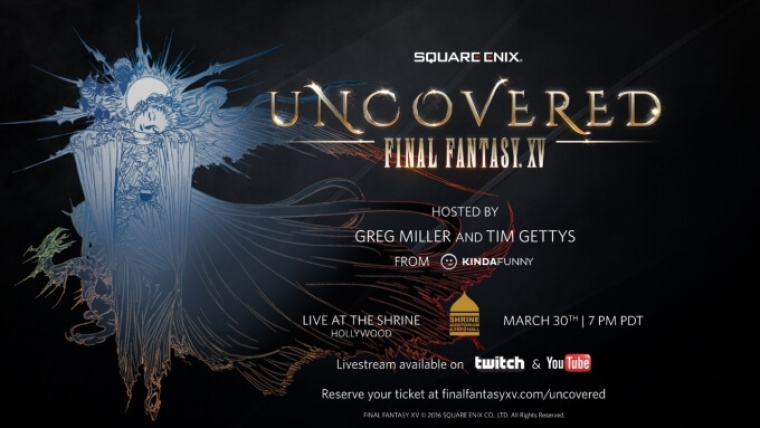 In just a few hours, publisher Square Enix is set to begin "Final Fantasy XV's" Uncovered event. The venue is all set and proudly displays artwork from famed illustrator Yoshitaka Amano.
The new artwork was spotted by Gematsu on Monday. It's not clear what's on the artwork exactly but those interested can see for themselves in this video showing people putting it up on display. Yoshitaka Amano is famous for his work on earlier entries in the "Final Fantasy" series. The huge banner outside the Shrine Auditorium in Los Angeles is a testament to the illustrator's influence and significant role in success of the series.
"Final Fantasy XV's" Uncovered event is set to begin at 7 p.m. PDT. Tickets to the event were sold out in 24 hours, so those who are interested can live stream the event through Square Enix Presents YouTube and Twitch channels. The event will be hosted by Greg Miller and Tim Gettys from Kinda Funny.
Square Enix is expected to reveal the game's exact release date, showcase a new Japanese trailer, and show off a playable tech demo. Other information expected to be shared during the Uncovered event include the game's resolution, unannounced content, and "all kinds of wonderful stuff never seen or heard before." This wealth of details appears to be the reason for the publisher to dub the "Final Fantasy XV: Uncovered' as a "behemoth event."
Meanwhile, "Final Fantasy XV" director Hajime Tabata said recently that the game could take up to 50 hours to complete, which is 10 hours more than the initial estimate. Tabata revealed this was due to the game having more volume than what was expected.
"Final Fantasy XV" is slated to release within the year for Sony's PlayStation 4 and Microsoft's Xbox One.